The Better Man

by Barbie Bohrman
Goodreads

The Better Man by Barbie Bohrman is LIVE!!! Who's ready to meet Max Allen?!?!??!
Release week special price of 99¢! And book 1, The Best Man is currently FREE (for a limited time)!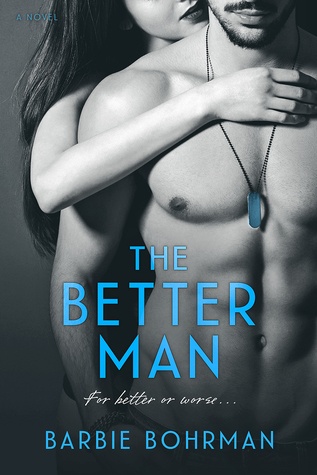 Meet Max Allen.
He's ambitious, too smart for his own good, and very single.
Nicknamed "Max-A-Million" by society gossip types, he thinks he's got it pretty damn good and he's right…for the most part.
Meet Daphne Rodriguez.
She's ambitious, too smart for her own good, and very single.
She works extra hard for everything she has and never complains about the crappy hand life has dealt her.
When Max is presented with the opportunity of a lifetime, it comes with the condition that he must work with the one person he despises most…and wants the most: his sworn enemy, Daphne.
However, Max has no plans of giving Daphne the satisfaction of ever letting her know how he feels about her. Instead, he vows to make her life miserable at every turn.
Which works out perfectly, since Daphne has no intention of making it easy for Max either.
When all hell breaks loose and they're on a collision course with disaster, these two stubborn people will have to overcome their mutual hatred of each other long enough to work together and get the job done.
For better or worse, they will have to rely on each other to save themselves…and the people they love most.
Buy The Better Man
Amazon US | Amazon CA | Amazon UK | Amazon AU
Book 1 – The Best Man is currently FREE (for a limited time)

"Shhh," I said trying to soothe her impatience. "Do you feel that, Daphne?"
"Yes."
I pressed a soft kiss to the corner of her mouth. "Do you want more?"
"Yes," she whispered eagerly into my kiss.
With her legs securely wrapped around me, I inched forward until my cock was completely sheathed. And in that first moment of being fully seated inside of her slick heat, I knew that I was a fucking goner. This was it. That was all it took for me to know that I was ruined for any other woman; this right here…this moment with Daphne meant more to me than I had expected it to. And it wasn't because I was finally fucking her. What I was experiencing as I pulled myself out and pushed myself back in, inch by inch, was something beyond physical, something that connected and grounded me to her and this moment more than with any woman before her.
I knew that Daphne was different. But she was more than that…she was a game changer.
Time seemed to slow and come to a stop. The music pumping around us, the crowd beneath us, the strobe lights that flickered on and off, all of it couldn't compare to the electricity we created between us.
Leaning forward, I rested my forehead against Daphne's, feeling slightly overwhelmed by everything that led up to this inevitable moment. Both of us were breathing heavy and shakily. "Jesus fucking Christ, Daphne, you feel so goddamn good."
Her hands reached up and looped around my neck, pulling me down closer to her, tighter, as if I would ever leave. And then, after a few staggering breaths, barely brushing my lips, she said, "Kiss me, Max."