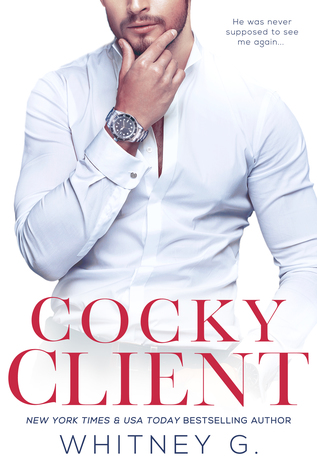 Cocky Client

on July 13, 2017
Buy on Amazon, Buy on B&N, Buy on iTunes, Buy on Kobo
Goodreads


Today is officially the worst day of my life…

I woke up five hours late after a reckless one-night stand with the sexiest, cockiest, and most arrogant man I've ever met. (And this asshole actually left a note: "I think you were lying to me about being "experienced" last night. You orgasmed three times, and that was before we made it to your bedroom. I also find it hard to believe you "usually wear silk or lingerie." Your drawers are all full of cotton granny panties--The best man you've ever fucked… )

My top two PR clients left me for my number one competitor, my roommate accidentally bleached my best suit, and my favorite coffee shop was shut down for "health concerns."

Still, none of those things dimmed my excitement for what was supposed to be the best four o'clock signing session of my career. I was on the verge of signing the highest paying client in my company's history, taking on a so-called "impossible" job that no publicist had been able to handle.

But at four o'clock, there was no athlete, television personality, or celebrity who showed up. Instead, that sexy, arrogant one-night stand stepped into my office with his familiar panty-wetting smirk and introduced himself as my new, cocky client...
Cocky Client is another quick, fun, HOT read from Whitney G. I love these little novellas as we are waiting for her longer books to release.
Penelope Lauren is a publicist at a small firm and has been tasked with working on her most stubborn client yet—CEO Ryan Dalton whose favorite hobby is f#$king and not being ashamed to admit it. Ryan has been through a slew of publicists already because he is so hard to work with and Penelope is his brother and the board's last ditch effort at righting his character and putting him in good light. The thing is Penelope and Ryan have met before—what was supposed to be a HOT one-night stand—never to see each other again.
I enjoy Whitney's stories; her stories so well written, so addicting, and just so good! Her heroines always have strength in their character combined with sass and the men are just hot as anything else. And while I love these short novellas as something to hold me over until I get a full-length book, I always want more—more than just the hot sex—more story too if this makes sense.
I completely love this author and can't wait to see what she has in store for us next! Another fun winner from this amazing author.
Check out the other books in the Steamy Coffee Reads Collection:
Naughty Boss – currently FREE
Buy all THREE (available on 7/27) in Naughty, Dirty, Cocky