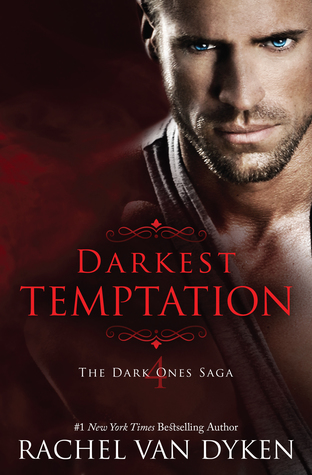 Darkest Temptation

by Rachel Van Dyken
on October 31, 2017
Buy on B&N, Buy on iTunes, Buy on Kobo
Goodreads


I'm a werewolf King who chose to step down out of grief for my mate.
For centuries I've been alone, choosing to live a life of modesty despite the wealth surrounding me.
I deserve to be punished.
I crave things I have no business craving.
And it is manifesting itself in a way I'm terrified I won't be able to control any longer.
Especially since she arrived.
Vampire. Orphan. Beaten beyond recognition.
My blood calls to her in a way that makes no sense.
I'm a wolf.
She's a vampire.
The two don't mate.
They barely tolerate one another.
All it takes is one slip of control on my part — one taste.
And I doom us all.
Then again, I never knew what is lurking inside has the power to balance good and evil.
OMG Darkest Temptation was better than I could ever imagine – Rachel Van Dyken writes paranormal book crack!!! Mason is TO DIE FOR… His story and how it all comes full circle is pretty damn thrilling, amazing, and unputdownable. Get ready!!! Darkest Temptation is one you don't want to miss!!! We have an excerpt and giveaway below – CHECK IT OUT!!!

"Right, but you're… not… just a wolf." She said it with slight hesitation.
"Are you suddenly a vet?" I joked and grabbed ten more boxes of cereal. Genesis loved cereal, and Hope, it seemed, was either pregnant or Alex needed to feed her more. She constantly ate at midnight, giant bowls, sometimes three.
"I could be wrong." She eyed some oatmeal and tossed it in the cart. "If I'm wrong, I'll go hunting with you."
My ears perked up. "Do you think you can keep up?"
She smacked me in the chest.
It only stung a bit.
I rubbed the spot and winked.
She was so pretty, my mate.
Hell.
I needed to stop thinking that way before I screw us both, making it so she couldn't escape me, escape the bond.
But she was pretty.
So pretty.
Her eyes flickered green.
"Hungry?" I asked.
"Starving," she admitted. "I would probably eat two of your steaks."
I groaned at the erotic picture. "Wolves like to make food for…" I didn't say mates, but that was what it was. It was our job to hunt the food, prepare it, provide for their every need.
I frowned at the memory of my last mate not liking steak but eating it because I'd wanted her to.
Then frowned harder.
"You alright?" Serenity asked, steering the cart into the meat aisle,
"Yeah, I'm just—" My mouth went completely dry.
"Stunned into silence over meat?"
She crossed her arms while I stared, while I lusted, while I briefly imagined becoming a butcher and licking the table after I prepared the food.
And then Serenity, in all her beauty, reached for some steak, sniffed it, then held it out. "This one's good."
I'd never been so wrongly aroused in my entire existence as she licked her lips, held the steak out to me, and provided the only two things I needed in life in one shiny package.
Her.
Steak.
Her.
Steak.
I felt my body give way. I tried to control the urge, but I was too late. I opened my mouth to say something, probably run, but before the word could get out, she grabbed my hand and jerked me into a door that was for employees only. She tore at her own arm then held it to my mouth.
I took her blood.
My wolf roared to life as I pressed her up against the wall, my teeth locking onto her wrist, my body pinning her next to the employee-of-the-month chart, my damn eyes glued on Bart, the winner of February, and then the chart fell to the floor as Serenity rubbed her body against mine.
The friction in my jeans was too much.
She reached down and flicked open the button.
And then my mouth was on hers.
Hers on mine.
This. This is what I should have done yesterday.
This.
She gripped my length as I rubbed instinctively against her, devouring every cry she made as if it was the sole purpose I'd been put on this earth.
Not here.
We couldn't. She was better than that.
But I couldn't stop.
I was going to have to call Ethan from prison.
And explain that I mounted my mate in the employee break room of Whole Foods — and liked it.
"Mason…" She purred my name as I cupped one of her perfect breasts in my hands. It was heavy and formed perfectly for my palm. It was mine.
I dug beneath her shirt, desperate for more, just as she reared back and sank her teeth into my neck.
My wolf roared within
My vision cleared as tiny particles of dust floated in the air around me, as the heartbeats of hundreds of people in the store flooded my ears, their thoughts, their souls in all their colors flashing for me to see.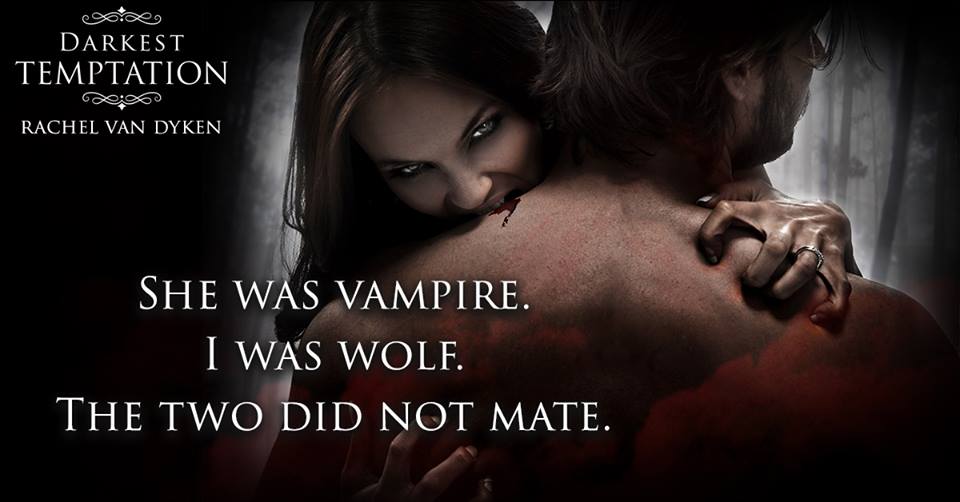 *Giveaway now over – congrats to Michelle Abascal Monroy*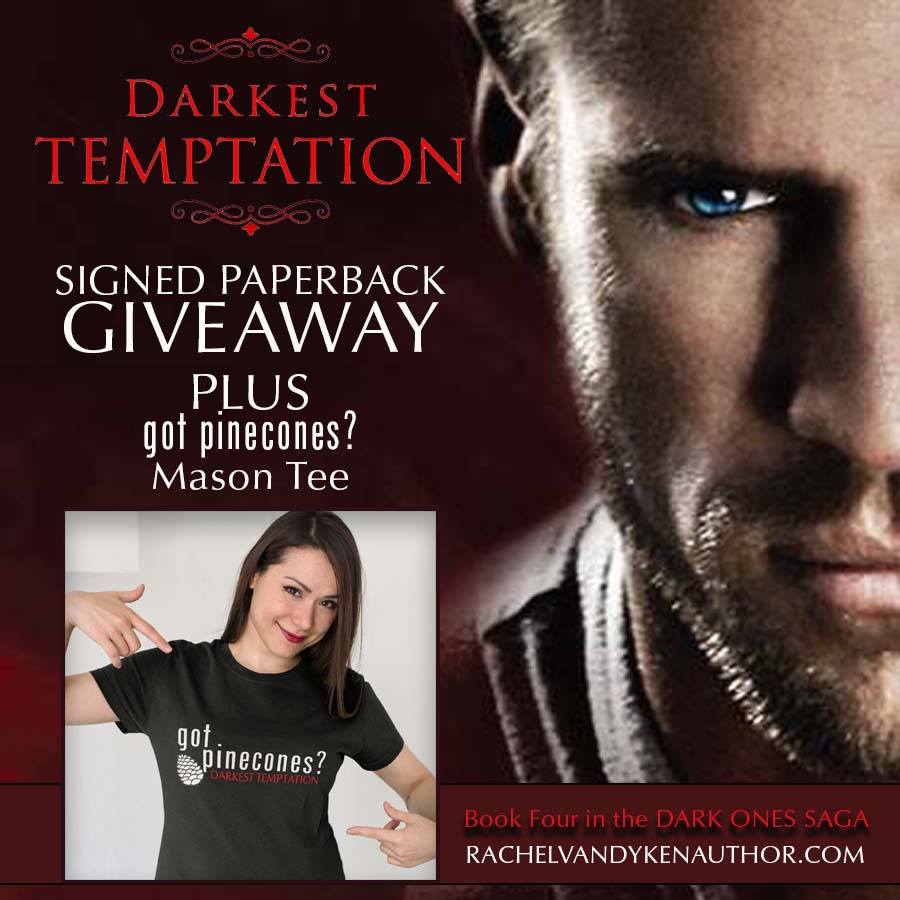 Enter to win a signed paperback of DARKEST TEMPTATION and be one of the FIRST to own this got pinecones T-shirt!
All you have to do is share the excerpt and giveaway of Darkest Temptation on your social media (Facebook, Twitter, Instagram). Sample message below:
I entered the Darkest Temptation #Giveaway @shhmomsreading @RachVD #gotpinecones #swoonyWerewolf
Please make sure to post a link to your shares below (the more you do the more chances to win!). One winner will be chosen Sunday, November 5th. Thank you for sharing!
Read the Series
Book 1 – The Dark Ones
Book 2 – Untouchable Darkness
Book 3 – Dark Surrender
Book 4 – Darkest Temptation