by K.L. Kreig

FOUND UNDERNEATH by KL Kreig is LIVE! Enter for a chance to win a $25 Amazon Gift Card below!!!
"KL Kreig nailed it! The perfect heart-stopping ending to a fantastic duet, Found Underneath is everything you hope it will be and so much more!" ~ KL Grayson, USA Today Bestselling Author

It began as a ruse.
Take a girlfriend. Divert the press from the fucked up mess that's my family until my father is re-elected. Stage a public breakup. Move on.
Only that brilliant plan went straight south the moment I set eyes on Willow Blackwell.
I found her.
My center. My future. A soulmate with the will of a mule and the mouth of a harpy.
I now want things I never wanted before. Permanent kinds of things.
Only Fate—and her ex—have other plans for us.
In some sort of cosmic impossibility, our lives unknowingly intersected years before when tragedy befell both our families. Once the devastating truth is finally revealed, the future I'd found in her will come crashing down around us and for the first time in my life I'm completely helpless.
I may very well lose the only woman I've ever loved to a past neither of us saw coming.
*warning: 18+ only. Contains foul language, explicit sex and a hot alpha (or two, or three). NOTE: This is NOT a standalone. It's the conclusion to LOST IN BETWEEN, which MUST be read first.

I have loved this series and these characters from the get go #ShawIsMine! These characters and THIS story mesmerized me and quite honestly Found Underneath was my most anticipated book of this year and it did not disappoint! Passionately heartfelt, sinfully sexy and completely unputdownable – K.L. Kreig gives readers her most flawless book to date.
I want to pause here and say you MUST READ book 1 to read this book. You can find my 4.5 star review HERE.
Found Underneath begins where we left off in Lost in Between. What started off as a fake relationship has become something more between Shaw and Willow. Please don't look for any spoilers here because there won't be any 😉
Shaw steps it up a notch in this book and we get pure romance, delicious words and the heat… omg the heat *fans self* KL Kreig writes the best.sex.scenes.EVER #truth
But it's not only these things because in this book we get more of the heartfelt emotions, the feels that will bring tears to your eyes, and combine that with the suspense, angst and twists and turns and you have an AMAZING book! This series is a #MustRead and KL Kreig has become one of those authors on my list that can never let me down.
So I have to say that reading this series made me fall in complete LOVE with one of the characters who needs his own book (ahem NOAH!). It's so hard to let go of such amazing characters but in my book loving heart, they have their happily ever after and then some!!! <3
GRAB IT NOW!
Amazon US: http://amzn.to/2r8SsRa
Amazon UK: http://amzn.to/2rhNLRo
Amazon CA: http://amzn.to/2r8SeJX
Amazon AU: goo.gl/vsEIa9
iBooks: http://apple.co/2qJmjQw
B&N: http://bit.ly/2r91spt
Kobo: goo.gl/BjxZ2Z
ADD TO YOUR TBR: http://bit.ly/2oBq0lM
Check out the TRAILER:
https://www.youtube.com/watch?v=cnCTiRb1A4Y&feature=youtu.be

YOU MUST READ BOOK 1 LOST IN BETWEEN FIRST TO GET THE FULL STORY:
Lost in Between (Book #1)
US: http://amzn.to/2riraFl
UK: http://amzn.to/2qk1OIo
CA: http://amzn.to/2r96thE
AU: http://amzn.to/2kEHTOC

*Giveaway now over – congrats to Staci Pope!*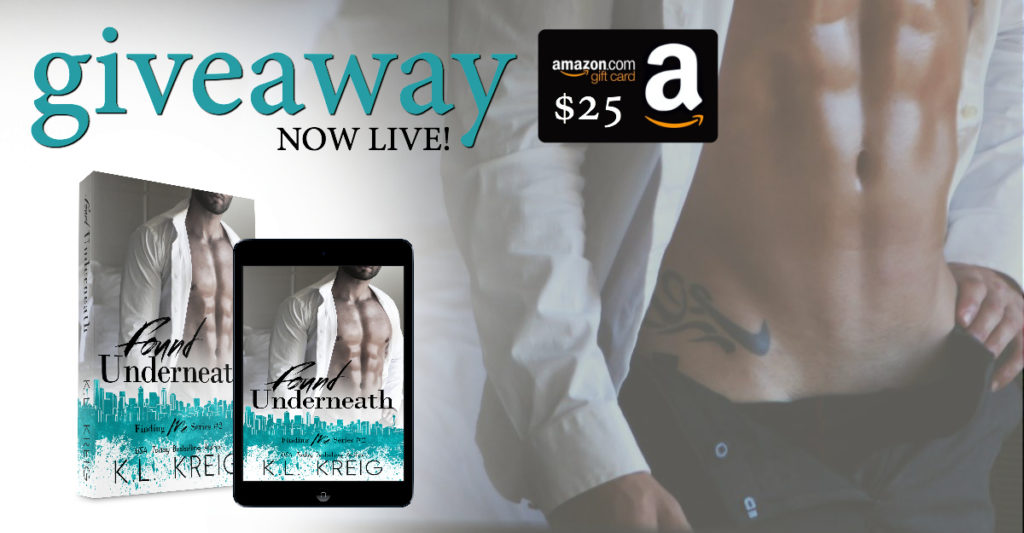 Enter to win a $25 Amazon Gift Card 
All you have to do is:
➡ share this post and giveaway on your social media account(s) (Facebook, Twitter, Instagram, etc). Sample message below:
Found Underneath is #LIVE http://amzn.to/2r8SsRa #alphamale #romance #shawismine @shhmomsreading @klkreig
 Please make sure to post a link to your shares below (the more you do the more chances to win!). One winner will be chosen Sunday, June 4th. Thank you for sharing!