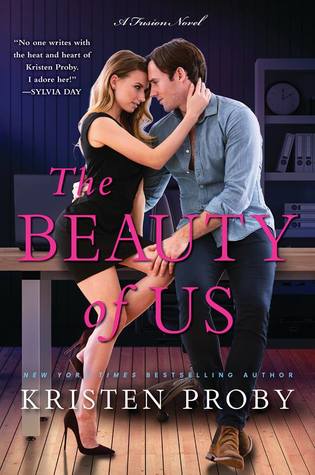 The Beauty of Us

by Kristen Proby
on August 22, 2017
Pages: 304
Buy on Amazon, Buy on B&N, Buy on iTunes, Buy on Kobo
Goodreads


New York Times bestselling author Kristen Proby delivers another sizzling novel in her delectable and sexy Fusion series.

Riley Gibson is over the moon at the prospect of having her restaurant, Seduction, on the Best Bites TV network. This could be the big break she's been waiting for. But the idea of having an in-house show on a regular basis is a whole other matter. Their lives would be turned upside down, and convincing Mia, her best friend and head chef of Seduction, that having cameras in her kitchen every day is a good idea is daunting. Still, Riley knows it's an opportunity she can't afford to pass on. And when she meets Trevor Cooper, the show's executive producer, she's stunned by their intense chemistry.

Trevor's sole intention is to persuade Riley to allow Best Bites TV to do a show on her restaurant. But when he walks into Riley's office, he stops dead in his tracks. The professional, aloof woman on the phone is incredibly beautiful and funny. But can he convince her that he's interested in Riley for himself? Or is he using the undeniable pull between them to persuade her to agree to his offer?
I was so thrilled to have a few hours to live in the world of the Fusion ladies! I buckled my seatbelt, opened my kindle and while flying home from our family vacation became engrossed in the story of Riley and Trevor in The Beauty of Us.
I loved so much about this book. First, Ms. Proby crafted a world that pulled me in. I was transported to 
Portland
 and the fictional world she has crafted for this series. This series is the story of the women who own 
Seduction, one
 of the hottest restaurants in Portland.
How Trevor plays into the series was so well done and the first moment he meets Riley was laugh-out-loud funny!  Much of the banter in this book is so witty, not just between Riley and Trevor, but between many of the characters in the story.
Trevor is a male lead that kept me engaged and rooting for him to get what he wants and what he wants is Riley.
Both Riley and Trevor have flourishing careers they are passionate about. I so enjoyed how they respected each other and allowed each other to be who they were. There was no trying to change anyone here; these two fell in love with the person standing before them and wanted that person to be the best version of themselves!
The relationships between the women of this series runs deep. You can feel their friendship, love, and concern they have for each other.
I have come to rely on Ms. Proby for fabulous, character driven reads—one where the reader is allowed to experience the couple together, figuring out their happy, and in the Beauty of Us she delivers again in spades!
And a huge thank you for not filling this book with endless angst and drama for no reason. I was grateful to read about adults with careers and lives, adults mature enough to want to find a way to make it all work!
It is not easy to weave love into a busy life, but the author made it clear particularly for Trevor this was priority. I think that more than anything made me love him.
I adored that it was crystal clear to the reader why this relationship was different for both Riley and Trevor.
I am beyond excited for Mia's story next! I hope we get it soon!