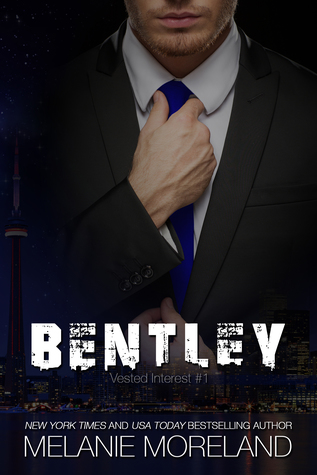 Bentley

by Melanie Moreland
on February 8, 2018
Buy on Amazon, Buy on B&N, Buy on iTunes, Buy on Kobo
Goodreads


Three young men meet in university and form a lifelong friendship.

Their pasts dictate the men they are, but their present shapes their future.

What happens when these men meet the one person they are destined to be with? Can they fight their feelings and walk away? Or will they each succumb and learn the sweet agony of love?

Bentley

The leader of the group. He is uptight, formal, and cold. Rigid and set in his ways, always following the same path. Until the day, he stumbles upon her.
Emmy.
She brings with her spontaneity and light. The world she lives in is so different from his, yet he cannot control the draw to her. Nor can he explain the way she makes him feel.
Happy.
Protective.
Loved.
Bentley is everything I want in a book 1 of a new series and then some.
The banter between Bentley and Aiden and then Bentley, Aiden and Maddox is epic!  Bro-mance and then some. Just wait til you read the shopping scene and what it leads up to it. These men who bonded in college are an amazing example of the power of friendship.
Oh wait I should probably talk about the romance too lol…  Bentley opening himself up to Emmy was so touching. This is not a book about a woman who changes a man—this is a book about a man who is different around the person who is right for him, the person his heart connects with. Bentley's very personal gestures touched my heart… oh wait til you read Emmy's birthday celebration!
Ms. Moreland created a world that pulled me in and touched me in so many way. The connections between the characters bleed off the pages and the back stories which slowly unfold truly allow the reader to understand the characters, particularly Bentley and Emmy… we only gets hint of Aiden and Maddox hence wanting them NOW lol.
And wait… just wait til you meet Greg and how his story plays out… truly masterful and painful and impactful… Read the book!
Aiden… oh Tree Trunk how I need your story LIKE NOW!  Aiden had me wanting his story from almost the moment the banter with Bentley began on the opening pages and… quiet Maddox… ugh I want to know more! You can prefer Aiden HERE!
I am very much excited for the rest of this series and I hope, HOPE after Maddox we get a happy for Reid as he endeared himself to my heart and I think the rest of the casts too!
Read Bentley TODAY!
Read an exclusive excerpt we have for Bentley HERE!