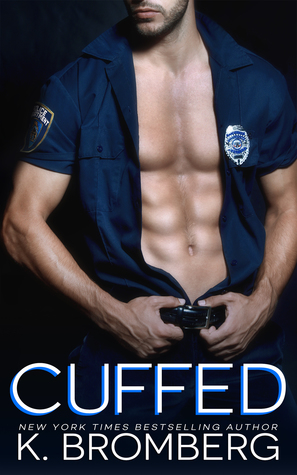 Cuffed

by K. Bromberg
on October 23, 2017
Pages: 394
Buy on Amazon, Buy on B&N, Buy on iTunes, Buy on Kobo
Goodreads


From the New York Times bestselling author, K. Bromberg, comes a new series about three brothers, the job that calls them, and the women who challenge them.

"I hate you. I never want to see you again."

Grant Malone is not the reason I moved back to Sunnyville—at least that's what I tell myself. Yet, those parting words I said to him back in third grade, ring in my ears every time a townsperson brings up one of the Malone boys. I thought time had healed my wounds. I was wrong. Nothing could have prepared me for how I felt when I finally saw him again.

Twenty years does a lot to turn a boy into a man. One who hits all my buttons—sexy, funny, attractive, and a police officer. But Grant is off limits because he knows too much about my past.

But I'm drawn to him. That damn uniform of his doesn't hurt either. It'll be my downfall. I know it.

What's one night of sex going to hurt . . . right?

***

I've always loved Emmy Reeves.

That's why I'm shocked to see her all these years later. The shy girl I once knew is all grown up.

Adventurous and full of life, she owns my heart now, just as much as she did back then. Convincing her of that is a whole different story.

I'll give her the one night she asks for—like that's a hardship—but when it comes to letting her walk away after, she has another thing coming. There's no way in hell I'm letting her go this time without a fight.
I haven't stayed up in so long to read a book and this book…THIS BOOK…This book made my heart so happy! I could not put it down!!!!!
Grant and Emerson were best friends in the third grade until one day be broke his pinky promise to her and she vowed to hate him forever.
Seeing her twenty years later is a shock to him and while she tries to push him away, he relentlessly pursues her for a friendship because he has missed her all these years, wondering what has become of her since she moved away so many years ago.
The way he installs himself in her life—making her angry as all hell—had me laughing out loud. This back and forth battle so quintessentially "them" had me falling in love with them over and over again.
Grant has always wanted to be her hero so I loved his profession as a cop and the way in which he put one particular case at the forefront of his mind—not just doing a job for the sake of doing a job—but because he is a good person, with a heart wanting to do what's right because he could not save the one person who he has always loved—Emerson from her tragic past.
Some of the chapters are told in past POV where you get to fully see the back story and my heart plummeted in my chest and it just brought tears to my eyes… wait til you read the author's note in the back *ugly cries*
Cuffed is my new favorite Bromberg book—it has everything you want in a book—a great story, a swoon worthy hero, a strong heroine and I promise you that it will bring out all the feels. This book will wreck havoc on your emotions—it is a powerful story of overcoming the past hurts, finding trust in the ones that will never let you down and will showcase a love that is so pure that your heart will sing with joy. Cuffed is an EPIC friends to lovers (and second chance love story!) that will stay with you for a long time. This book is the start of a new series by Bromberg that is on my TBR list and I can not wait for more!!! #TopFave2017
5 Head Up. Wings Out STARS!!!! <— I love this phrase and the author explains this too. I kinda want to tattoo it on my body lol 😉
BUY CUFFED TODAY