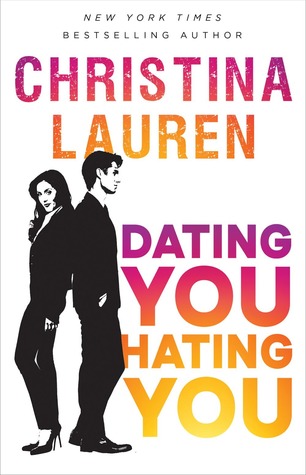 Dating You/Hating You

by Christina Lauren
on June 6, 2017
Pages: 320
Buy on Amazon, Buy on B&N, Buy on iTunes, Buy on Kobo
Goodreads


All's fair in love and work. The first standalone romance by New York Times and #1 international bestselling author Christina Lauren (Beautiful Bastard) is a sexy, compulsively readable romantic comedy that dives headlong into the thrill and doubt of modern love.

Despite the odds against them from an embarrassing meet-awkward at a mutual friend's Halloween party, Carter and Evie immediately hit it off. Even the realization that they're both high-powered agents at competing firms in Hollywood isn't enough to squash the fire.

But when their two agencies merge—causing the pair to vie for the same position—all bets are off. What could have been a beautiful, blossoming romance turns into an all-out war of sabotage. Carter and Evie are both thirtysomething professionals—so why can't they act like it?

Can Carter stop trying to please everyone and see how their mutual boss is really playing the game? Can Evie put aside her competitive nature long enough to figure out what she really wants in life? Can their actor clients just be something close to human? Whether these two Hollywood love/hatebirds get the storybook Hollywood ending or just a dramedy of epic proportions, you will get to enjoy Christina Lauren's heartfelt, raucous, and hilarious romance style at its finest.
With laugh out loud humor, bantering and antics that can't be beat, the best duo (EVER!) is back with a story of two competing Hollywood agents and their battle to save their jobs while fighting for what matters the most—love.
Dating You/Hating You has it all—sex appeal, amazing dialogue and a story filled with such longing that you will immediately become so addicted that you won't be able to put the book down!
I love a good office romance and Christina Lauren has proven time and time again why they are authors on my to read list.
Wow – I simply loved how Carter and Evie first meet—it was fated in the stars as these two hit it off right from the start! I had a complete smile on my face from their initial interactions up to and including their completely competitive streaks when they realized that their companies were merging and they were vying for the same position. I liked how both characters were equally great at their jobs while trying (yet failing) to be professionally competitive. Watching them try to sabotage one another "to win" had me seriously laughing out loud as I tried to slow down my reading but I just wanted to rush and flip pages to find out how it all would end and who would come out as the ultimate winner.
I HATED Brad (aka the boss) which you will have to learn more about why I did when you read the book.
I love a strong, independent working woman and I completely loved "evil" aka Evie. I absolutely LOVED Carter and the sweet words that fell from his lips. Together this couple made this such a fun book, relatable and completely unputdownable. I most especially liked how this book explored the topic of sexism in the work place because it does happen and something that should be talked more about.
So who wins you ask? Well, of course I won't be telling you but I will say this… Christina Lauren has written another book that should be on everyone's TBR list. This is the perfect summer beach read–it's a standalone, it's completely fun, it will make you smile and give you all the good feels all around.