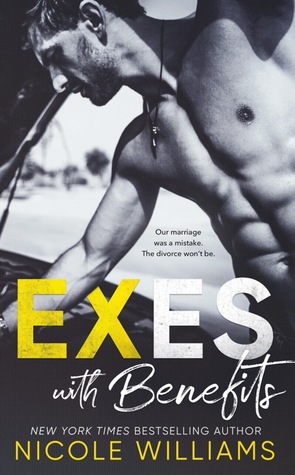 Exes with Benefits

by Nicole Williams
on September 18, 2017
Pages: 224
Buy on Amazon, Buy on B&N, Buy on iTunes, Buy on Kobo
Goodreads


***He wants a second chance. I want a divorce. To get what I want, I'll have to give him what he does.***

From New York Times & USA Today bestselling author, Nicole Williams:

The only benefit I want from my ex is a divorce.

We got married for all the wrong reasons. The one thing we got right was our separation. I should have known better than to think I could bet on forever with a guy like Canaan Ford. Everything about him screamed impermanent, from his wild eyes to his restless soul.

When I left him and the small town I'd spent my whole life in, I swore I'd never go back. Never only turned out to be five years. Canaan claims he's changed, but he hasn't—same knowing smile, same rough demeanor, same body crafted from sin and sinew. And yet, something is different. He thinks this is his chance for redemption. My disagreement comes in the form of divorce papers dropped in his lap. He refuses to sign them. Unless . . .

He wants a month to prove himself to me—that's his offer. One month to make me fall in love with him again and if I don't, he'll sign the papers. As much as I want to say no, I agree. I can suffer my ex for a short amount of time if that's what it takes to be free of him once and for all. I fell for him once; I won't make that same mistake twice.

He says we're not over. I say we were over before we got started. Only one of us can be right, and I can't let it be him.
I love Nicole Williams writing and Exes with Benefits was amazing.
This is a story of second chances—of young love finding the right time to grow into that all encompassing love.
This is a story of heartbreak, heartache, forgiveness, loyalty, devotion, and that love that is forever.
Maggie leaves her husband Canaan Ford when she can't watch him destroy himself any more, leaving her hometown to move to Chicago to start anew. Five years later, she is home to bury her beloved grandmother and armed with divorce papers to finally close that chapter of her life.
Until she sees Canaan for the first time and he is dead set on getting his wife back because he is a changed man—for the better—and he has been waiting for her to return home for those five years to prove that he is worthy of her love. Unfortunately she doesn't want him anymore (so she says) and he asks for a month to prove that he is different and if after that month, she can't love him again, he will sign her divorce papers.
I have to say that I rooted for them from the get go. I am a romantic at heart – how could I not! I wanted Canaan to win Maggie's heart back in the worst way. Oh his romantic words, said with such feeling that I could feel it to the depths of my soul, to his smirks and his laughter that just touched my romantic side wanting him to get his girl. But he has his work cut out for him because she doesn't trust him—doesn't want to see that though they were young when they first fell in love that they could truly be meant to be.
I devoured Exes with Benefits in a day and a half… I could not put it down nor did I want to. Nicole has a way of captivating readers with her stories and fans of this author both new and old will fall in love with these characters and their story. Closing this book with a smile on my face, I wanted an epilogue for the epilogue lol because of course I am selfish and wanted more… I have been feeling a little down lately so this book gave me something that I needed to make my heart happy—I can't wait to see what she has in store for us readers next! xo

"One month. That's nothing in the scope of a person's life." He slid a bit closer.
"One month is everything when it comes to opening myself back up to you."
He didn't argue that. He let silence speak for him instead.
"What exactly are you expecting during this one month?" I might have winced when I heard myself say those words.
He rubbed his mouth, trying to hide whatever was trying to form. "For you to give me another chance. For you to be my wife."
The term made me nauseated. "Your wife? As in your indentured servant? No way."
It was a smile he was trying to hide. Not very successfully. It made me thankful I'd slipped into these old boots so I could give him a solid kick in the ass if necessary.
"Like be willing to spend time with me. That's it. That's all," he added when he correctly interpreted the question in my eyes. The question.
"What will we be doing during that time we're spending together?" I pulled at the chest of my dress when I noticed the way his gaze had lingered there a moment too long.
His shoulder rose. "Got any ideas?" There was an unmistakable glint in his eyes.
"No," I answered instantly.
"You used to have plenty of ideas for filling the time." He took a swig of his Coke.
"And then I learned how to use my brain."
He studied my fake smile, almost like he was contemplating what it would feel like against his mouth. "Dinners. Dates. Simple stuff like that."
I held my best poker face, considering his offer. I didn't want to stay married to him. If one more month was what it took to be free of Canaan Ford, I could suck it up. I'd already made it five years. "No expectations of anything of a physical nature?"
"If I remember right"—his eyes narrowed as he rubbed the back of his head—"it was generally you who instigated all of that back then."
I shoved his chest. Bad idea. Solid. Firm. Home.
My jaw ground as I worked to erase that word from my conscious where he was concerned. "And you were just the perfect gentleman."
Canaan snatched my hand before I could pull it away. Holding onto it, he dragged me closer. Not so close that our bodies touched, but close enough the separation was painful.
"Exactly," he said in that low voice of his. The one he'd whispered my name in so many times as he moved inside me. "A gentleman gives his woman exactly what she needs. As many times as she need it. Just doing my part."
"How noble."
"That's right. So if you want to make any changes to this one month agreement, consider me your humble servant." When his hand dropped to my waist, his touch hesitant at the same time it was insistent, I didn't flinch out of instinct the way I should have.
Instead, I had to remind myself to pull away from him; to flinch at his touch. "I have a boyfriend, Canaan." Even to my ears, it sounded like a weak protest.
His hand didn't fall away when I stepped back. "You're a married woman, Maggie."
"My husband forfeited his rights years ago." My eyes found his, expecting them to shoot away once mine made contact.
They didn't. His gold eyes held to mine. "He's here to reclaim them."
Buy Exes with Benefits