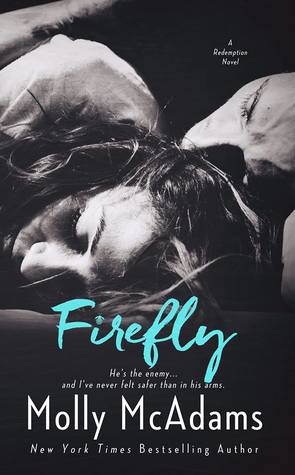 Firefly

by Molly McAdams
on July 18, 2017
Pages: 368
Buy on Amazon, Buy on B&N, Buy on iTunes, Buy on Kobo
Goodreads


The next captivating installment in New York Times bestselling author Molly McAdams's Redemption series.

As the Princess of the Irish-American Mob, there's no shortage of men ready to help guard and protect me. To slowly suffocate me to the point of seeking freedom—a place where I can breathe.

Kieran Hayes has been saving me for as long as I can remember. It's in his blood, and one of the many reasons I fell in love with him. Until my favorite trait became his biggest flaw, making me resent the man I love. An unwavering warrior, his love for me has been shrouded by those instincts.

Save Lily. Protect Lily. Hide Lily. Cage Lily.

What I wasn't prepared for was Dare—the man who would set my world on fire with just one touch. He saw straight through to my soul, as though he knew I was desperate for freedom, and silently demanded my heart from the beginning.

And I didn't expect Dare to be Demitri Borello—the reason for so many deaths in my family. A man who will take my life the moment he finds out who I am.

Despite it all, I'll love him until that moment comes.

A fire will die if there is no oxygen for it to consume. Ours is rapidly stealing every last breath we can sacrifice to it.
"Anywhere I go, I'll be waiting for you to find me lighting up the dark."
Just WOW—I couldn't wait to get my hands on Firefly as I LOVED Blackbird so, so, SO MUCH and Molly knocked it out of the park with this one.
Firefly was just as dark and intense as Blackbird but the suspense, the fire, the brilliance of this story took it to a whole other level.
Poor Lily, the Princess of the Irish-American Mob trapped in a life that she doesn't want. Her heart loving yet hating the one man she has ever loved and wanted a life with—Kieran Hayes aka Nightshade. Lily and Kieran have always loved each other wanting a life outside of the mob but Kieran has had a hard time walking away because of circumstances of their past.
Truth or Dare…
Lily finds the unexpected in Demitri Borello—the sworn enemy of her family. But where she is caged in the O'Sullivan lifestyle, with Dare she finds that freedom and need that she has been searching for.
Too bad he doesn't know who she really is. Too bad there is so much bad happening around them that a fragile love like theirs may not survive.
With flawless writing, unique and captivating characters and a mindblowing story, Molly has proven again how she can step outside of the box and give readers different stories to read that will hook you from the very first page. I devoured this book—it consumed my every thought—and I want MORE of these characters. I fell in love with all of the secondary characters and hope for more stories so that they each get their HEA. I am addicted to the Redemption Series and I can't wait to see what Molly has in store for us next! Simply stunning!!!


"Nothing's getting past me," I assured her.
Her breath washed over my lips as I leaned in to kiss her again when she whispered, "I thought we were talking about you."
I paused for a few seconds, then looked up into her hazel eyes. "What?"
"I think I'm in danger from you."
My brow pulled tight, and I forced out a low, frustrated laugh. "Me."
She nodded again, the movement of her head so slow as her eyes explored mine. "I need you to let me go for so many reasons, but I easily forget why when you don't. I think there was a reason neither of us crossed that invisible barrier before today. Because being in your arms?" She hesitated, her tongue quickly darting out to wet her lips. "Trust me, it's dangerous."
A weight pressed down on my chest, making it hard to breathe. Because damn it if she wasn't right.
There were dozens of girls over the years who'd meant nothing more than a night. Maybe two. Not one could I remember the name of, most I couldn't remember their face.
Then there'd been one who I would've sold my soul for if I could've had one more night with her.
My days with her had been everything. A slow burn that had built over time until I hadn't been able to get enough of her. Until she'd meant too much.
And there hadn't been a girl since.
Not a second glance. Not a thought. Nothing.
Until one morning at Brooks a few years ago.
But there was nothing slow about the thoughts and needs for the girl pressed against me. There hadn't been since the very first morning I'd found her staring at a mirror like it had the power to destroy her world. Like that possibility fascinated her.
Fuck, if I didn't need to find out why.
Dangerous was exactly what we were. Only she had no idea just how much.
My gut twisted as unwanted thoughts entered my mind, but I pushed them away. Because I knew what I needed to do. I needed to let her go and force myself not to follow.
But when there's a flicker of light in your life after so much darkness, it's impossible to stay away.
And this girl burned so damn bright.
Calling to me and beckoning me toward her, and I knew no matter how many times I let her slip away, I would follow her just to catch her again.
I brushed my thumb across her full lips. "Goddamn firefly."