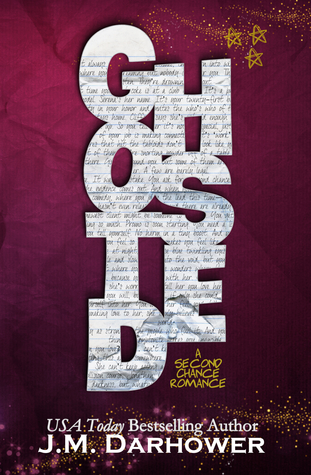 Ghosted

by J.M. Darhower
on August 24, 2017
Buy on Amazon
Goodreads


He's a troubled young actor, Hollywood's newest heartthrob, struggling with fame as the star of the latest superhero franchise. Through scandal after scandal, addiction on top of addiction, a flurry of paparazzi hunt him as he fights to conquer his demons.

She's a single mother, assistant manager at a grocery store, existing in monotony with her five-year-old daughter. Every day when she goes to work, lurid tabloids surround her, the face of a notorious bad boy haunting her from their covers.

A man and a woman, living vastly different lives, but that wasn't always the case. Once, they were just a boy and a girl who bonded over comic books and fell in love unexpectedly.

When Kennedy Garfield met Jonathan Cunningham back in high school, she knew he had all the makings of a tragic hero. With stars in his eyes, and her heart on her sleeve, the pair ran away together to follow their dreams.

But dreams, sometimes, turn into nightmares.

Now, years later, the only thing they share is a daughter—one who has no idea her father plays her favorite superhero. But Jonathan is desperate to make amends, and at the top of his list is the woman who gave up everything for him and the little girl he hasn't yet met.
I love the second chance romance troupe and J.M. Dawhower has given us readers something so magical in Ghosted.
I have loved previous books by this author, but this is most definitely my favorite and a #TopFave of 2017.
Kennedy Garfield met Jonathan Cunningham back in high school and they became fast friends. He was the rich boy with the politician father who was not a good dad to him while she was one of three girls at their school coming from a different background than the others but having a very loving family. Their friendship soon became more as their connection was something dreams are made of.
Fast forward many years later and Jonathan is Hollywood royalty while she is a single mom working as the manager of a grocery store.
What happened to these two comic book loving lovebirds who ran away from their hometown for Jonathan to make it in Hollywood? What happened to that love that they promised each other and their dreams of forever?
Told in past and present and in alternating POVs, this book wrecked me in the best possible way ever. Though Jonathan has this seemingly grand life in Hollywood, he has never forgotten his family—his heart. After an accident puts him out of commission from making movies for a couple of months and requires rest and recovery, Jonathan moves back home to get to know the daughter he has never met while trying to make amends with the woman who has always had his heart. I absolutely LOVED btw the way the past POV was told to us in journal writings—so unique and different.
I loved Kennedy's strength and hard work at being the best mom she could be while providing for her little family—never wanting to take a dime from Jonathan and wanting to be independent and doing it on her own. I MOST ESPECIALLY loved their little girl Madison who stole my heart probably from the moment she opened her little mouth. All sunshine and rainbows, she put a smile on my face while at times put tears in my eyes.
Watching this little family come full circle to make amends and to build a life together made my heart soar. This is second chance romance at its finest. Beautifully romantic, heart-stopping perfection and EPIC in every single way, J.M. Darhower has given readers something so intense and unforgettable in this book, these characters, and this story that I can not recommend it enough. All the emotions and the feels is something I have not experienced in some time and something I will never, EVER forget!
Amazon US | Amazon UK | Amazon CA 
Some of my favorite quotes:
"I know I was never enough for you, Jonathan, but I hope you find something that is."
"I wasn't accusing you of cheating. I just wanted to know how long it took you to move on." "Oh, well, that's an easy one," he says. "It hasn't happened."
"You're the queen. I'm just a commoner."
"I love you, too," he says. "More than bacon?" she asks, munching on a piece. "More than bacon," he says quietly. "More than everything."
"Never make someone else the main character in your own story."