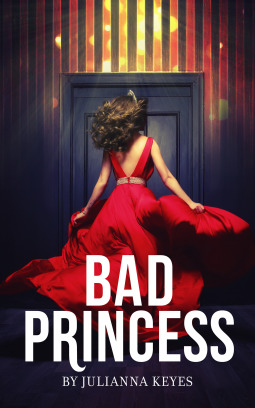 Bad Princess

by Julianna Keyes
on November 27, 2017
Buy on Amazon, Buy on B&N, Buy on iTunes, Buy on Kobo
Goodreads


Notorious for leaping off roofs, maiming foreign royals, and that twerking incident, Brinley Cantrella of Estau is nobody's definition of a good princess. She's fearless and bold, not good and gracious. And after a lifetime of being told she's unfit to be queen, wearing the crown and helping to usher Estau into a new era is the one dream she's never dared chase.

But when her older sister abdicates the throne, all Brinley has to do to inherit the role is not twerk, not maim anybody, and definitely not get caught fooling around topless with Prince Finn, her childhood crush, the only man she's ever loved…and her sister's former future husband.

Finn embodies the definition of good. Tall and handsome, serious and honorable, he always does the right thing—including agreeing to marry his ex's sister to cover up this latest scandal. Brinley has fallen down stairs, broken teeth and broken bones, but this is the first time her heart has ever been broken. She now has the crown and the prince, and on the surface, life is good—but is being married to a man everyone swears could never love her back good enough?
Happy Release Day to Julianna Keyes and her new book BAD PRINCESS. Enjoy the sneak peek below and make sure to enter the giveaway! Good luck!!
This was a cute although short story that made me want more. I kept looking at how much time I had left on my kindle and tried to slow down my reading to enjoy every second. Julianna Keyes created such fun loving characters in Bad Princess.
Brinley is the "bad princess"—always making mistakes, always in the spotlight for doing the wrong thing. In reality, she is living life and truly enjoying it. I loved her—she made me laugh, she made me smile and I enjoyed her character not being the normal princess but someone who lived for herself.
Brinley finds herself in a predicament when it is announced her sister has abdicated the throne and left her fiancé Prince Finn behind. On the night that Prince Finn is to find out at a dinner at her house, tourists touring the castle find her and Prince Finn in a compromising position. To save face, Brinley and Finn are married the next day.
But what of love? What of romance? What of the fairytale that you see when you look at real life royalty (i.e. Prince William and Princess Kate)?
Well this story was that and more… because you see… behind the always stoic Prince and "bad" Princess Brinley is not obligation but:
– fun bantering where she does not realize if he is joking or not (this made me smile)
– real admiration for Brinley's character, courage, and gumption
– and a love so perfect and pure that it made my heart so happy
And while I thought the writing was spot on, and the story so engaging that I couldn't put it down for one second… I just wanted MORE STORY which is why this is rated as 4 stars instead of 5… If we could have had more time with them, more back story, more of a look into the life of royalty and even more of the "after", this would have been a solid 5 star read for me.

For Brinley, the girl who had spent her life exploring every forbidden nook and cranny, crawling under desks and peering behind paintings, the castle was very much her home. For Elle it had been a jail cell. Her perfect behavior had been that of a model prisoner, biding her time, waiting to break free. And now she had fled and left the world with—
"Brinley," King Edric said. He rose from his seat where he waited with her father in the formal sitting room. He buttoned his perfectly tailored jacket and nodded politely. "How lovely to see you again." The words were polite, but the man himself was cold and impersonal, his pale hair and eyes a visual representation of the permanent frost in his voice.
"And you," Brinley replied, extending her hand for him to kiss. No matter the modern ideology of the kingdoms, some traditions never waned. She kept her eyes on his, her crooked smile bright and cheerful, even as she almost died from the effort required not to look at Finn, who stood just behind his father, calmly waiting his turn to greet her.
Edric finally released her and Finn took his place, taking her hand and pressing his lips to her knuckles. A roaring fire burned brightly behind him, but that was not the thing that made Brinley's cheeks flush.
"Princess," he said formally. Everything Finn did was formal. Everything about him from his carefully coiffed hair and his straight features to the brass buttons on his jacket and the tassels on his epaulets was formal. He was so stiff and handsome, but instead of off-putting Brinley found it incredibly tempting, the way she found the castle's forbidden secret passageways tempting. She wanted to explore him. She wanted so desperately to see those carefully chiseled features crack a smile when it was not called for, to hear him laugh, curse, moan.
But even as she wished for it, she knew it would never happen. Elle may not have reciprocated his feelings, but Brinley had little doubt that he had cared deeply for her sister. It was mandated, after all, and Finn was very much a dutiful prince, one who always followed orders and never his heart.
Direct Link: http://www.rafflecopter.com/rafl/display/d04251232173/