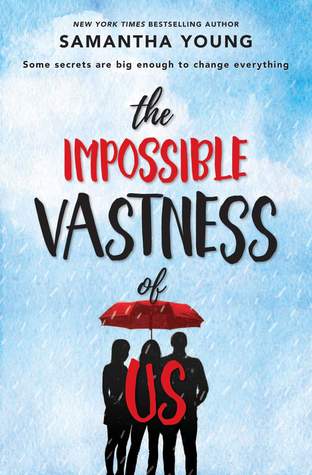 The Impossible Vastness of Us

by Samantha Young
Buy on Amazon, Buy on B&N, Buy on iTunes, Buy on Kobo
Goodreads


I know how to watch my back. I'm the only one that ever has.

India Maxwell hasn't just moved across the country—she's plummeted to the bottom rung of the social ladder. It's taken years to cover the mess of her home life with a veneer of popularity. Now she's living in one of Boston's wealthiest neighborhoods with her mom's fiancé and his daughter, Eloise. Thanks to her soon-to-be stepsister's clique of friends, including Eloise's gorgeous, arrogant boyfriend Finn, India feels like the one thing she hoped never to be seen as again: trash.

But India's not alone in struggling to control the secrets of her past. Eloise and Finn, the school's golden couple, aren't all they seem to be. In fact, everyone's life is infinitely more complex than it first appears. And as India grows closer to Finn and befriends Eloise, threatening the facades that hold them together, what's left are truths that are brutal, beautiful, and big enough to change them forever…
Happy Release to Samantha Young and The Impossible Vastness of Us! Enjoy a sneak peek into the book below and make sure to enter the giveaway! Good luck!
I don't typically read a ton of YA because often times it's too young for my taste. But I completely loved The Impossible Vastness of Us—finding it hard to put down for even one second when life (aka kids) were demanding my attention.
The Impossible Vastness of Us is the story of India Maxwell. India has had a rough life to date only to be made worse when her mother decides to get remarried and move them across the country to Boston. In Boston, India is thrust into a high society life—something that is so completely opposite of how she was raised. In her new school, she must start again making friends and attempting to rise to the top of popularity though finding it hard with her very popular and unfriendly sister-to-be Eloise and her seemingly snobby friends.
Without giving anything away because this book was so completely well done and so captivating that you need to read it on your own, The Impossible Vastness of Us touches upon several relevant issues in life today. Most importantly this is India's journey—a journey in learning who she is, finding trust again in others, opening herself up to allow people in and of course opening her heart up to love.
And while I was completely enthralled by this journey, I wanted more when it came to the ending. But I guess that's the case with every good book that a reader is always left wanting more—more story, more information, more after the end.
This was a completely different book than I have ever read from this author before and I loved it. Most especially the characters who I want to know more about… And while I know that this is a standalone, I hope that Young will continue on this YA path as the young love romance, the storyline, the writing, the characters made for such a beautifully epic book.
The Impossible Vastness of Us is one of the few YA books that I have read and loved over the years and it is something that I will never forget <3

"Headmaster Vanderbilt would like to introduce himself."
Headmaster Vanderbilt turned out to be a guy probably only five years or so older than Theo. I expected someone stuffy, pretentious and more than a little condescending, but Headmaster Vanderbilt—a tall, reed-thin man who wore a tiny pair of rimless glasses perched on his big Roman nose—was warm and welcoming.
His welcome, in fact, would be the warmest I'd receive that day.
My first class was Microeconomics and to my horror Eloise, Finn and their whole crew took the class. I hadn't been expecting to see them all together in one class and while the teacher introduced me I had to quickly put my mask of indifference on.
Eloise didn't acknowledge my presence as I took a seat on the other side of the classroom. My eyes drifted to Finn but he was staring at the teacher, almost too studiously, like he was trying to avoid my gaze. I shook that suspicion off, knowing Finn thought he was superior to me—I probably wasn't even on his radar.
Not that I cared if I was on his radar or not.
My Microeconomics teacher was pretty cool and I got through the class not feeling totally out of my depth. I considered that a positive for the day.
Fiction Writing was next and Charlotte was in my class. When I walked in, her eyes lit up and I thought I detected the beginnings of a smile before a thought passed over her expression. Her shoulders slumped, and she looked like she wanted to blend into the background.
I decided to ignore her weirdness and waved at her as the teacher approached to introduce herself. The teacher saw my exchange with Charlotte and insisted I sit with her.
"Hey," I said as I took the seat beside her.
Charlotte gave me a half smile, half grimace. "Hi."
"Don't worry, I won't cheat off you."
Her answer was a tremulous smile.
Encouraged, I nodded at her violet dress. "That color looks awesome on you."
Appearing almost taken aback, Charlotte glanced down at the dress and ran her fingertips over it. "Really? Bryce said it washed me out. She said I look trash in it."
Of course she did. I got more than a few mean girl vibes off that girl. "Well, she's wrong. It's really cute."
"Thanks." Charlotte gave me a shy smile before wariness replaced it and she turned determinedly to face the front.
Her body language told me not to push talking to her, but I felt hope.
Smiling inwardly, I faced forward, too, and listened to the teacher as she started class.
Two classes passed and I already had more homework than I'd ever had back at Fair Oaks High. I wasn't freaking out about it just yet, considering I had no friends and no extracurricular activities to distract me from all the schoolwork, but once I did I'd have to find a way to juggle it all.
As I was walking toward my next class I noticed the glances and full-on stares from my new schoolmates. Their looks varied from curious to sneering and I felt a tingle of wariness across the back of my neck. Turning a corner on my search for my Modern European History class, I came face-to-face with my stepsister-to-be and her girls. They sashayed down the hall like an ad for a TV show about beautiful popular high school kids, long hair fluttering out behind them like silk, long trim legs on display in their designer dresses and elongated by their Jimmy Choo sandals.
Eloise saw me, looked right through me and kept on walking without a word.
My skin felt hot with embarrassment at her obvious cut.
I watched her disappear around the corner with her best friends before looking around the hallway. That's when I realized I hadn't been imagining the sneers of my classmates.
A sick feeling settled in my gut as I wondered what the hell was going on.