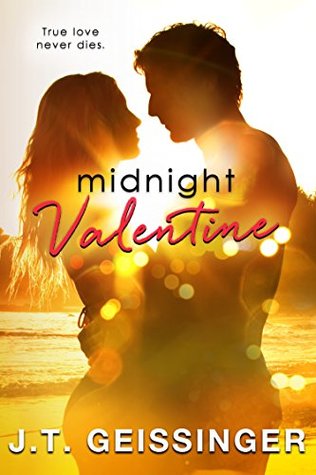 Midnight Valentine

by J.T. Geissinger
on February 6, 2018
Pages: 316
Buy on Amazon


True love never dies.

Megan and Cassidy were childhood sweethearts who thought they would be together forever. Fate had other plans. Soon after they were married, Cass's life was tragically cut short. Still grieving her soul mate five years later, Megan moves to the small town of Seaside, Oregon, hoping to rebuild her life.

Her first night there, she meets the town recluse, Theo. Withdrawn, guarded, and mysteriously silent since a terrible accident left him scarred, Theo takes an instant and inexplicable dislike to Megan. But as their paths cross again and again, Megan becomes convinced there's more to Theo than meets the eye.

When she discovers the reason for his silence, his nightmares, and especially his pointed dislike, Megan becomes convinced of something far more astonishing.

Is a second chance at a once-in-a-lifetime love possible, or is a broken heart the cruelest kind of liar?
People who know me well know that I am petrified of death… I can't think about it without crying because even as a child, I have always wondered what happens in the after… Will I be able to see my family and loved ones again? Are we born again so that we can live life with them again?
Midnight Valentine was a page-turner for me because of these exact questions.
Everything you need to know about the book is in the blurb… Megan and Cass have been together since childhood and had promised forever to each other. But fate had other plans in store for them as Megan lost the love of her life in a fatal car accident. Five years later Megan is a shell of the person she once was, moving to Seaside, Oregon to continue to build the dreams that she and Cass once had together.
But Megan needs help… she needs a trustworthy contractor… and the only one good enough to help her is Theo Valentine, the town recluse, who seems to hate her at first sight. You see, everyone loves Theo but five years prior, Theo also suffered the unimaginable losing his voice and his spirit forever. Unfortunately Theo doesn't show this side to Megan, only showing her his anger and she (and readers) will be perplexed as to why.
Megan and Theo have an interesting relationship, slowly getting to know each other and their quirks. I loved their way of communication as it really opened up what was inside Theo's head but also allowed them to have open dialogue—honest and true. Their connection and the way they were drawn to each other was really inspiring and gave me hope that "true love never dies."
This book was truly beautiful and really touched my heart and soul. The author really took a chance at writing something different and out of the box and I applaud her for that. I know that people will believe different things about the afterlife, but this book gave me hope that the things I wish for are possible. Absolutely emotional, unique and breathtaking… I love this author's words <3
Watch the trailer for MIDNIGHT VALENTINE: https://youtu.be/lsa1O9ytl9w