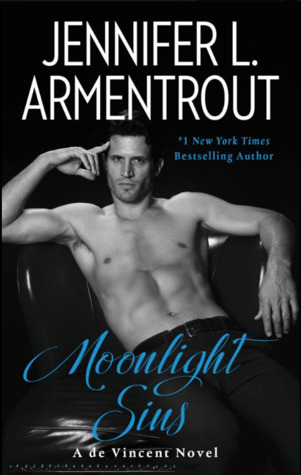 Moonlight Sins

on January 30, 2018
Pages: 400
Buy on Amazon, Buy on B&N, Buy on iTunes, Buy on Kobo
Goodreads


New York Times bestselling author Jennifer L. Armentrout delivers the unforgettable story of a woman whose new life has just begun—but may end in murder...

Julia Hughes has always played it safe until she learned a very painful lesson. Now Julia's starting over with a job in the Louisiana bayou—and a scorching encounter with a stranger, only to discover he's Lucian de Vincent... her new employer. The de Vincent brothers share a massive fortune and a dark reputation. Julia cares for their troubled sister, but a menacing presence in the mansion—and the ever-present temptation of Lucian—prove dangerously distracting.

Lucian's grandmother claimed de Vincent men fall in love once—and hard. Apparently, it's Lucian's turn. Julia's compassionate care of his twin makes Lucian want to lay himself bare. But some secrets are better for Julia not to know.

The recent "suicide" of Lucian's father is the latest in a string of deaths on the estate. Someone is eliminating the de Vincents. And the best way to get to Lucian may be through Julia...
Moonlight Sins is my first Jennifer Armentrout book. I have heard such great things about her so when I was approached to read this book, I couldn't say no.
I have to say that I really loved the mystery aspect of this book… it was really intriguing and even a bit scary at times because I wasn't sure what to expect.
I really liked the broody brothers though Lucian and Gabe were my favorite because you could see the flirty too. With the brother Devlin, I am definitely intrigued by him because he just seemed so closed off and angry… I would definitely want to read the brothers stories—to see them find their HEA.
Ok back to Moonlight Sins…I LOVED Lucian and Julia's chemistry—their scenes together were fun and layered with emotion and heat.
When secrets are revealed, I have to say wow—I was definitely surprised but I guess I wanted more which is why I am rating it between a 3-3.5 STARS. There was so much talk of ghosts and spirits and hauntings and the curse on their family that I expected this huge reveal about all of these things and at about 85-90% when everything was revealed I did feel wow, but I felt like it was a huge rush to get to the end and to tie up the loose strings. I guess I just wanted more story/more elaboration around this time instead of the race to the finish line.
Was I intrigued the whole time? Yes. Do I want to read more in this series to see where it will go? Yes. Did I like the overall story and characters? Definitely YES…Like I said, I had built up this huge expectation because of all the great things I have heard about this author so I just wanted more but I will settle for more of the brothers and more of this series 🙂
Good start to a new series…