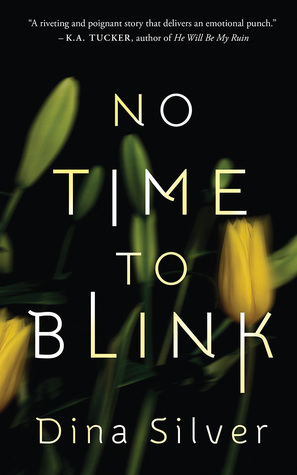 No Time to Blink

by Dina Silver
on February 13, 2018
Buy on Amazon
Goodreads


He knows the one thing that would destroy me would be to separate me from my daughter…

Catherine Clarke defied her family's expectations when she married Gabriel, a handsome Lebanese businessman. After moving to Gabriel's homeland and welcoming a baby daughter, Catherine knew she had to acclimate herself to the strange new world. Yet both her husband and her surroundings became more volatile and threatening than she could have ever imagined.

When Gabriel forbids her to return to the States, Catherine devises a plan to deceive him, but she vastly underestimates how far he will go to punish her. And after her daughter, Ann Marie, is abducted and taken deep into the mountains of Beirut—protected by family, culture, and law—the only thing on Catherine's side is the fierceness of a mother's love. She's prepared to move heaven and earth to find her child.

Told from alternating points of view—that of a daughter whose past is a mystery and of a mother with painful secrets to share—this profoundly moving story of impossible risks will resonate with anyone whose love has no boundaries.
I love Dina Silver books—I love her ability to take from real-life experiences making something completely unique and her own and doing it in such a way that her stories are completely addicting and mesmerizing.
No Time to Blink is women's fiction, not something I read often, but complete perfection.
This book is told in dual POV's and told from the perspective of Catherine Clarke in the 70's, her marriage to a Lebanese man Gabriel, the birth of her daughter Ann Marie and ultimately her struggle to return to the home she had always wanted to escape from, all the while protecting her beloved daughter.
Interestingly enough, the other POV is from Ann Marie in the present day and her own struggles with her marriage, all the while trying to take care of her three children and providing them with as normal of a childhood as she possibly can given the circumstances.
The bond between mother and daughter touched my heart and as I read this story made me hope and pray for that close of a bond with myself and my daughter as she grows and matures. I LOVED how as a reader I could feel that love emitting from the pages. I also thought that the author did a great job in allowing the reader to immerse themselves into the Lebanese culture… I could smell the foods, I could see the country from the eyes of Catherine, and it truly made me feel like I was part of the story.
And let me tell you… I was IN this story… I was vested in every way.
The hurt and pain—all the emotions really—in this book was real, relatable, and above all stunning. This is Dina Silver's best book yet. A MUST READ for readers who enjoy women's fiction, who want a powerful story that will give you all the feels and keep you hooked until the very end.
Read No Time to Blink TODAY!
Amazon US | Amazon CA | Amazon UK