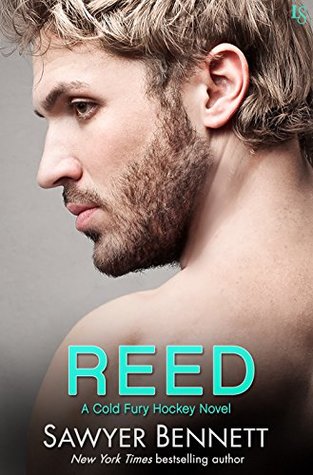 Reed

by Sawyer Bennett
on February 6, 2018
Pages: 224
Buy on Amazon, Buy on B&N, Buy on iTunes, Buy on Kobo
Goodreads


Hockey season may be over, but in New York Times bestselling author Sawyer Bennett's new novel, a Carolina Cold Fury heartbreaker is heating things up off the ice and eager to score with the girl next door.

No one skates like Reed Olson. In the off-season, no one plays like him either. After back-to-back championships, Reed craves a different kind of action. Good thing there's no shortage of women ready for a summer fling with a sports star. Reed has a specific type—blond, busty, not too bright—and a little black book full of options. But when his bed starts rocking, it's his unexpectedly sexy neighbor who comes knocking. And the brainy beauty is impossible to ignore.

Josie Ives desperately needs something her celebrity neighbor obviously doesn't: sleep. His headboard banging against the wall is keeping her up at night—not to mention inspiring some very naughty dreams. Reed is everything she imagined: a little too good-looking, with a body that puts Greek gods to shame. But he's also funny and charming—a tempting combination. Josie's the opposite of his type, yet the chemistry between them is undeniable. Their friendship certainly has its benefits, and it's heating up to be so much more.
I want to start by saying I love the Cold Fury series! And I enjoyed reading Reed!
Reed Olson and Josie Ives definitely fit… though how they meet did set me off a bit… I did enjoy watching their friendship develop. I adored how Reed wanted to know more about the good doctor. I love loved how he was impressed with her career and intelligence.
The friendship and the banter between these two allows the reader (or at least me personally) to put some distance between how these two first meet.
As I spent more time with Reed and Josie and as I was a witness to their developing bond, I could feel them connecting. In the end I was rooting for them to embrace the connection in front of them.
The chapters that surround Marek, Reed's teammate OMG; so powerful. These chapters also spoke to what a great friend Reed is.
Though this book is not my favorite of the series… I did enjoy it and the build up to Marek. Those few chapters may be some of the best chapters in this series, a series that contains some of my favorite reads of all time.
I am so excited for Marek… like it may be my most antipcated read of 2018!