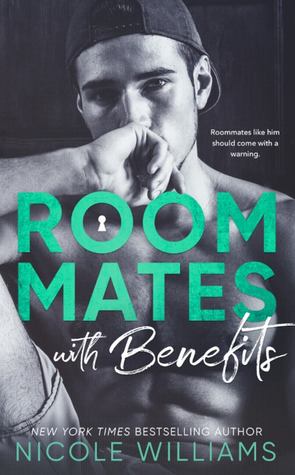 Roommates with Benefits

by Nicole Williams
on June 4, 2017
Buy on Amazon, Buy on B&N
Goodreads


Soren Decker. He's the epitome of the "bad boy, good man" persona. The best of both worlds. The worst of them too. He's the type of guy most girls would not mind sharing a confined space with, except my new roommate isn't all swagger and chiseled abs.

He's bossy. Messy. Cocky. Infuriating. Doesn't believe in personal space. Has no qualms about roaming the apartment with a loincloth-sized towel cinched around his waist. Seems under the delusion he's my personal protector (refer back to infuriating). He plays college baseball and holds down a part-time job—I don't know where he finds the time to get on my nerves.

We're got nothing in common . . . except for one thing. Our attraction to one another. And in six hundred square feet of shared space, the tension only has so much room to grow before one of us gives in to temptation. But really, what chance do a couple of young kids chasing their dreams in the big city have of making it?

Since Soren claims I know squat about sports (he might have a semi-point), here's a stat for him—one in a million. That's our odds.
I love Nicole Williams men! There is something she gives each one of them that make readers swoon and fall in love with them and Soren in Roommates with Benefits was just WOW 😍

Soren and Hayden are big dreamers…they find themselves as roommates in NYC sharing a studio apartment as each are following their lifelong dreams – for him it's baseball and for her it's fashion modeling.

I enjoyed their bantering, their obvious chemistry but even more than that, I loved Soren's protectiveness and care for Hayden and then watching Hayden finally realizing how much Soren means to her too.

Unfortunately there were some things that didn't work for me—namely some immature moments though I guess being 19 you will still get those moments. I don't love drama for the sake of drama and how communication is just SO important. Talking things out could have saved a lot of conflict. There was something that happened with her agent Ellis and at the end there was no more said about him though I wish he had his ass handed to him 🙁 I would have LOVED to see that!

Overall though, this author's writing continues to be amazing and I will read everything and anything she writes. While I didn't love this one as much as I have some of her other books, I still enjoyed this sweet story of young love in the city while following your hopes and dreams <3