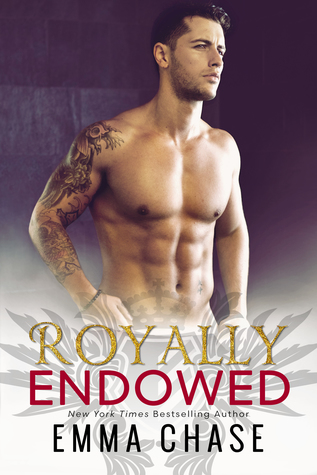 Royally Endowed

by Emma Chase
on August 14, 2017
Pages: 275
Buy on Amazon, Buy on B&N, Buy on iTunes, Buy on Kobo
Goodreads


Logan St. James is a smoldering, sexy beast. Sure, he can be a little broody at times—but Ellie Hammond's willing to overlook that. Because, have you seen him??

Sexy. As. Hell.

And Ellie's perky enough for both of them.

For years, she's had a crush on the intense, protective royal security guard—but she doesn't think he ever saw her, not really.

To Logan, Ellie was just part of the job—a relative of the royal family he'd sworn to protect. Now, at 22 years old and fresh out of college, she's determined to put aside her X-rated dreams of pat-downs and pillow talk, and find a real life happily ever after.

The Queen of Wessco encourages Ellie to follow in her sister's footsteps and settle down with a prince of her own. Or a duke, a marquis…a viscount would also do nicely.

But in the pursuit of a fairy tale ending, Ellie learns that the sweetest crushes can be the hardest to let go.
***
Logan St. James grew up on the wrong side of the tracks, in a family on the wrong side of the law. But these days, he covers his tattoos and scars with a respectable suit. He's handsome, loyal, brave, skilled with his hands and…other body parts.

Any woman would be proud to bring him home to her family.

But there's only one woman he wants.

For years he's watched over her, protected her, held her hair back when she was sick, taught her how to throw a punch, and spot a liar.

He dreams of her. Would lay down his life for her.

But beautiful Ellie Hammond's off-limits.

Everybody knows the bodyguard rules: Never lose focus, never let them out of your sight, and never, ever fall in love.
Denise: I was lucky enough to have this book with me on a plane ride which meant time to read with no distractions, no guilt, no 100 other things I should be doing. I was guilt-free engrossed in Logan and Ellie's story. I was so engrossed I shocked when we reached our destination as time almost stood still.
Christine: Emma Chase has done it again!!!! Royally Endowed is my new favorite of this amazing series! Ellie has been stuck with Logan as her bodyguard since her senior year of high school when her sister Olivia started dating Nicholas, the crowned prince of Wessco.
Denise: Logan is assigned to look after Ellie, sister to Princess Olivia (the female lead in Royally Screwed book 1). Ellie is energetic, has a mind of her own and wants to live life on her own terms! Logan is tasked with managing that against the need to keep her safe in the shadow of her sister marrying a Prince!
Christine: From the very beginning, I loved Ellie's fun-loving, happy and everything is sunshine, spitfire personality in contrast with Logan's very straight-laced, serious bodyguard personality. She's always saying "when life gives you lemons, make lemonade" while Logan just says "no" lol
Denise: If you have not read the prior books in this series, this one is easily read as a stand alone, if you have read the prior books you will love for the supporting cast plays into this story!
I want to make sure to say I love the Queen in this one; she has some great lines and in the end we get to see a side of her that brought a big smile to my face.
Christine: I absolutely loved watching time pass as Ellie grew from teenager to a beautiful woman all the while Logan was in the background keeping her safe and trying not to care TOO much. The push and pull between them so deliciously sweet and just so fun to experience that I could not put this book down.
Denise: It was so much fun to experience with banter between Logan and Ellie.  It was truly engaging to bear witness to friendship developing and then blossoming and growing into so much more!
Royally Endowed is a slow burn told over a number of years, though I don't always love the slow burn for this story it is was simply perfect!
Christine: And when life and the unexpected happen that opens up their eyes to what has been in their hearts and in front of them the whole time…just WOW! All the feels… my heart wanted to explode with happiness.
Denise: Logan's past is so perfectly woven into the story, it helps the reader understand him and it explains so much about his behavior and his deep connection and devotion to his work.
Ms. Chase made my heart soar yet again with her laugh out loud humor, her stellar storytelling skills and a male POV which is one of the best for me.
This book is told in both POV's but man there is something about this author and male POV's that gets me everytime!
Christine: I love Emma Chase's writing and storytelling. She continuously puts a smile on my face and many a times I found myself laughing out loud by all of the characters' antics.
Royally Endowed is sexy and sweet and the perfect addition to this series that I love so much. It was so much fun to see characters from prior books and to experience more of their happily ever afters. Even thinking of this book a day later puts a huge smile on my face and gives me such a blissful feeling because reading a great book makes my book-loving heart so very, very happy ❤️❤️

Ellie
But then the mood shifts, as if the air becomes thicker, weighted, more . . . sultry.
Because slowly, Logan sinks down to one knee in front of me—looking in my eyes the whole time. In this position, I could touch his shoulders, comb my fingers through his thick, dark hair. He's the perfect height for me to bend down and kiss his mouth—the perfect height for him to kiss me back . . . in a lot of places.
My breath hitches. And I wonder he feels it too.
There's a sound of tearing Velcro, and Logan takes something off his ankle—a holster, with a small silver knife, about three inches long.
"Keep this on you all the time," he says seriously. "Just in case. If you wear a skirt, the strap will fit around your thigh."
And I almost laugh. Most girls get a ring from a guy on his knees. I get a murder weapon. But still, it makes me feel safe . . . watched over. Like I'm something precious that deserves to be protected.
I take the knife from him, testing the surprisingly solid, heavy weight of it in my hand. I press my index finger to the tip.
Logan grabs my wrist tightly. "Careful. It's sharp."
There's a small, painless nick, a tiny bead of blood, so I put my finger in my mouth, sucking.
And Logan's watching me again.
Watching my mouth.
His chest seems to rise just a little faster, and his throat ripples when he swallows. He bends his head, curves his strong back, and then I feel his hands on my ankle, securing the strap. His touch is warm and self-assured. It's the way he always moves—confident and experienced. Logan knows his body and he knows how to use it, in every way possible.
I almost moan. The sound is in the back of my throat, but I keep it trapped. I never knew the ankle was an erogenous zone, but it sure as hell is now. A hot pulse of pleasure streaks from Logan's fingers on my bare skin, up my thigh, between my legs.
And I throb there, growing swollen and heavy as he keeps his hands on me.
Can he tell? Does he know? He's so aware of everything, always so attuned, I wonder if he can sense my arousal . . . feel it in the air that clings between us.