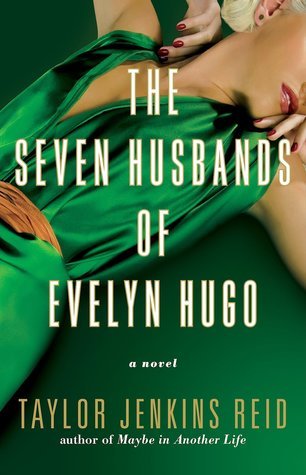 The Seven Husbands of Evelyn Hugo

by Taylor Jenkins Reid
on June 13, 2017
Pages: 400
Buy on Amazon, Buy on B&N, Buy on iTunes, Buy on Kobo
Goodreads


From Taylor Jenkins Reid comes an unforgettable and sweeping novel about one classic film actress's relentless rise to the top—the risks she took, the loves she lost, and the long-held secrets the public could never imagine.

Evelyn Hugo is finally ready to tell the truth about her glamorous and scandalous life. But when she chooses unknown magazine reporter Monique Grant for the job, no one in the journalism community is more astounded than Monique herself. Why her? Why now?

Monique is not exactly on top of the world. Her husband, David, has left her, and her career has stagnated. Regardless of why Evelyn has chosen her to write her biography, Monique is determined to use this opportunity to jumpstart her career.

Summoned to Evelyn's Upper East Side apartment, Monique listens as Evelyn unfurls her story: from making her way to Los Angeles in the 1950s to her decision to leave show business in the late 80s, and, of course, the seven husbands along the way. As Evelyn's life unfolds through the decades—revealing a ruthless ambition, an unexpected friendship, and a great forbidden love—Monique begins to feel a very a real connection to the actress. But as Evelyn's story catches up with the present, it becomes clear that her life intersects with Monique's own in tragic and irreversible ways.

Filled with emotional insight and written with Reid's signature talent, this is a fascinating journey through the splendor of Old Hollywood into the harsh realities of the present day as two women struggle with what it means—and what it takes—to face the truth.
It's no secret that I LOVE Taylor Jenkins Reid. I was first introduced to this author by my good blogger friend Megan at Reading Books Like a Boss. I have loved every single one of Taylor's books for various different reasons—each book showcasing what a talented writer she is.

The Seven Husbands of Evelyn Hugo was no different. This is a totally different type of story for the author.

I was completely captivated by this story from the get-go. A young, independent and strong woman trying to find her way to stardom in Hollywood. At a time when women didn't have much say in things, I loved Evelyn's smartness and her willingness to do it all for the sake of her happiness and success.

Now in her late 70's, the most famous actress of all-time wants to tell her truth—the real story of who she is, the reason for her many husbands, her life and rise to the top and the true love of her life—all to a fairly new writer Monique Grant.

How the story is told is very unique while we live through Evelyn's life from the 50's through the present. Living her ambition, her successes, and downfalls and the glitz and glamor of Hollywood including the things that you don't often see in the Hollywood lights—discrimination, abuse, bitterness, and heartbreak.

While I was completely enthralled in this story and couldn't put it down wondering why Evelyn had so many husbands, why she chose someone so green to write her story, and how everything was all connected—I wanted more.

In an era filled with such sex appeal and scandal, I wanted to see more of this. I didn't truly love Evelyn our heroine. While I understood in the end her reasons for doing the things she did, I felt that she was overly selfish and wondered at times if some of the things she did was too farfetched and unrealistic. And again while understanding what she did, I wanted her to feel some remorse for some of her actions which she just never did.

There were characters I liked and characters I wished to understand and know more of. This is Evelyn's story so I can see how many of these people were in the background but I wished that some were fleshed out a bit more. I enjoyed meeting the different husbands and how and why they came into her life.

I was very sad and then angry to learn how everything was all connected in the end but felt respect for Evelyn for trying to do what was right and for Monique handling it all the way that she did—with dignity and respect.

I think that this book is a 3-3.5 star for me. While I didn't enjoy it as much as I have prior TJR books, I think this book was still so interesting to read (I imagined Liz Taylor in my mind) and I will definitely read more from this author as she publishes new books!