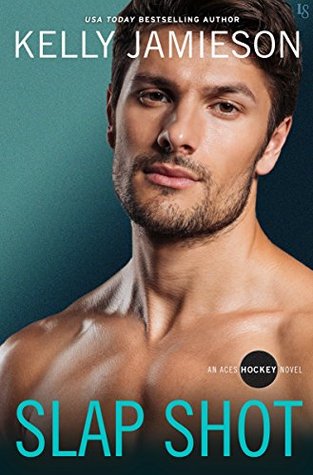 Slap Shot

by Kelly Jamieson
on October 17, 2017
Pages: 276
Buy on Amazon, Buy on B&N, Buy on iTunes, Buy on Kobo
Goodreads


My name's Max Hall, and I need to f***. As a pro hockey player who's been away from the game for over a year, my libido has picked one hell of an an inconvenient time to come roaring back to life.

After my wife died from a rare form of cancer, sex was the last thing on my mind. Same with hockey, the other love of my life. Now, after fifteen months of eating too much, drinking too much, and generally just feeling sorry for myself, I'm facing a steep uphill battle to get my ass in shape and play my way back onto the Chicago Aces.

So I'm not looking for a relationship. Just sex. Yeah, I know how that makes me sound. But the truth is, I'll never love another woman the way I loved my wife. When I meet a sexy bridesmaid at my teammate's wedding, I decide to scratch that itch. A fling with Kendra Armstrong in her posh hotel room could be just what the trainer ordered.

Not only is Kendra smokin' hot, she's dynamite in bed—one of the perks of being a sex toy designer. Since she lives in New York anyway, we agree to keep things casual, no strings attached. The arrangement is perfect . . . until one of us falls in love. And it's not me.
Though this book is listed as part of a series, it can easily be read as a stand alone
Slap Shot is the story of Aces professional hockey player Max Hall, known to his teammates as Hallsy.
Kendra Armstrong meets Max at her cousin's wedding. I want to make sure to say I love how this first encounter plays out. I will not say first night because the night goes a bit astray. Astray in a way that truly speaks to where Max is in his life.
For those new to this series….where is Max in his life you ask.. well he is a widow who stepped away from the game he loves for 12 months to care for his dying wife.
Cue pulling my heart strings… I mean come on… who isn't going to root for a man like that to find a new happy.
And that is exactly what Slap Shot is—a new happy for Max; he needs to learn how to live in his new reality. One where he is fighting to regain his spot on the Aces and where he is trying to figure out how to live his life.
The chemistry between Kendra and Max is tangible from almost the moment they connect but the heart in this book comes from Max learning to love again.
Kendra is intertwined into the connections around Max as her cousin married one of his teammates. I love how this played out throughout the story. It built a world that pulled me in.
As most who know me know, I love hockey and yes again Ms. Jamieson delivers a hockey world that made me smile!
Was there a point where I wanted to strangle him? Yes. Did it make sense for him? Yes. Did I love the happy created? Heck YES!
If you love books with truly wounded heroes who deserve to find a new happy—this is a must click!
Buy Slap Shot