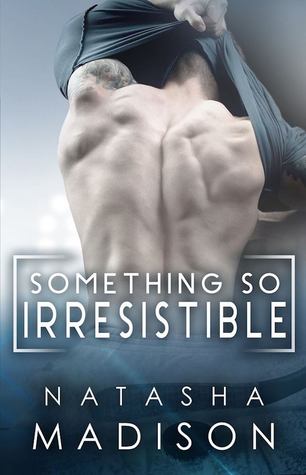 Something So Irresistible

by Natasha Madison
on January 8, 2018
Pages: 242
Buy on Amazon, Buy on B&N, Buy on iTunes, Buy on Kobo
Goodreads


Max Horton

They call me an outcast like it's a bad thing.

An asshole byproduct of a shitty upbringing. I don't care about anything except myself and my little sister.

I will always protect what's mine.

With one year left on my hockey contract I'm keeping my head down and my eyes on the goal.

A collision, with her, changes my entire existence.

Allison Grant

Never fall in love with a sports star. That's what my stepfather always said. He told me athletes are complicated and moody—that the higher their paycheck, the lower their morals.

As public relations for the New York Stingers I know exactly what he means, but I can't seem to say no to a friendship with one beautiful, damaged man.

What started out as hate turned into something else.

We tried to stay away, to keep our distance, but the pull was too strong.

Something forbidden turned into something so irresistible.
Something So Irresistible is a Top Pick for me. It may be able to be read as a standalone as it is set a few years out from the prior books in the series though I highly recommend that it be read as book 3 in this wonderful hockey-themed romance series. Why you ask??? Because  #MadMax is everything— his character evolution is true testament to Natasha Madison's talent.
Max Horton and Allison Grant start this book of with an extremely strong dislike of each other; if you have read the prior books in this series you will understand the "why" for this in spades.
Yes, Allison is justified in her feelings. I want to pause here and say I loved how this was not ignored or brushed off as the story develops. The couple (and the author) take past experience on full force. In this one, sexual chemistry does NOT solve everything, this couple communicates. I know shocking right—adults who actually talk!
Max is teammates with Allison's older brother Matthew. There was so much fun and lighthearted banter around this especially when Max and Allison connect a bit.  You see, Allison is offered a position in public relations for the team, and this puts her right in broody Max's orbit.  Speaking of the job offer—wait til you read Allison's stepfather Cooper's reaction to this! OMG truly laugh out loud. Speaking of laughing—Allison's twin sisters were so funny. (Ok sorry, I am rambling)
The bond these two forge becomes one rooted in friendship first, so this book is an enemies to friends; friends to lovers romance. The layers—the time the author spends truly developing this relationship—had my heart deeply vested in this relationship. All this emotion is masterfully woven with humor—amazingly well-crafted character banter that really felt real and as the story progresses yes, we get some heat!
Max's backstory, this bond with his sister Denise all allow the reader insight into his soul—insight into his prior actions and lead to a truly wonderful man now ready to embrace the love in front of him!
In the end, the happy these two find was so perfect for them!
Oh and the epilogue…be still my heart… Ms. Madison, Thank you, Thank you, Thank you!
I do hope Max's sister Denise gets a book (and not because she has the same name as me but because she is a compelling character I want to know more about).
I also hope ViVi gets a happy, because she is hysterical and I want to see her meet her match!
The main reason this book isn't 5 stars for me personally is the way the prologue is set up. I found myself rushing, I had to keep saying to myself "slow down, read slower enjoy the journey." If, as a reader, you have patience (something I lack!) this book is likely to be 5 stars for you.

Watch the trailer for Something So Irresistible HERE
Read the Something So Series