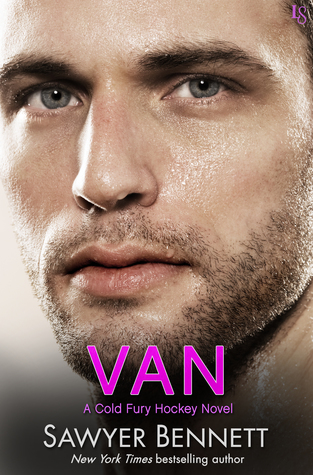 Van

by Sawyer Bennett
on November 28, 2017
Pages: 224
Buy on Amazon, Buy on B&N, Buy on iTunes, Buy on Kobo
Goodreads


Score one for the Carolina Cold Fury hockey team as a stone-cold badass melts for a woman who makes his blood run hot.

As one of the league's toughest enforcers, Van Turner is ruthless on the ice. He plays hard because it's the only way to channel the rage boiling inside, and a reputation as an A-hole is better than everyone knowing the truth. Van has spent his entire life running from a secret that's kept him from getting involved in relationships—or accepting lucrative deals with East Coast teams. Then the Carolina Cold Fury makes him an offer he can't refuse . . . and Van meets a woman he can't resist.

Simone Fournier is the stubborn one in her family—and that's saying something, considering her brothers are two of the Cold Fury's biggest stars. Simone gets what she wants, and what she wants is Van. Still, there's a part of him Simone can't reach, no matter how hard she tries. In private, he's all fire and passion. In public, he freezes her out. Van may want to push her away, but Simone won't let him go that easily. Because this time, she's playing for keeps.

The Carolina Cold Fury series from New York Times bestselling author Sawyer Bennett can be read together or separately:
ALEX
GARRETT
ZACK
RYKER
HAWKE
MAX
ROMAN
LUCAS
VAN
Van has the best plot of the entire Cold Fury series—a series I adored—a series that contained many of my favorite reads and favorite male leads!
Van is just WOW….. Van Turner is the brooding roommate to Cold Fury player, Lucas Fournier.
I want to pause here and say though the timeline for Lucas and Van overlap, I think this book will be enjoyed more if you have already read Lucas (and well if you have read the Cold Fury series you will be in hockey heaven as you read).
Lucas (and Max's) baby sister Simone Fournier has recently dropped out of college (much to her parents chagrin) and is living on Lucas's couch.  This puts her (or more accurately) puts Van right in Simone's orbit.
You see though Simone is a bit adrift when it comes to what she wants to do for a living; she is very clear she is attracted to Van. I loved how bold Simone was, how she was in touch with her sexuality, and how she pushed Van.
Simone's parents are really well done in this story. They added to the story and helped you understand Simone and even Lucas and Max more.
Why was this book so WOW you ask? Well that wow comes in the form of Van's secret—Van's past—his haunting, grabbing your soul, breaking your heart past.
Van is not your standard "oh I am afraid of commitment alpha male" that has become a bit boring and overdone to me. Van is truly a man with past, a man with real fears, a man with a REASON to fear allowing himself to love.
Everything around this was element of the book was so well done; this tragic secret not only makes Van make so much sense to the reader—it makes you wish you could reach into your kindle and HUG him!
But alas that is Simone's job. This feisty young woman slowly chips away at the tough exterior Van has spent his life putting up. I truly believe Simone opened Van's eyes to the beauty in the world.  A world that when I closed my kindle I felt like he was finally living in for the first time in his life!
I must say that the "I am still Shiny" line became so powerful. Trust me read the book and you will understand!
This world Ms. Bennett has crafted with this series is one that now feels like sitting down to visit with friends and I am so excited that Reed will have his story told next!