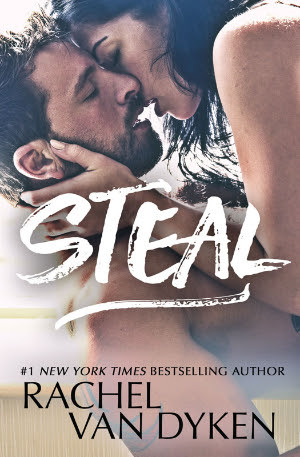 Steal

by Rachel Van Dyken
Buy on Amazon, Buy on B&N, Buy on iTunes, Buy on Kobo
Goodreads


Steal, the follow-up standalone rockstar romance to the #1 New York Times Bestseller Keep…

It's easy to lose yourself in someone you love.

Easier to lose yourself in someone you hate…

I didn't think it could get any worse than having to babysit a bunch of spoiled musicians on set ― keeping them out of trouble is a cakewalk compared to seeing my ex every day.

Seaside, Oregon isn't big enough for the both of us.

She hates me.

I loathe her.

The plan was simple ― stay the hell away and make sure she gets to set on time.

What I didn't expect was to be faced with our past in front of an audience ― and be forced to face it again.

It's torture.

The way she looks at me.

The way I try to look through her.

Words left unsaid.

The lingering aftermath still as powerful as ever.

I feed the chasm between us, for fear that she'll make me feel again ― and steal the last shred of heart I have left.

We have everything but each other.

It's not enough.

Not when you've lost love.

And replaced it with the only thing left ― hate.
I had the privilege of early reading Steal… I LOVE second chance romance stories and I simply adore the characters in the Seaside Pictures series.
Will and Angelica are both stars and famous in their own right—he is in a band and she is an actress in movies. Will and Angelica date and fall in love until their relationship is broken in the worst possible way leaving both completely ruined.
In Steal, readers will watch as the story of Will and Angelica unfolds, what caused them to separate and what their life is like now in the present day filled with so much anger and sorrow.
My heart broke for these two—the need, the power to destroy, the unforgiveness and mistakes wrecked havoc on my heart.
But are they as indifferent as they seem to be or is there more beneath the surface? Can trust and forgiveness ever be found? Can these characters, who have grown and matured, find who they once were together—is there any hope?
Well, of course I won't be telling you because where is the fun in that?! I will say this… life is filled with ups and downs and it's what you learn from your mistakes that makes you even better people than how you first started. Sometimes it's worth it to take the risk and jump and Steal is messy and chaotic yet heartwarming and will fill your soul with such happiness and love.
I LOVE the secondary characters (even the ones who I may have at first not liked at all) and it was so much fun to see everyone again. Do I hope for more stories in the future – you bet I do!!! RVD is the Queen of love and romance in everything she writes!