Over Us, Over you

on December 7, 2017
Goodreads


I had such high hopes for this one thinking it was a longer full length novel but *sighs* it turns out this was just a little bit longer than her usual novellas.
I love friends to more stories so this one was right up my alley. Unfortunately the way this book was structured was reminiscent of all of her prior books. While I enjoyed the bantering and the writing I just wanted MORE! More depth, more character development, more story…more effort…just more! Everything came too easy and when I really think about it I'm not even sure I liked the heroine though I did really like Corey.
I love Whitney G and have loved her since the beginning which is why I continue to pick up her books. I guess for me I just want more. It was a fun fast read but it's definitely not one of my favorites.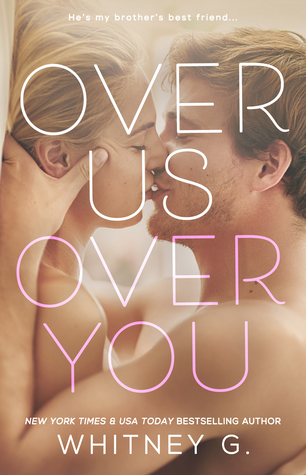 From New York Times bestselling author Whitney G. comes a falling for my older brother's best friend romance.
Subject: Delete this message after you read it…
Dear Hayley,
I'm assuming you're still hungover, so I'll make this brief.
Last night, you slipped under my sheets (without my permission), and we almost had sex. I got the hell out of the bed once I realized it was you, and I took you home.
That's the story.
The end.
Period.
Just in case you've forgotten, you're my best friend's little sister. We will never be anything more. (We can't be anything more.) Our previous friendship is still unresolved–or "over" in your terms, so I'd prefer if we worked on becoming 'just friends' again since you're in town.
Nonetheless, I'm not a man who leaves questions unanswered–even the drunken ones, so to properly close our inappropriate conversation:
1) Yes, I liked the way your lips felt against mine when you were on top of me.
2) Yes, I do "prefer" rough sex, but I'm pretty sure I wasn't rough with you.
3) No, I had no idea you were still a virgin…
This message never happened,
Corey