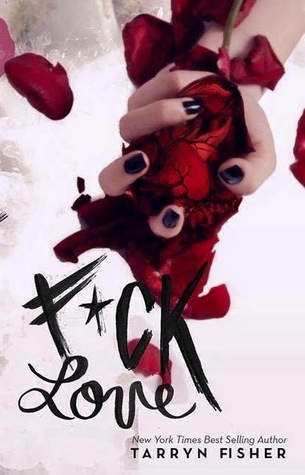 F*ck Love

by Tarryn Fisher
Buy on Amazon
Goodreads

Helena Conway has fallen in love.
Unwillingly.
Unwittingly.
But not unprovoked. Kit Isley is everything she's not—unstructured, untethered, and not even a little bit careful.
It could all be so beautiful...if he wasn't dating her best friend. Helena must defy her heart, do the right thing, and think of others.
Until she doesn't.
I can't believe I am saying this but I have a new Tarryn Fisher favorite – this is my first Top Pick of 2016. This will likely be a short review because I don't want to give away too much information. This is the type of book that has to be savored and experienced by each individual reader so that you can absorb the awesomeness that is Tarryn Fisher.
Tarryn has truly done it again – she made me completely crazy lol but in a good way 🙂
F*ck Love is the story of Helena; this is her journey of self discovery, growth and maturity. A metamorphosis of a girl who is constantly on the run to a woman who embraces what life and fate has in store for her and living her life to her full potential.
I have said it often about Tarryn – her words are insightful and beautiful; the messages within those words so meaningful that they really make the reader think and feel. I can't even tell you how many lines I highlighted in this book that I wanted to come back to and remember and know forever in my mind and heart. Because everything she writes is beautiful and poetic.
Tarryn has shown us her scope of writing, writing different things that are consistently good and discerning. But F*ck Love takes us back to her writing romance. I have to say that this is my favorite type of writing from her because of the emotions that she evokes within my heart and soul. So many scenes heartwarming and endearing while others heartbreaking inciting tears and heart palpitations.
Tarryn is a true literary genius; someone I admire and respect for who she is and her giving heart. Like Helena, her strength and courage are admirable and I am proud to know her.
Book lovers who are looking for their next heartfelt read that will make you giggle, cry, swoon should pick up F*ck Love.
I just am completely IN LOVE with this author and Kit and Helena. And I know I am not saying much about the book but I loved it. Insanely loved it. So buy it! One click ASAP today!
Favorite Quotes:
Nothing worth finding is actually easy to find.
You can love someone your whole life and not know why. You can even live with it.
You shouldn't have to convince anyone to choose you. There is no real choice in love.
Don't be upset that you can't attain constant happiness. It's the quickest way to feel like a failure in life.
Enjoy a look into Chapter One below – I promise that you will be as addicted as I was…..

Chapter One
#wtf
"You are supposed to be with me."
What words are these? They startle me, and at first I think I've heard him wrong. He's leaning across the table while our significant others are twenty feet away, waiting in line for our food.
"You and me," he says. "Not us and them."
I blink at him before I realize he's making a joke. I laugh and go back to looking at my magazine. Actually, it's not really a magazine. It's a math journal, because I'm super cool like that.
"Helena…" I don't look up right away. I'm afraid to. If I look up and see that he's not joking, everything will change.
"Helena." He reaches out and touches my hand. I jump, pull back. My chair makes a horrid scraping sound, and Neil looks over. I pretend that I dropped something and reach under the table. Under the table are our shoes and legs. There is a blue crayon lying at my feet; I pick it up and resurface.
Neil is at the front of the line ordering our food, and my best friend's boyfriend is waiting for my response, his eyes heavy with burden.
"Are you drunk?" I hiss. "What the fuck?"
"No," he says. Though he doesn't look so sure. For the first time, I notice the scruff on his face. The skin around his eyes is sallow. He's going through something, maybe? Life is being bullshit.
"If this is a joke, you're making me really uncomfortable," I tell him. "Della is right there. What the hell is wrong with you?"
"I only have ten minutes, Helena." His eyes move to the blue crayon, which is resting between our hands.
"Ten minutes for what? You're sweating," I say. "Did you take something, are you on the crack?" What type of drugs make you sweat like that? Crack? Heroine?
I want Neil and Della to come back. I want everything to go back to normal. I spin around to see where they are.
"Helena…"
"Stop saying my name like that." My voice shakes. I make to stand up, but he grabs the crayon, then my hand.
"I don't have much time. Let me show you."
He's sitting very still, but his eyes remind me of a cornered animal: frightened, panicked, bright. I've never seen that look on his face, but since Della's only been dating him for a few months, it's a moot point. I don't really know this guy. He could be a druggie for all I know. He turns my hand over so it's palm up, and I let him. I don't know why, but I do.
He places the crayon in my palm and closes my fist around it.
"You have to say it out loud," he says. "Show me, Kit."
"Say it, Helena. Please. I'm afraid of what will happen if you don't."
Because he looks so afraid, I say it.
"Show me, Kit." And then, "Should I know what this is?"  
"No one should," he says. And then everything goes black.

**Giveaway now over – Congrats to Katie Lowden!**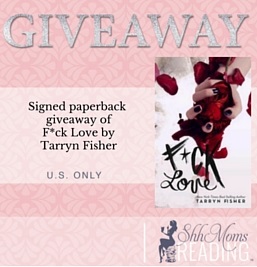 Enter to win a signed paperback of F*ck Love (US Only)
All you have to do is share Tarryn's release on your social media account(s) (Facebook, Twitter, Instagram, etc). Sample message below:
Happy Release Day @tarryn_fisher #F*ckLove is LIVE @ShhMomsReading http://amzn.to/1O06lly
Please make sure to post a link to your shares below. ONE winner will be chosen on Saturday January 3rd at 10am EST! Good luck! And thank you for sharing!