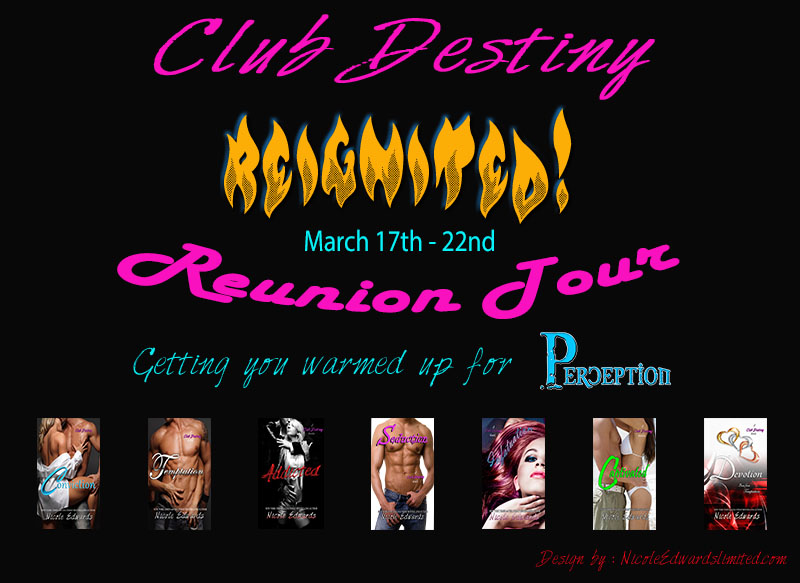 Today we are excited to be participating in the Reunion Blog Tour for the Club Destiny Series by Nicole Edwards! Our stop today features INFATUATION! It's a known fact that Denise is a HUGE Nicole Edwards fan. Please make sure to stop by the other blogs in this reunion tour to read special content from other books in the Club Destiny Series as well as to enter for some giveaways too!
March 17th – Stop 1: Sinfully Sexy Books featuring Conviction and Addicted
March 18th – Stop 2: Eye Candy Book Store featuring Temptation
March 19th – Stop 3: Nose Stuck in a Book featuring Seduction
March 20th – Stop 4: Shh Moms Reading featuring Infatuation
March 21st – Stop 5: Ana's Attic featuring Captivated
March 22nd – Stop 6: Naughty and Nice Book Blog featuring Devotion
---
Let's take a look back at Denise's 4.5 STAR Review for Infatuation!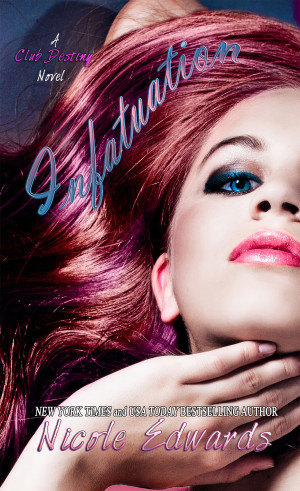 At what point does infatuation turn into obsession? McKenna Thorne doesn't have the answer to that question, but she's dangerously close to finding out. When it comes to Tag, she learns that her body knows no limits. But neither does her heart.
He's content with the nontraditional aspect to his relationships and he always has been. Until McKenna unexpectedly walks into his life. Now Tag Murphy has only one goal: to see how fast he can make her pulse race.

Please do not read this book until you have read Conviction, Temptation, Addiction and Seduction – the prior books in the Club Destiny Series.
Infatuation tells the story of Tag Murphy, a man introduced and showen intimately in early books. In this book, we learn about the man behind the killer body and professional lawyer persona.
Infatuation picks up where part of the story line from Temptation leaves off, with Tag as legal representation for the law suit related Club Destiny legal issues. As you may remember, the lawsuit related privacy issue was caused by a member speaking to the press and Luke and Logan McCoy's desire to keep their club private.
This case brings Tag face to face with McKenna Thorne, a journalist covering the case. Tag has always been content with the nontraditional aspect of his prior relationships, something again you see in prior books.
The connection between Tag and McKenna was tangible. You feel it instantly and the more they interact the more Ms. Edwards builds this connection.
Though this book focuses on the developing relationship between Tag and McKenna, it continues to move the Club Destiny timeline forward; I truly appreciated how well this was handled.
It really worked for the story, given that Tag is the Club's attorney, it made for a layered and engaging read.
I truly loved seeing Luke, Cole and Sierra. Their relationship continues to evolve and you see glimpses of vulnerability, questions of how things would work. I thought this was also so well done, their love and continued committed to each other were always present. It was lovely and felt real given the nature of their relationship!
There was also some crossover with Ms. Edwards Alluring Indulgence series, this was well done and will make you want to read more Nicole Edwards.
The evolution of Tag as he comes to terms with his emotions will endear him to your heart.
This book has a nice amount of action, yes the hot kind but also the story action that make it a world that will stick you and keep you wanting more.
The epilogue was so well done, it added another piece that warmed my heart and a piece that made me say, "when is book 5 in Club Destiny being released!?!"

Tag and McKenna
A Day in the Life
"Aww, hell, I forgot that was this week," Tag told McKenna as he stood in the doorway and watched her pack her suitcase.
"Well, I reminded you twice," she informed him gently.
It was true. In fact, she had reminded him more than twice that she was going to a convention in Chicago. She'd even invited him.
"I can't go with you," he said with frustration. He had to be in court, and there was no way he could just up and leave. She knew that.
"I know," she told him as she turned to face him.
Tag watched her cross the room toward him. He smiled. Just because she made him want to smile. All the damn time.
"I'll make it up to you when you get back."
"Yes, you will," she said sweetly. "I'm thinking you will have to cook for me for a week."
Tag laughed. "That isn't what I was thinking."
"Of course you weren't."
No, he was thinking something a little more satisfying than food. When she brushed up against him, he didn't move. "If you keep that up, I'm going to make it up to you before you leave."
"I'm not opposed to the idea."
The woman made his blood boil. The sexy gleam in her blue-green eyes made his body harden instantly. Or maybe that was because of her scent. Or because she was close. Or hell, just because she was McKenna.
McKenna reached for his tie, and he stopped her. "You'll miss your flight if you do this." Damn, had he really said that? Surely he could bend her over the bed and have his wicked way with her and still get her to the airport with time to spare.
But he didn't want to.
Well, he did, and he didn't. Yes, he wanted to bend her over the bed and slide into her from behind, thrust into her wet heat until she was begging him to finish her off. But he knew the anticipation would only make things hotter when she returned.
Not that she would agree. McKenna was all about instant gratification. She didn't like to wait.
But then again, she had been pushing off the wedding, so maybe she could wait…
"When you get back," he told her. "I'll have a surprise for you."
McKenna took a small step back and looked up at him, a perfect pout on her pretty pink lips. "You're going to turn me down, Mr. Murphy?"
Tag laughed. "I am."
McKenna clutched her heart dramatically. "Right through the heart."
Tag grinned, yanking her against him and pressing his lips to hers. She tasted like cinnamon.
"Mmmm," she moaned. "Are you sure you can wait two days?"
When she slid her hand down and cupped him through his pants, he knew the answer was no, but a quick glance at the alarm clock on the bedside table told him he didn't have nearly enough time to do what he wanted.
"I'll have to."
McKenna smiled. Mischievous and wicked. He loved that smile. He loved all of her smiles.
"I don't want to be away from you," she whispered against his mouth. "I'll be counting the minutes until I come home."
"Me too," he told her. And he honestly would. It seemed she was always running off to one conference or another; that's what journalists did, she told him. And most of the time, his schedule couldn't be rearranged so he could go with her.
But they both knew that when she returned, he'd make it up to her. He always did. And she always liked his methods because they included her naked and tied to the bed.
He glanced over at the clock once more.
Nope, they didn't have time.
"I love you," she mumbled against his lips.
"I love you, too," he told her. "Now finish packing because if you don't, you're definitely going to miss your flight."
"Fine," she grinned again, stroking him one last time. "But you better be ready for me when I get back."
"Darlin', I'm always ready."
"Yes, you are."
One last quick kiss and she turned away quickly, leaving him standing there with a hard on that wouldn't be sated for two very long days.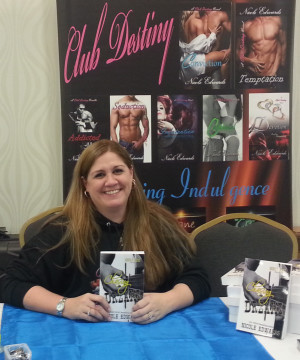 Nicole lives in Texas with her husband, Colt, three kids and four dogs. It's quite the household and most of the time you'll find her locked away in her office… writing. When she's not, you'll likely find her reading, swimming, or hanging out in the yard with the dogs, doing her best to keep them in line. (And no, it doesn't usually work)
Ever want to let that other part of you loose? The part that has secret desires and taboo fantasies? Well, that's what brought about Nicole Edwards. She's an alter ego. In truth, she's a full-fledged part of me. The secret part made up of sinfully hot desires and erotic thoughts. Get to know how Nicole's naughty mind works by checking out her books!
About me… hmmm…
Ok, I've been asked to provide a little bit of "real" information about myself. That's harder to do than you think it is, especially for someone who has difficulty talking about themselves. 😉 But, here goes…
I've been writing for as long as I can remember. Ever since I was a kid, I loved creative writing and as I got older, I got acquainted with those voices in my head and that led to putting my stories on paper. And now, here I am all these years later, spending my days doing what I love most. I decided to give myself over to writing full time in 2012 and I haven't looked back. I spent nearly 13 years in the corporate world and I have to say, this is a bit of a change (just a little) and I am loving every second of it.
I live in Texas with my husband and three amazing kids and our four beloved dogs. If I'm not writing, I'm usually reading. I devour everything I can get my hands on. I love romance of any type and being an Indie author myself, I'm always looking for new Indies to support. I haven't always been into reading, but about eleven years ago, I picked up a book – I'm pretty sure it was by Nora Roberts – and from there, I haven't stopped. Before I began writing full time, and my characters started taking up so much of my time, I was reading about 200 books a year. That has dwindled somewhat, but there isn't a day that goes by that I don't read.
An interesting fact… I don't watch television – aside from the occasional news anyway. I will go see a movie or two rarely, but for the most part, I get all of my entertainment from a book. Some of my favorite authors include J.R. Ward, Suzanne Brockmann, Lora Leigh, Jane Rylon, Lori Foster, and Jaci Burton just to name a few.
---


a Rafflecopter giveaway
And a SECOND GIVEAWAY!!! a Rafflecopter giveaway
Club Destiny Series Reading Order
Book 1 – Conviction (paperback)

Book 2 – Temptation (paperback)

Book 2.5 – Addicted

Book 3 – Seduction

Book 4 – Infatuation

Book 4.5 – Captivated

Book 5 – Devotion

Pre-Order Book 6 – Perception