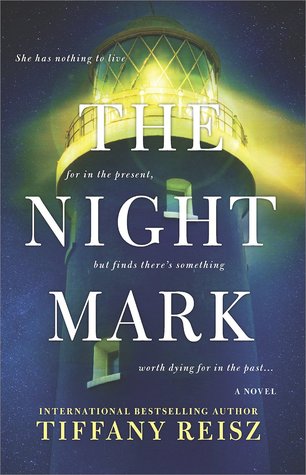 The Night Mark

by Tiffany Reisz
on March 28, 2017
Pages: 432
Buy on Amazon, Buy on B&N, Buy on iTunes, Buy on Kobo
Goodreads


She has nothing to live for in the present, but finds there's something worth dying for in the past…

From Tiffany Reisz, the international bestselling storyteller behind The Bourbon Thief and The Original Sinners series, comes an enthralling new novel about a woman swept away by the tides who awakens to find herself in 1921, reunited with the husband she's been mourning for four years. Fans of Kate Morton and Diana Gabaldon will fall in love with the mystery, romance and beauty of an isolated South Carolina lighthouse, where a power greater than love works its magic.
The Night Mark is my 2nd Tiffany Reisz book and I have to say that I really enjoy this author's work. This was much different than The Bourbon Thief but just as fascinating and addicting.
Faye is on a journey of finding herself – unfortunately she lost the love of her life, her husband Will, in a tragic accident and is now on her way to being divorced from her 2nd husband Hagen. Faye is a shell of the woman she used to be and has accepted a job doing what she used to love – taking photographs around Beaufort, S.C. where she can try to remember who she once was and to find the light in her life again.
While in Beaufort, she becomes fascinated with the history behind the lighthouse on Bride Island most specifically with the lighthouse keeper Carrick Morgan and his family and with the similarities between Carrick with her deceased husband Will and with herself and his daughter Faith.
Without revealing too much of the story, readers are taken on a time travel journey back into history for Faye and for her chance to find her second or really third chance in life and love.
I most especially loved the time travel piece as I am a huge Outlander fan. I loved the romance aspects and of course the rich descriptions of life in the 1920s vs 2015. I could literally see and feel all of the characters, their emotions, the fear of not knowing which life she would end up living. And I loved Faye's talks with her deceased husband Will and knowing that maybe he or a higher power had a hand in "taking care of her" for the rest of her life. OMG and Carrick with his way with words, his wanting to protect her honor was just to die for ❤️️
What I wish we had more of… I felt that the last third of the book was rushed and I would have loved to immerse myself into the life she ultimately chooses. I would have loved to see them live their life together and what happens next for them. I wanted to see history in the making. I also wish that there was something in Carrick's POV because I was always left wondering what he was thinking, what he was going through too. I think all of this would have made a more well rounded story where I didn't feel like I was missing something in the end.
All in all, I did love how The Night Mark all came together, how it was tied to The Bourbon Thief for readers who have read that book and of course, the writing was simply impeccable. I would most definitely read this author again and can't wait to see what she has for readers next!
This is a 3.5-4 STAR read!!