2015 is coming to a close and Denise and I are excited to share our Top Favorites for 2015 . This year went crazy fast; a blink of an eye and we read so many great books. Narrowing the list down is always hard but we did it! Check out the list of books that stayed with us throughout the year and some of our reasons why: the ones that made us cry, the ones that gave us hope, and the ones that filled us with love and put smiles on our faces when we closed our kindles.
We are excited for what 2016 has in store for us and look forward to another year of chatting books with you!!!
Wishing you all a happy and healthy 2016!
xoxo
---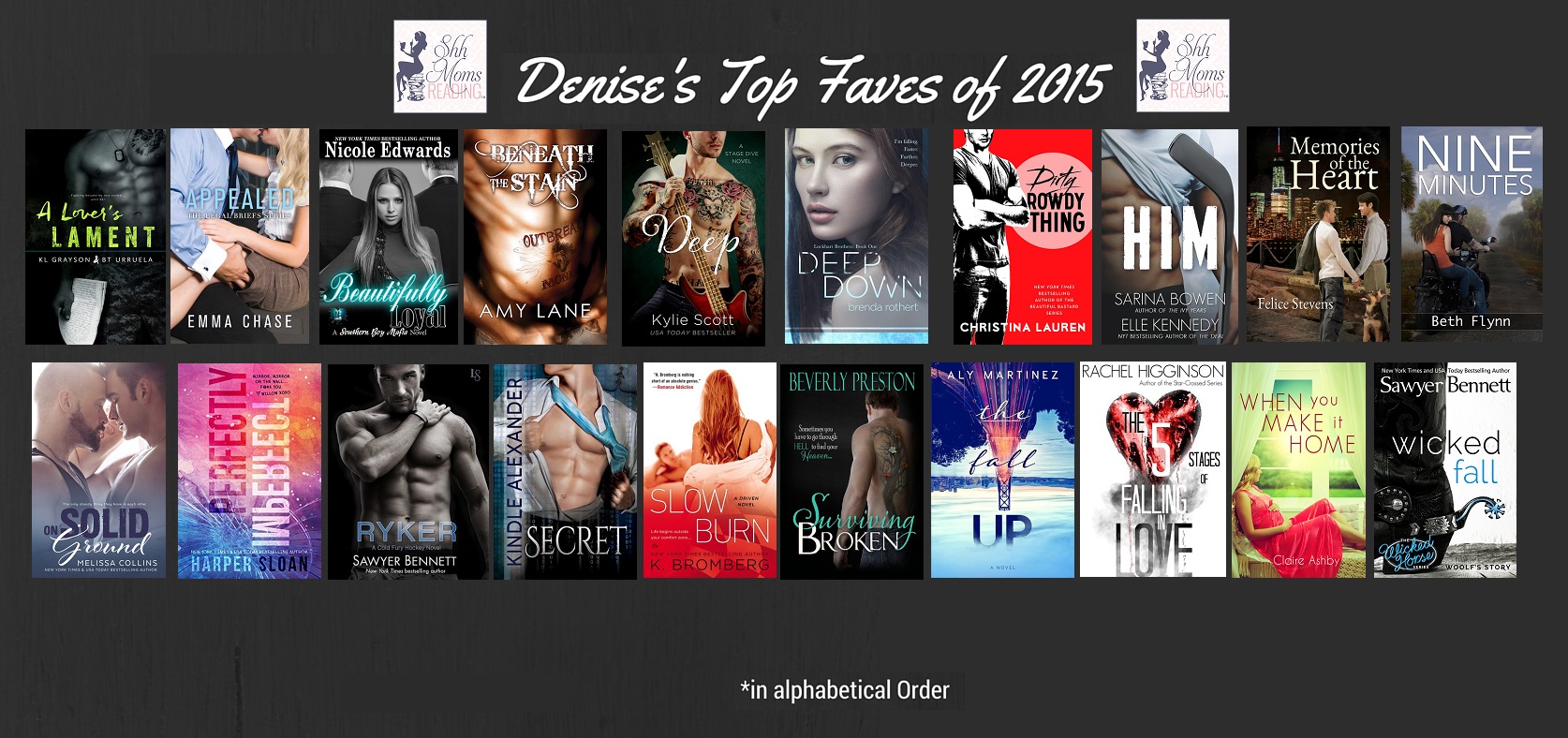 Denise's Top Read of 2015
**In Alphabetical Order**
1. A Lover's Lament by K.L. Grayson and B.T. Urruela
I am going to stay away from the male vs. female author debate and simply say this is one of the best debut voices I have read in a long time! The male POV written by Mr. Urruela is such a strong and powerful voice; he bares his soul to the reader.
2 . Appealed by Emma Chase
My review to come on January 19th – #love #mustclick
3. Beautifully Loyal (Southern Boy Mafia #2) by Nicole Edwards
Ms. Edwards has proven yet again that she is the queen of menage, I loved Beautifully Loyal. This story was powerful, hot and kept me glued to my kindle!
4. Beneath the Stain by Amy Lane
This story made me smile, this story made my each ache, this story made me feel the power of love and this story will stuck with me for a long time to come!
5. Deep (Stage Dive #4) by Kylie Scott
I loved that this rock star was faithful while he was still struggling to accept his feelings before they were committed! Ben and Lizzy's friendship continues to deepen and yes, you will be rooting for them to embrace their happy!
6. Deep Down (Lockhart Brothers #1) by Brenda Rothert
Deep Down is Ms. Rothert's best book yet! Ivy's story broke my heart and then healed it with the power of love.
7. Dirty Rowdy Thing by Christina Lauren
Wow, Finn is just WOW; his story and his character are so much more than I expected. I love that he was dirty and rowdy in bed but without being a manwhore. There was no sordid past, no long line of women – just Finn knowing what he wants in bed and how to please Harlow!
8. Him by Sarina Bowen and Elle Kennedy
Confession….this one is hitting many on my list of  "Things I Love in a Book"….hockey, well written… two men.. and Lake Placid as the backdrop (one of my favorite towns).
9. Memories of the Heart by Felice Stevens
I loved this story!  Dr. Micah Steinberg and Josh Rosen's first meeting is tension filled and their second meeting is epic as these two men have grandmothers in the same assisted living facility (I am not going to say more as I think experiencing these first two scenes first hand is more fun).
10. Nine Minutes by Beth Flynn
If you love a book the pulls you right in, if you love a book that keeps you living in the characters moments, if you love a book that will have you thinking about it long after you put it down, I highly recommended you 1-click and jump right in. Yes, even if like me this is not the typical genre you read, give it a try, I did and I was not disappointed! Ms. Flynn's story will stick with me for a long time to come!
11. On Solid Ground by Melissa Collins
Experiencing these two men building a friendship and bringing each other comfort made me try to read slower to savor the journey even more.
12  Perfectly Imperfect by Harper Sloan
Maybe it is best to relay the personal journey this one put me on… 15 years ago this week, I married a man who calls me "Beautiful"… Ms. Sloan made me think…do I really believe him, does he not see the imperfections I see, and then I thought wait… it's not about the shell but the love that runs deep, the love and the life we share.
That may be too personal for a review or may have nothing to do with the book, but I challenge any reader to not see a small piece of Willow in themselves.
13. Ryker by Sawyer Bennett
This book is not filled with drama just for drama. It is filled with the deep emotions connected with finding a love you never thought you would, one you never imagined in a place that professionally could cripple you.
14. Secret by Kindle Alexander
Ms. Alexander has masterfully crafted a story about adults; adults who are honest with each other, adults who are honest while pursuing something unconventional. It is a journey to happy that captured my heart.
15. Slow Burn by K. Bromberg
Thank you Ms. Bromberg for a book about the power of love and the beauty that comes from taking what life gives you and pushing forward to a happy to grab a hold of!
16. Surviving Broken by Beverly Preston
A powerful story of hope and love!
17. The Fall Up by Aly Martinez
The Fall Up was one of the best romance books with mental illness themes I have ever read.
18. The Five Stages of Falling in Love by Rachel Higginson
The Five Stages of Falling in Love is an amazing standalone romance about the power of love, the depth of grief, the all encompassing affects of parenthood and in the end the beauty of a great man. Yes, I LOVE Ben Tyler.
19. When You Make It Home by Claire Ashby
This is one of those books that took me by surprise. I took a chance with a new author when the blurb caught my attention and I am so glad I did. This is not your typical boy meets girl story and I was so thankful for that!
20. Wicked Fall by Sawyer Bennett
I am often asked what makes a 5 star book and though I often can't put my finger on what that is, I can say it is a story where after I close the book I am still living in that moment, it is a book where scenes keep running in my head and it is book where even days or weeks after I put it down I can still remember all the characters names and the plot details. The Wicked Horse does all that and more in spades!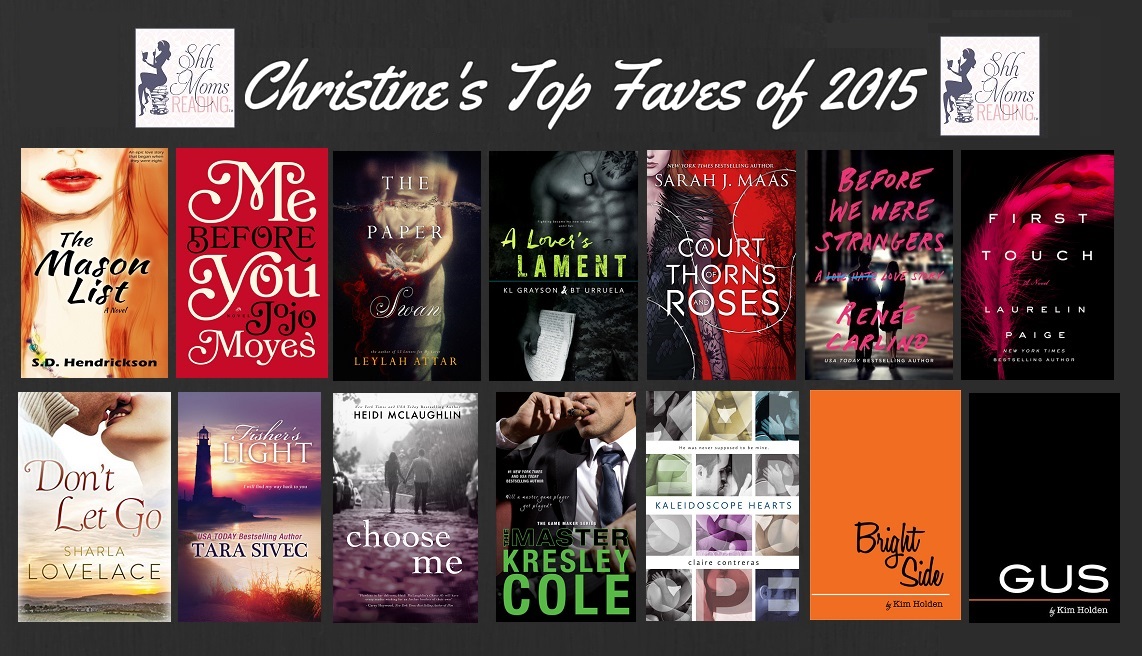 Christine's Top Read 13 of 2015
1. The Mason List by S.D. Hendrickson
Simply magical! The emotions and the feels while reading this book – I have come to learn about myself that I love THESE types of books the most – the ones that pull at your heart strings, the ones that provide you with lessons to learn from, the ones that give you those heartwarming moments that you want to treasure – The Mason List did this for me and more – make sure to have tissues!
2 . Me Before You by Jojo Moyes
Is love ever enough? In this circumstance, I am not sure it is…I have NEVER felt such devastation beyond compare when reading a book. But in the end, I knew that the best decision was made because it was not only freeing for one but also because it gave the other the means to just live.
3. The Paper Swan by Leylah Attar
I fell in complete love with this book. Leylah created such a passionate, romantic and magical story that it is in a word….UNFORGETTABLE.
4. A Lover's Lament by K.L. Grayson and B.T. Urruela
Mesmerizing, emotional and simply breathtaking…I love 2nd chance love stories and this combined with the perfect story, writing, and epic love that everyone dreams about makes this a top fave of 2015.
5. A Court of Thorns and Roses by Sarah J. Maas
I have never read fantasy before and this one just captivated me – the world building was top notch, the characters and story so well crafted – this story is like the blurb says – a unique blending of Beauty and the Beast with faerie lore and I am now completely addicted. It's like book crack but 100x better!!!!
6. Before We Were Strangers by Renee Carlino
To love someone so much and to get a chance for a redo after missed opportunities, miscommunication and lost time was so completely heartbreaking for me. I wanted to cry for these two characters as their plight really touched something in my soul. Ultimately, this is a beautifully told story of healing and forgiveness and how much fate is really a part of our lives.
7. First Touch by Laurelin Paige
I love romantic suspense stories because it keeps me on my toes, sitting at the edge of my seat and is just so dangerously intoxicating. Every scene, every written word of First Touch is complete and utter perfection.
8. Don't Let Go by Sharla Lovelace
I have to say that I LOVED the push and pull between these characters because it all felt so true to not only the characters created but to the story line and what I can imagine someone would feel if they had the chance to do it all over again. The emotions, the feels, the heart palpitations I felt reading this story was all encompassing and addictive and I devoured this book because I just couldn't stop reading. Yes this book brought me to tears but I also found myself laughing and smiling at times too.
9. Fisher's Light by Tara Sivec
Emotional, heart wrenching and simply breathtakingly beautiful, Fisher's Light is raw and real – a book about love and war and more importantly forgiveness and how some people are lucky enough to get that second chance at love.
10. Choose Me by Heidi McLaughlin
Choose Me was everything I look for in a good read – exhilarating and suspenseful and of course the love and romance – it truly touched my heart and soul. Secrets will be revealed and expect the unexpected. I love how the title was used in the story "Choose Me" and it won't be in the way that you are thinking…Above all else, I just love LOVE and Heidi gives you a story that will keep your mind and heart racing yet in the end the love emitting from these pages will make your heart happy.
11. The Master by Kresley Cole
Never have two characters been more in sync and more perfect for each other and I loved being on this journey – the epilogue was complete perfection! I encourage anyone who loves a great read, who loves Ms. Cole's writing, and who wants a panty melting, jaw dropping story to look no further than The Master. You will fall in love with these characters just as much as I did.
12  Kaleidoscope Hearts by Claire Contreras
You know those books that completely touch your heart and soul and envelop you into its magical world where you fall in love with the characters, the story, the underlying message – all of it – well Kaleidoscope Hearts is that kind of book and SO MUCH MORE!
13. Bright Side and Gus by Kim Holden
Bright Side wrecked me; I was an emotional mess. Gus healed my broken heart. My key takeaway from these books is this….that EPIC is the only way to live and I intend to do that every day.