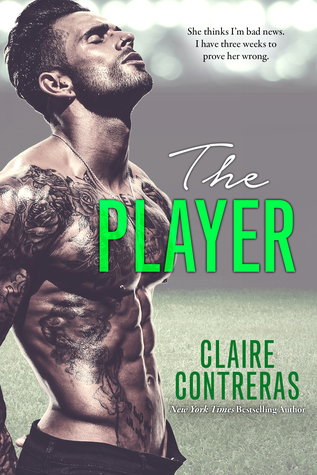 The Player

by Claire Contreras
on October 10, 2016
Pages: 320
Buy on Amazon, Buy on B&N, Buy on iTunes, Buy on Kobo
Goodreads


I'm naturally gifted on the field and between the sheets. With flashy cars and enough media attention to put the Royal Family to shame, I'm the definition of Most Eligible Bachelor.

I've never met a man who doesn't want to be me or a woman who doesn't want to tame me. Until I meet Camila.

From the moment I lay eyes on her, I know I have to have her.

She wants to keep me at arm's length.
I want her naked in my bed.

She thinks our worlds are too different.
All I want her to think about is screaming my name.

She says I'm bad news.

I have three weeks to prove her wrong.
I have followed Claire's career for many years now and I have loved all of her books. The Player is no different.
Claire writes contemporary romance so well – the feelings, the emotions, the heat. I enjoyed this look into something different for her – a sports romance about famed soccer player Warren Silva aka War Zone.
Yes, Warren is a soccer player at the top of his game but throughout this book he ended up being so much more than that. He is an investor, he is smart, he is more than just a pretty face, and he is relentless when it comes to our heroine Camila.
Unfortunately Camila's life is such a difference in comparison to Warren's. She has no money but is a fighter when it comes to her home in the impoverished area she lives in. Camila feels like a nobody and that she is not good enough but what I loved about her was her stubbornness and strength.
When Warren and Camila's lives intersect, there is fireworks and Camila doesn't understand what someone like Warren can ever see in a person like herself. And thankfully readers are taken on a three week journey where sexy Warren will stop at nothing to win his girl. *le sigh*
I truly enjoy books written in dual pov so that we can see a relationship build from both characters' perspectives. I loved being a witness to the characters learning about each other's lives and that not everything is easy and simple and to truly appreciate what you have.
While I LOVE Claire's books, this one was not my favorite of hers. Claire writes so well and writes stories that completely suck you in but there was just something missing for me in this story. I can't even exactly pin point what it is and I know I am being so vague but something stopped me from completely loving this book as I normally would love her books.
I am a forever fan and will continue reading her books. This could just be a case of it's me and not the book so I strongly encourage readers who love friends to lovers, who love heroes who stop at nothing to win their girl, who love sports romance to give this book a try. Just that cover alone makes this book a #mustclick 😉