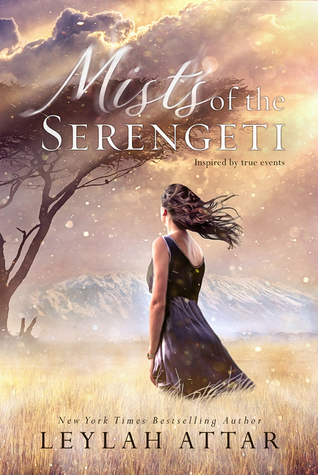 Mists of Serengeti

by Leylah Attar
on January 31, 2017
Pages: 430
Buy on iTunes
Goodreads

Once in Africa, I kissed a king...

"And just like that, in an old red barn at the foothills of Mount Kilimanjaro, I discovered the elusive magic I had only ever glimpsed between the pages of great love stories. It fluttered around me like a newly born butterfly and settled in a corner of my heart. I held my breath, afraid to exhale for fear it would slip out, never to be found again."

When a bomb explodes in a mall in East Africa, its aftershocks send two strangers on a collision course that neither one sees coming.

Jack Warden, a divorced coffee farmer in Tanzania, loses his only daughter. An ocean away, in the English countryside, Rodel Emerson loses her only sibling.

Two ordinary people, bound by a tragic afternoon, set out to achieve the extraordinary, as they make three stops to rescue three children across the vast plains of the Serengeti—children who are worth more dead than alive.

But even if they beat the odds, another challenge looms at the end of the line. Can they survive yet another loss—this time of a love that's bound to slip through their fingers, like the mists that dissipate in the light of the sun?

"Sometimes you come across a rainbow story—one that spans your heart. You might not be able to grasp it or hold on to it, but you can never be sorry for the color and magic it brought."

A blend of romance and women's fiction, Mists of The Serengeti is inspired by true events and contains emotional triggers, including the death of a child. Not recommended for sensitive readers. Standalone, contemporary fiction.
We are so excited to take part in the prologue reveal for Mists of the Serengeti by Leylah Attar. You can follow along with the reveal by stopping at the blogs below. There is an eARC giveaway at each stop. Make sure to enter for a chance to win an early copy of this magnificent book!
Chapter Reveal Schedule
1/24 Shh Moms Reading
1/25 Angie and Jessica's Dreamy Reads
1/26 Vilma's Book Blog
1/27 Maryse's Book Blog

**Make sure to read the first part at Natasha is a Book Junkie**
"Well, baby girl, your mum is right." Jack turned to face her. "We both want you to do well in school. Work hard on those grades when you get back. But today, you dance! And when you—" He blinked as a burst of light momentarily blinded him.
"Lily, you're going to use up all the film," he said.
"So?" Lily pulled out the milky Polaroid that was starting to develop, pointed the camera at herself, and snapped a shot.
"Give me that camera."
"No!" She squealed and pushed him away with sticky fingers.
"Ugh." Jack wiped the chocolate from his face as they passed crooked shops with Coca-Cola and Fanta signs, archaic trees with bright green canopies, and patches of red, volcanic soil. "You got it all over the camera too."
"I can fix it." She took off the hat that Goma had sewn for her and wiped the camera clean. "All good!"
Jack smiled and shook his head as they turned into the mall where her dance group was performing. It was a short, informal production for family, friends, and weekend shoppers.
"Come on. Miss Temu will be waiting!" Lily jumped out of the car as soon as they found a parking spot. Saturday was the busiest day at Kilimani Mall, and there was also some kind of convention going on.
"Hold on," said Jack. He was almost done rolling up the windows when his phone rang. It was one of the staff from his farm, asking if he could pick up a few supplies while he was in town.
Lily came around to his side of the car. The window was tinted, so she pressed her palm against the glass and peered inside. She made funny faces at Jack until he hung up.
"Let's go, baby girl," he said, taking her hand.
The recital was being held on the lower level, in a small hall off the food court. As they made their way there, Lily stopped in front of a balloon vendor.
"Can I get a yellow one for Aristurtle?" She tugged on one of the helium-filled balloons.
Aristurtle was Lily's pet tortoise, who had remained nameless until Goma started calling him that because of all the grand questions Lily consulted him on.
"What is Aristurtle going to do with a balloon?" asked Jack.
"You know how he's always getting lost?"
"Because you let him roam all around the house."
"Because I don't like caging him in. So, if I tie a balloon around his shell, we'll always know where he is."
"You know, that is so absurd, it makes sense." Jack laughed and pulled out his wallet. "We'll take a yellow one."
"Sorry, they're six in a bouquet," the man replied. "I have other singles, but I'm all out of the yellow ones." He gave them a curious glance, but Jack was used to it. It had started when he and Sarah were dating, and had continued after they'd had Lily. A mixed race couple with a biracial daughter. The contrast seemed to fascinate people.
Jack glanced at Lily. Her eyes were fixed on the bright, sunny ones. "Fine. I'll take all six."
As he bent down to give her the balloons, she wrapped her arms around him and squeezed. "I love you! You're the best daddy ever!"
A flurry of strangers milled around them, but Jack was hit with a sweet stillness in that moment, a surge of warmth and purpose in the middle of an ordinary day.
"Don't tie them to Aristurtle all at once or he'll fly away," he said.
Lily giggled and broke away, taking the escalator down, the balloons bobbing around her like golden sunburst.
"Lily!" her dance instructor called, when they got to the recital hall. "You look great!"
"It's a rainbow." Lily twirled around, showing off the tutu that Goma had made. "My favorite."
"It's perfect." Her instructor turned to Jack and smiled. "Hello, Jack."
"Miss Temu." He nodded, instinctively taking in her lithe dancer's body and smooth cocoa-powder skin.
"It's Mara," she corrected, as she had done many times before. She had made her interest in him clear, but Jack knew better than to mess with the dynamics of his daughter's dance class. In a room full of mothers, he was the only father who showed up with his child. They fawned over him, not just because Jack was a powder keg of testosterone—his voice, his hands, his gestures—but also because of how playful and nurturing he was with Lily. It drew them to him, and Jack had learned not to stir up any jealousies by keeping all his attention on Lily.
"Set up is this way." Miss Temu started ushering Lily to the back.
"Here, Daddy!" Lily handed him the balloons. "How do I look?"
"Beautiful. As always."
"Is my ponytail okay?"
Jack knelt and adjusted it. He dropped a kiss on her forehead and wiped a smudge of chocolate from her cheek. "There. All good?"
"All good!" She nodded, barely able to contain her excitement at going up on stage. "Sit in the front row so I can find you, okay?"
**Stop by Angie and Jessica's Dreamy Reads TOMORROW to continue reading**

*Giveaway now over – congrats Dee Swan*
Enter to win: an ARC copy of MISTS OF THE SERENGETI
All you have to do is share this post and giveaway on your social media account(s) (Facebook, Twitter, Instagram, etc). Sample message below:
Win an eARC of #MistsOfTheSerengeti #ExcerptAndGiveaway @shhmomsreading @leylahattar
 Please make sure to post a link to your shares below. One winner will be chosen Saturday January 28th. Thank you for sharing!