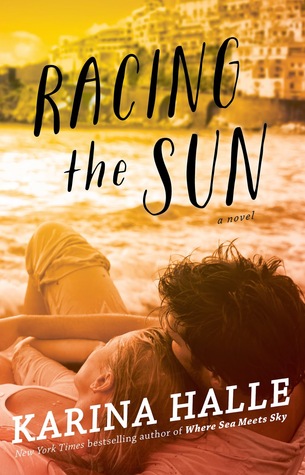 Racing the Sun

by Karina Halle
on July 28, 2015
Pages: 336
Buy on Amazon, Buy on B&N, Buy on iTunes, Buy on Kobo
Goodreads

From the USA TODAY bestselling author of Where Sea Meets Sky comes a new adult novel about a young woman who becomes a nanny in Capri and falls for her charges' bad-boy brother.

It's time for twenty-four-year-old Amber MacLean to face the music. After a frivolous six months of backpacking through New Zealand, Australia, and Southeast Asia, she finds herself broke on the Mediterranean without enough money for a plane ticket home to California. There are worse places to be stuck than the gorgeous coastline of southern Italy, but the only job she manages to secure involves teaching English to two of the brattiest children she's ever met.

It doesn't help that the children are under the care of their brooding older brother, Italian ex-motorcycle racer Desiderio Larosa. Darkly handsome and oh-so-mysterious, Derio tests Amber's patience and will at every turn—not to mention her hormones.

But when her position as teacher turns into one as full-time nanny at the crumbling old villa, Amber finds herself growing closer to the enigmatic recluse and soon has to choose between the safety of her life back in the States and the uncertainty of Derio's closely guarded heart.
So excited for the release of #RacingTheSunby @metalblonde. Italian stallion here we come!  PRE-ORDER NOW: http://amzn.to/1SxpdKF @AtriaIndies 
We are so happy to share this guest post with you from Karina about her trip to Italy while researching and writing this amazing book!
Top Eight Fun Facts about my Italian Travels and Racing the Sun by Karina Halle
In the book, my main character Amber has a fear of heights. I also have this fear. When she has vertigo-induced panic attacks while coasting down to Positano in a cab or while climbing up the steep, perilous road between Capri Town and Anicapri, I went through that exact same thing. Fortunately she faces her fears in the book, while I'm still a bit cagey about steep drops, tall buildings and anything of the sort. I think I'm getting a bit better but I also don't have an Italian stallion to help me through it like she does!
My favorite salad is the Caprese Salad, so you'd think I'd be in heaven on the island of Capri, where the salad originates. But actually, the best Caprese salad was on the island of Ischia. Take a look at this beauty!
My friend/assistant/blogger extraordinaire Stephanie and I had a memorable evening in Sorrento when we sat at on a street side patio in the town's main square, drinking wine and looking for our "Derio." We found him too! He was hot as hell, but disappeared into the crowds before we could get a picture. Later though, we saw him with his mom! So sweet! These Italians are such mama's boys but we love them for it. 
In the book, Amber works for Derio in a crumbling old villa along Via Traggara. I was inspired to set the house there after Stephanie and I took a ramble down that pedestrian only road with the most magical views of the Capri coast. The house in RTS is just as much of a character as Derio and Amber are.
Amber takes the two children she's in charge of to the island of Ischia for a getaway to spend some time bonding while also exploring the Castello Aragonese. Stephanie and I adored this place; it was so damn beautiful! And while we didn't have two Italian kids with us, Stephanie did bring Pocket Jamie.
I went into the Blue Grotto. It was a rough day (Stephanie thought she was going to puke every second, despite her overdosing on Dramamine) and I didn't think they'd actually allow boats in there but they did. After waiting for about an hour, I went into a small row boat with the gondalier and a nun. I thought nothing bad could happen to us because I had a holy person with us and I was right! The grotto was amazing and totally worth it (Steph was a chicken and stayed on the main boat…something about small spaces and rough water). Amber and Derio go into the Grotto too in one very memorable scene….but they went as most locals do, by swimming in early in the morning before the first boats arrive. They also get down to business in that cave, which makes sense because of its history of orgies from the old times. Alas, I was with the nun, so nothing funny happened.
We took a convertible taxi from Capri town to Anacapri, which was a lot of fun (but see fact #1: vertigo-inducing heights). On the way back, we got a disco cab that had a disco ball and played a lot of Lady Gaga.
Tragedy has struck the Larosa family in the book, a result of rough seas. This isn't much of a stretch. When Stephanie and I left Capri and headed back to Naples and home (BOOO), our hydrofoil was battered by the waves. I grew up on a boat. I rarely get seasick and I have been in rough seas before. But this? I spent the whole ride thinking we were going to capsize. So much so that I had to call my husband just in case we didn't make it. No one else on the ferry seemed all that concerned though, although I heard they ran out of sick bags…so there's always that.
♥ Read this Series ♥
Book 1 – Love, In English
Book 1.5 – Love, In Spanish
Book 2 – Where Sea Meets Sky
Pre-Order Book 3 – Racing the Sun