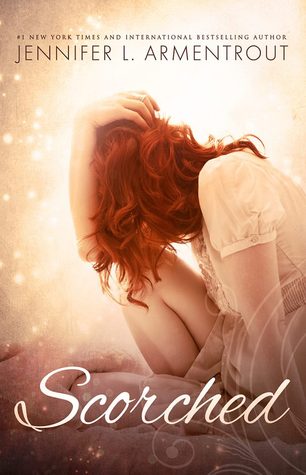 Scorched

by Jennifer L. Armentrout
on June 15, 2015
Pages: 320
Buy on Amazon
Goodreads

Sometimes life leaves a mark…

Most days, Andrea doesn't know whether she wants to kiss Tanner or punch him in the gut. He is seriously hot, with legit bedroom eyes and that firefighter body of his, but he's a major player, and they can't get along for more than a handful of minutes. Until now.

Tanner knows he and Andrea have had an epic love/hate relationship for as long as he can remember, but he wants more love than hate from her. He wants her. Now. Tomorrow. But the more he gets to know her, the more it becomes obvious that Andrea has a problem. She's teetering on the edge and every time he tries to catch her, she slips through his fingers.

Andrea's life is spiraling out of control, and it doesn't matter that Tanner wants to save her, because when everything falls apart and she's speeding toward rock bottom, only she can save herself.

Sometimes life makes you work for that happily ever after…
We have heard good things about SCORCHED, a New Adult standalone Contemporary Romance and the second in the Frigid Series! Read an excerpt and enter for your change to win a paperback copy (US/Canada) from the publisher below! Good luck!

Andrea
The storm subsided briefly and then came back with a vengeance. Rain pounded the roof and the pool was starting to overflow. Water lapped over the edges, seeping through the deck boards. Lightning cut through the black sky and thunder shook the cabin.
I stood by the window, watching the sky light up like someone was setting off fireworks from the cusp of Seneca Rocks. I blew a breath out and watched it fog the window.
Of course not.
Squeezing my eyes shut, I tried to shake those three little words off. At no point had I ever entertained the idea that Tanner's sudden interest in me had anything to do with long term. He was a…virile man, and I'd turned to putty in his hand—literally. I shouldn't feel any regrets, but I did.
I always did.
Because for once, I wanted to be…I wanted to be something more than just a hookup. I wanted to be…worth more. I wanted to not feel the need to sneak downstairs and get a drink. I wanted to not be feeling this way. Resting my head against the cool glass, I sighed.
Truth was, I wanted to be with Tanner. I wanted to lose myself in him, give away a little piece of myself and not to think past that moment.
Dinner hadn't been too awkward as Tanner pretty much seemed to forget that I was sitting in the same room as everyone else, and afterward, we'd all gone down into the media room. The boys had had an epic air-hockey death match, and about an hour ago, I'd left, claiming to be exhausted. I hadn't looked to see if Tanner had watched me leave, because I was pretty sure he hadn't.
I'd thought my little speech in the kitchen about it not being a big deal would've smoothed things out, but I had the distinct feeling I'd made it worse. And I had lied. It was a big deal. The way he'd handled me, how he touched me, had erased every incident I'd ever had with a guy before. He'd made me forget. Everything. One could not put a price on that. One could not pass up that kind of opportunity.
But I had a feeling that I had without realizing it.
Moving away from the window, I sat on the edge of the bed and stretched my legs out. I had that habit—a habit of making things worse without really even trying. Like when I'd changed  my majors. I could've gone with a nursing degree, then at least it wouldn't have been like I was tossing away nearly four years of education. There were more examples I could give myself, but I really didn't want to travel down that depressing road tonight. I stood and headed for where I'd left my purse on the dresser. Opening it up, I poked around the red bottles until I found the one with the sleeping pills in it. I'd just started to pop the cap when there was a soft knock on the bedroom door.
I guessed it was Syd, so I dropped the bottle back in my purse and padded over to the door, opening it. My eyes widened.
So not Syd.
Tanner stood in the doorway, his hands planted on the frame, head bowed. A moment passed before he lifted his chin. His eyes were a cobalt blue, intense as they immediately latched onto mine. My breath caught in my chest.
"I lied," he said.
"What?"
His hands slipped off the frame as he straightened. "I lied earlier. While we were in the kitchen. What happened between us in the pool? It did mean something to me."
♥SERIES READING ORDER♥
Book 1 – Frigid
Book 2 – Scorched