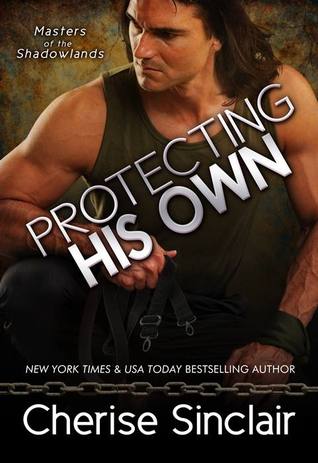 Protecting His Own

by Cherise Sinclair
on May 31, 2016
Buy on Amazon
Goodreads


Landscape designer, Beth King survived an abusive husband and built a new life for herself with the help of Master Nolan, the strongest, most protective man she has ever known. She loves him with all her heart, but the one thing he wants, she can't give him. To her grief, the damage from her abusive first marriage means she can't bear him children.

As Beth and Nolan change their plans and pursue adoption, they're already imagining a baby girl in the nursery. But when two boys from the local domestic violence shelter see their mother taken to the hospital, they call Beth in a panic. Agreeing to care for them temporarily, Beth soon falls in love with the two adorable boys.

Now Master Nolan has a new problem. How can he protect the children when their drug-addicted mother is released—and how the hell can he keep his sweet submissive's heart from being broken when they leave?
I am a big fan of seeing the forever happy… the what happens after two people decide they want to share the rest of their lives together, the decisions that then go on day in and day out and as you face challenges; when you decide you want to work at this; that you want to make forever work.
In Protecting His Own, the reader witnesses Beth and Master Nolan deciding their forever happy and it was so enjoyable to watch unfold as unplanned events takes these two on a course they never imagined!
If you love BDSM books please don't let the fact that this is a book 11 scare you off… to love this one, the only book you really need to read is Breaking Free as it is the start of Beth and Master Nolan's story. If you love love BDSM books this is a great series… so feel free to 1click and binge read!
OK back to Protecting His Own. As the blurb states, we find Beth and Nolan working toward adoption that is until Beth gets an unexpected call from two boys from the local domestic violence shelter she supports. These two little boys will steal your heart from almost the moment you meet them and then your heart will break for them as you learn all these small boys have had to deal with at such a young age.
I was glued to my kindle as Beth and these little men bonded and I was often grinning from ear to ear as "Nolannmann" interacted with Grant and Connor. The how to behave like a men lessons were so well done, they spoke to Nolan's character and well I hope all boys are taught some of these lessons.
Master Nolan's love and devotion for Beth shines through in this one:
"Three years ago, wife had been a four-letter word. Beth had transformed the word into one that meant miracle."
Speaking of devotion, there is a very hot scene at the Shadowlands when Master Nolan is trying to make a point and prove to Beth how beautiful she is; this scene was both hot and powerful.
Ms. Sinclair wrote a wonderful story that will keep you engaged without unneeded drama or petty conflict. I loved that I never doubted Beth and Nolan's love for each other. This book was about them making things work as the world around their love continued to spin and throw challenges their way.
For fans of the series, the Shadowlands characters do appear but they never take over the story; they simply add to the world Beth and Nolan live in.