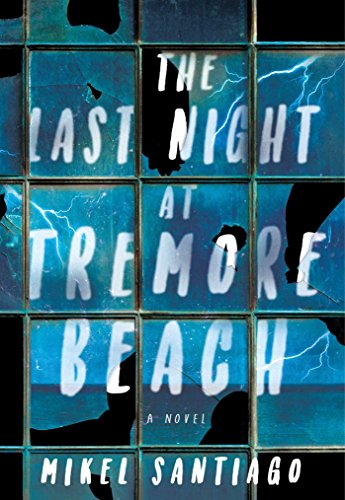 The Last Night at Tremore Beach

by Mikel Santiago
on February 14, 2017
Pages: 320
Buy on Amazon, Buy on B&N, Buy on iTunes, Buy on Kobo
Goodreads

What starts out as an idyllic summer holiday on the Irish coast soon becomes a living nightmare with unpredictable consequences for a world-renowned composer and his family in this chilling psychological thriller.

Recently divorced and in the middle of a creative crisis, Peter Harper decides to take shelter on Ireland's scenic and isolated Tremore Beach. But after he is struck by lightning one stormy night, he begins experiencing terrible headaches and strange dreams. As the line between his dreams and reality begins to blur, Peter realizes that his bizarre dreams may be a warning of horror still to come…

Gripping and impossible to put down, The Last Night at Tremore Beach is a haunting, atmospheric thriller perfect for fans of Stephen King and S.J. Watson.
This one sounds so good! A psychological thriller/suspense giveaway for Valentine's Day – enter for a chance to win a print copy of THE LAST NIGHT AT TREMORE BEACH – Good luck!

I DROVE SLOWLY up the narrow gravel road between the dunes as the wind tossed around my three thousand pound Volvo V40 as if it were made of papier-mâché. My headlights cut into the darkness like narrow lightsabers. I kept a keen eye on the road since, as you leave Leo's house and climb toward Bill's Peak, the path narrows and twists along the edge of a cliff, with nothing to shield you from a precipitous drop but some wild shrubbery along the shoulder.
Overhead, the great Goddess of the Storm had begun to stir, roiling in labor pains.
I leaned into the gas, a bit. I didn't want to still be on the road when this mother started bearing her young, unleashing them on the earth below. But just as I crested the hill, something up ahead made me slam on the brakes.
A tree branch in the middle of the road.
It was an enormous branch, one of the four or five main ones from the lovely old elm at the top of Bill's Peak. One of the ends of the branch was charred and still smoking, and I guessed it had been severed by a bolt of lightning. The gale-force winds must have tossed it right into the middle of the road.
I ducked my head and peeked up through the front windshield. The thick blackness overhead had started to rotate directly over my car. There were flashes from deep within it and thunder that rumbled like a sleeping giant who'd been abruptly awakened.
If I had driven a Land Rover Defender like Leo's instead of a Volvo V40, I wouldn't have thought twice about it: I'd drop it into low gear and climb over the thing. I'd worry about coming back to move it tomorrow. But the domesticated underbelly of my station wagon wasn't having that. I'd bust a wheel or an axle, for sure. Plus, the O'Rourkes would be coming down the path later, and they might not see it before it was too late.
So I decided to act as quickly as I could.
I hopped out of the car and as soon as I did, I realized how dangerous this was. Everything I knew about lightning storms told me I was in exactly the wrong place: at the top of a hill, next to a tree, right below a storm cloud that was ready to burst.
Not tonight, Peter.
I remember hearing somewhere that you were safe inside a car (as in an airplane) during a lightning storm, that electricity from a lightning strike grounded itself without affecting anyone inside. I was about to sit back inside. Maybe it'd be easier to drive around it . . . dammit. Come on, Pete. Stick your chest out and be a man.
The wind gusted furiously. I looked up at the ancient elm, mutilated and still smoldering, and I could smell a burning in the air. But not the smokiness of a fireplace or barbecue, rather the electric char of a short circuit. It reminded me of the time my daughter, Beatrice, stuck her finger in an electric socket when she was just four years old. The lights in the entire house flickered and when we found her, her eyebrows were standing on end. That's what it smelled like tonight.
Overhead, the writhing, twisting darkness let out a powerful roar that shook the earth beneath my feet. I looked up and noticed some kind of light coming from deep within the storm. A twister of blue light.
Lightning never strikes the same place twice, I told myself.
What people are saying about The Last Night at Tremore Beach:
"Weaving quicksilver supernatural strands into an evocative tapestry of rural Irish life, Santiago conjures a truly haunting page-turner."–PUBLISHERS WEEKLY, STARRED REVIEW 
"Santiago paints Tremore Beach in alternating strokes of lonely beauty and unpredictable danger, using the setting, hints of the supernatural and Peter's possible mania to invoke unsettling paranoia." – Booklist

*Giveaway now over – Congrats to Latifa Morrisette*
Enter to win: a copy of THE LAST NIGHT AT TREMORE BEACH (US ONLY)
All you have to do is (any of the following):
➡share this excerpt and giveaway on your social media account(s) (Facebook, Twitter, Instagram, etc). Sample message below:
The Last Night at Tremore Beach is LIVE! http://amzn.to/2kmcgcr @shhmomsreading @mikelsantiago
➡ Add The Last Night at Tremore Beach on GR: https://www.goodreads.com/book/show/32440203-the-last-night-at-tremore-beach
➡ Comment below why you enjoy psychological thriller/suspense stories
 Please make sure to post a link to your shares below (the more you do the more chances to win!). One winner will be chosen Friday February 17th. Thank you for sharing!