We are very excited about this upcoming book by R.K Lilley releasing November 2013 – Rock Bottom, book 2 in the Tristan and Danika series.
Enter for a chance to win a chance to win a signed set of Bad Things and Rock Bottom using Rafflecopter below.  Good luck!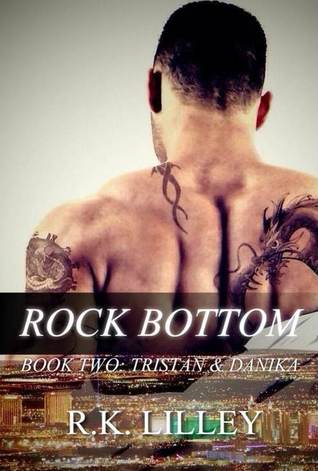 Synopsis
Tristan and Danika's story continues!
---
WARNING: This teaser contains spoilers for those who haven't read Bad Things.
DANIKA

The Record Deal

We tracked Tristan down in a crowd of people laughing by the pool. He was talking to Kenny, with Cory and Dean just a few feet away. The band was back together. I could tell at a glance. And the man in a suit that seemed to be kissing their ass made my gut twist.
I was about to lose him. The thought was swift and hard to shake. But something was happening here, some big move for the band that was bound to take him away from me, be it in time or distance.
He smiled huge when he saw me. I hadn't seen him so happy since Jared died.
I wanted to throw up I was so worried about what he was going to tell me as he left the group, grabbing my hand and tugging me away.
"I need to talk to you about something," he explained.
I followed on leaden feet, wanting to stall, or run, whatever it took to stop this thing in its tracks. I was being ridiculous, I knew, but knowing that didn't stop the horrible feeling in my gut. "That sounds ominous," I told him, keeping my voice steady.
"It's nothing bad. It's good, I think, actually."
He pulled me until we found a private little corner on the side of the house. He moved close, touching his forehead to mine and smiling before he began.
"We just got a record deal."
I'd known it, known by the happy reunion of the band, who hadn't been together since the funeral, that this was happening. It had always been heading in this direction.
He swallowed, his eyes suddenly downcast. "It was what Jared always wanted. It's not right that he's not here to see it."
I melted, stroking a hand over his cheek, trying to offer him whatever comfort I could.
"The rest of the guys are all over it, and I'm happy for them, especially Kenny, but I'm not sure I'm up for it. The band…the entire thing is not the same for me without Jared. It won't be at all hard for them to find a new lead singer. They're a dime a dozen."
He was delusional if he thought the band would fare as well without him. Hell, I didn't think they'd still have a record deal if he backed out, but that wasn't for me to say.
It was a touchy question, and hard for me to ask, but… "What about Jared's spot? Don't you need another guitarist?"
He grimaced, running a hand through his hair. "We had enough guys that we don't technically need another member, but the record company has someone that they wanted us to use. I haven't met him, but I hear he's good. I'm happy for the guys, but like I said, I'm not sure I'm up for it. None of it would be the same for me without Jared. Just the thought of someone else taking his spot makes me feel sick."
I saw what he wanted from me, even if he didn't.
He tried so hard to hide all of his pent-up frustration at life, his malcontent with the hand he'd been dealt; a talented man who was good at everything, of sound mind and exceptional body, and yet had nothing to do with it, nowhere to put it to its proper use.
He'd been raised in a world where his potential had been valued at so much less than its worth. He was ambitious. He'd never admit it, because it was a pipe dream where he came from, but his ambitions were a hot burning thing, beyond his control, and he needed this.
I buried my hands in his hair, touching my forehead back to his. It wasn't easy, but when I spoke, I made my voice sure. "I think you should do it. Opportunities like these don't come often, and when they do, you have to grab them. This is what Jared would have wanted."
"It's just not the same without him. It never will be."
"No, it won't. It will be completely different, but that doesn't mean it won't still be good. For the guys and for you. And for Jared. It was his dream for the band to make it, and he was not selfish. He'd be just as happy if you made it without him. But you're never really without him. He'll always be a part of you, right? And that part of you needs to do this, baby."
He hugged me to him, his face burrowing into my neck, breathing me in, making my eyes flutter closed in pleasure. "Thank you. You're my rock, sweetheart. I don't know what I'd do without you. You make everything better."
I melted into a messy little puddle at his feet. Having this man love me like he did had become my whole world.
Though he'd put up a token protest, I knew he wanted this bad, and I couldn't blame him. I understood his need for this. I desperately wanted to amount to something too, and so I didn't ever even consider holding him back.
About the Author
R.K. Lilley lives in Colorado with her husband and their two beautiful sons. She's had a lot of interesting jobs, from being a first class flight attendant, to being a stablehand, but swears she never knew what hard work was until she had children. She's been addicted to both reading and writing fiction since she can remember. She loves to travel, read, hike, paint, game, watch anime, and make the most of every single day. She is the author of the erotic romance novels In Flight, Mile High, Grounded, and the novella, Lana.