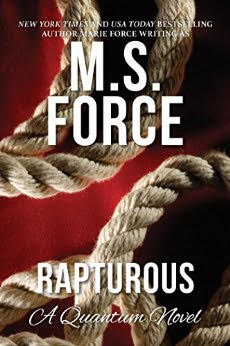 Rapturous

by Marie Force
on January 19, 2016
Pages: 350
Buy on Amazon
Goodreads


The story begun in the initial Quantum Trilogy picks up on Oscar night after Academy Award-winning director Hayden Roth kisses the woman he desires above all others, even though he knows she can never be his. Addison York craves her boss's best friend, Hayden, but he has never given her an ounce of encouragement—until tonight when he kissed her after winning the Oscar. Was that kiss the start of something or another in a long line of frustrations where Hayden is concerned? Something is keeping him from acting on the attraction that simmers between them, and Addie is determined to find out what it is. But when she stumbles upon the secret that Hayden, Flynn and her other close friends have kept from her, will she allow hurt feelings to get in the way of true love? When Hayden won't share his BDSM lifestyle with her, Addie decides to conduct her own research. Will she be intrigued or repulsed? And what will Hayden do when he finds out how she's been spending her evenings?
I was so thrilled to read this series which had been sitting on my kindle, and after devouring the first three books which tell the tale of Natalie and Flynn, I was so excited to be able to dive right into Rapturous!
The kiss, oh the kiss that ends book 3 had me opening book 4 up the first chance I got.
But that kiss… That damned kiss. Whatever happens next is his own fault. He started it. I intend to finish it once and for all. It's about damned time.
Rapturous is the story of Hayden and Addie. Hayden is Flynn's best friend (the hero of the first three books) while Addie is Flynn's trusted assistant.
Principals of Quantum, BDSM lifestyle has been a very real struggle; balancing their base desires verses their celebrity and who knows what in their lives
I adored how Addie chose to explore, nope not telling read the book. I loved how Hayden found out, OMG too funny again not telling read the book and I was so drawn to how they fit so well into each others lives.
Hayden learning what he seemed to have missed in his Dom training was so perfect, real character growth. And Addie embracing her trust for Hayden, taking it to a whole new level had me certain he would find a way to open his heart and embrace what was right in front of him
Hayden's background was so perfect for the character we see, for the man he thinks he is; Addie pushing his self perception truly radiated her love for him.
I fell even more in love with Flynn in this book; witnessing him being on the other side of the conversation he has with Hayden in the prior books played out so well. It truly made for some epic banter!
Be warned this book is hotter than the first three, which so fits for the characters crafted and the story line.