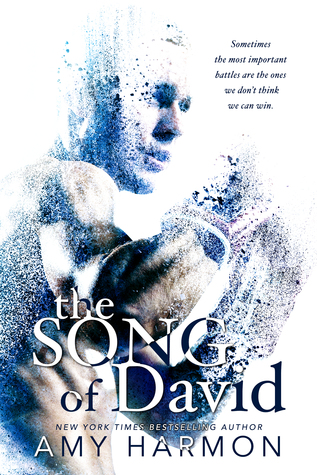 The Song of David

by Amy Harmon
on June 13, 2015
Pages: 285
Buy on Amazon
Goodreads


This is David 'Tag' Taggert's book, a supporting character introduced inThe Law of Moses. This is a stand-alone story, but it is highly recommended that The Law of Moses be read first to avoid spoilers.

She said I was like a song. Her favorite song. A song isn't something you can see. It's something you feel, something you move to, something that disappears after the last note is played.

I won my first fight when I was eleven years old, and I've been throwing punches ever since. Fighting is the purest, truest, most elemental thing there is. Some people describe heaven as a sea of unending white. Where choirs sing and loved ones await. But for me, heaven was something else. It sounded like the bell at the beginning of a round, it tasted like adrenaline, it burned like sweat in my eyes and fire in my belly. It looked like the blur of screaming crowds and an opponent who wanted my blood.

For me, heaven was the octagon.

Until I met Millie, and heaven became something different. I became something different. I knew I loved her when I watched her stand perfectly still in the middle of a crowded room, people swarming, buzzing, slipping around her, her straight dancer's posture unyielding, her chin high, her hands loose at her sides. No one seemed to see her at all, except for the few who squeezed past her, tossing exasperated looks at her unsmiling face. When they realized she wasn't normal, they hurried away. Why was it that no one saw her, yet she was the first thing I saw?

If heaven was the octagon, then she was my angel at the center of it all, the girl with the power to take me down and lift me up again. The girl I wanted to fight for, the girl I wanted to claim. The girl who taught me that sometimes the biggest heroes go unsung and the most important battles are the ones we don't think we can win.
First bring the tissues… second though this book is listed as a strong alone, I agree with the author and I highly recommend you read The Law of Moses first! I loved The Law of Moses and in the same fashion this book elicits deep emotions from the reader and pushes them to think.
The Song of David tells the story of David "Tag" Taggert, a young man readers meet in The Law of Moses. This is the man that Moses met in the psych ward, the man he then travels the world with.
The story telling technique in his book is very unique, as the reader hears from Tag and it ties into the who Millie is.
I really do not want to give anything away about this story because reading it without knowing what happens or how the story unfolds (like with The Law of Moses) I think will be the most powerful and engaging for the reader.
I will say this line in the blurb will mean even more once you read the book:
She said I was like a song. Her favorite song. A song isn't something you can see. It's something you feel, something you move to, something that disappears after the last note is played.
Ms. Harmon does a wonderful job at allowing the reader to feel the connection between Tag and Mille, both with words and with actions, the reader knows that this is a something very different for both characters.
"When you're with me, I feel like I glimpse a David nobody else knows is there. It's the Song of David, and nobody else can hear it but me"
As the story unfolded, I loved the use of Moses in this story, his use spoke to the depth of the friendship he developed with Tag. I also adored the use of Millie's brother Henry because this showed the man Tag had become even if he didn't see it.
The "Tag Team" Tag creates, the world he builds for himself and those he loves, is in such contrast to the desperate young man Moses and the reader meet in that group therapy session, so hats off to Ms. Harmon for that!
The epilogue of this book was deeply moving, so powerful; truly leaving me with a heart full of love for these well crafted and memorable characters (because yes you get to see the future of so many).

Millie opened the door to greet me, a smile on her lips, my name on her tongue, but I didn't wait for her to release it. I wanted her to keep it, savor it, and never let it go. I needed my name to stay inside her so that I wouldn't float away like a word that's already been spoken. So I pressed my lips to hers and swung her up in my arms like a man in a movie, and my name became a cry that only I heard.
I felt slightly crazed, and my kiss was frantic as I barreled up the stairs with Millie in my arms. My legs didn't shake and my mind was clear, as if in its health my body was rebelling too. I wanted to roar and hit my chest. I wanted to shake my fists at the heavens, but more than anything I wanted Millie. I didn't want to waste another second with Millie.
Then we were in her room, the white comforter pristine and smooth, like Millie's skin in the moonlight, and I laid her across it, falling down beside her.  I was anxious. Needy. I wanted the safety of her skin, the absolution of her flesh, and the promise that came with it. I wanted to take. I wanted to cement myself in her memory and leave my mark. I needed that. I needed her. She matched my fervor like she understood. She didn't understand. She couldn't. But she didn't slow me down or beg me for reassurance.
My hands were in her hair and tracing her eyes, fingering her mouth, pausing in the hollow of her throat. I wanted to touch every single part of her. But even as I lost myself in the silk of her skin and the sway of her movements against me, I felt the horror rise up inside of me and shimmer beneath my skin. It wouldn't be enough. It wouldn't be enough, and I knew it, even as I closed my eyes and tried to make it be enough. I couldn't breathe and my heart raced, and for a moment I thought I would tell her everything.
She must have mistaken my fear for hesitation, the cessation of my breath for something else, because she cradled my face in her hands and pressed her forehead to mine. And then she whispered my name.
"David, David, David." It sounded like a song when she said it. And she kissed my lips softly.
"David, David, David." She chanted my name, like she couldn't believe it was true, like she liked the way it felt in her mouth.
"I love the way you call me David," I said, and remembered the line from my silly song, the line that had no rhyme.
"I love that you are mine," she breathed, and the fear left me for a time. It tiptoed away and love took its place, love and belonging and time that can't be stolen.