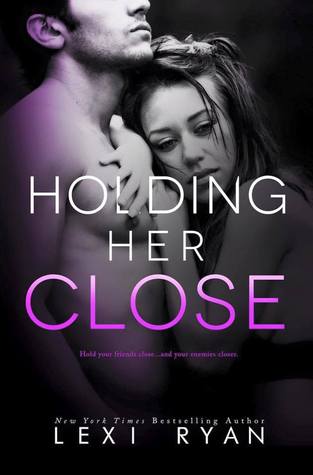 Holding Her Close

by Lexi Ryan
on January 19, 2016
Buy on Amazon
Goodreads


She's everything he detests about Hollywood.

After spending my entire acting career being cast as the airhead, I finally have the serious role I've been dying for, and I screw it all up during a four martini dinner with my ex. Now, thanks to the morality clause in my contract, I might lose the role of a lifetime. My only hope is to convince the media (and my eccentrically conservative director) that I've entered a committed relationship. But when I use my brother's costume party to launch Operation Fake Fiancé, I end up in front of the camera with the wrong guy, leaving my reputation—and the fate of my career—at his mercy. Any other guy I could sweet talk into playing the supporting role I need, but not Officer Cade Watts. Not the man who hates everything about me. Not the man who would most revel in seeing me fail.

He's everything she needs.

I don't care how good it felt to have her in my arms. I don't care that I can't close my eyes without remembering the way she tastes or the sound of her moan. I want nothing to do with Janelle Crane. Her scheme to fake an engagement to save her own career is exactly the kind of manipulative Hollywood crap I left LA to escape. But when her fan mail turns threatening and the tragedies befalling her former co-stars seem to be anything but coincidence, everything changes. Now I don't just want to play the part of Janelle's fake fiancé, I demand it. I won't let my jaded heart cost me another case. I may not trust Janelle but I do care, and the only way I know she's safe is if I'm holding her close.
Cade has sworn off actresses after his past with his ex. Janelle Crane, Nate's sister and Hollywood actress, needs to resuscitate her career after being caught kissing her ex, who is married to another woman. What better way than to fake a new love interest? But what these two didn't count on was a night of passion that neither would ever forget…
I love Lexi Ryan stories…ever since I was introduced to the characters who lived in the town of New Hope, I was addicted. I wanted each and every one to find that epic love, that passion and relationship that each one of them deserved.
I have adored Janelle since meeting her in prior books, always on the outskirts of the people who reside in this town but someone who has always been kind to those around her. Cade is a detective in the town of New Hope and he has his reservations of Janelle because of how he was treated by someone who he thought he shared a life and love with.
These two cross paths when a stalker starts sending messages to Janelle and the protective nature of Cade sets in despite him wanting to keep her at a distance, he wants to care for her too.
And boy do the sparks fly!
Of course I can't reveal the who did it, the why, or the how…but I will say this. I LOVE how Lexi Ryan incorporates that bit of mystery into her romance. Always keeping the reader on their toes, second guessing and making assumptions while they read. It's that element of suspense that keeps readers engrossed into their reading devices until the very end…and Lexi does it SO well.
Will the Hollywood Starlet be able to crack the armor that the Cop has around his heart? And can the cop trust the actress despite all of his preconceived notions?
You will have to read this book to find out!
Lexi Ryan can do no wrong in my book and I will continue to devour every book she publishes…great job as always! <3

"Why are you so angry with me?" I link my hands behind his neck. "You're always so angry with me."
"Are you fucking kidding me?"
Rising onto my toes, I position my mouth by his ear. "No one's going to believe you're my boyfriend if you hold me like you're afraid you might catch something."
One second we're standing there, barely moving on the dance floor. The next, he's spinning me around, and I'm trapped between his body and the wall. He has one hand at my neck, the other at my waist, one thick thigh between my legs.
"You wanna know why I'm angry?" He presses closer. My already-short skirt hikes higher up my hips, and I'm treated to the delicious pressure of his thigh pressing into the lace of my panties. "Maybe because you're reckless. Selfish. Immature. Maybe because for the last three hours you've been boozing it up with your buddies while I was picturing you bound and helpless to some obsessive maniac."
Before I can reply, his mouth is on mine. This isn't like the seductive kisses we shared on our first night together, and it lacks the tenderness of the kiss he gave me at the station. This kiss matches his mood. It's hot and angry. Demanding and possessive. This is the kiss of a man who very well could throw his woman over his shoulder and drag her home. The kiss of a man whose woman would relish such treatment.
I shouldn't be that woman. I shouldn't even pretend to be her. But should has nothing to do with the way I open my mouth and slip my tongue inside to taste him. Should has nothing to do with me shifting my stance, lifting one knee to give his thigh better access to my aching center. When Cade touches me, should goes out the window and is replaced by must.
I must pull him closer. I must learn how his neck tastes. I must dissolve into his kiss until the world disappears. Then even must falls away and I am nothing but this ache where need becomes pleasure and pleasure becomes need. He called me reckless, and right now I am. With him, that's what I become.
When he tears his mouth from mine, I gasp at the loss.
"Is that better?" he asks, rubbing his face against my neck and marking me with his stubble. "If I hold you like this." The hand at my waist slides down until he's cupping my ass. "Touch you like this." The hand on my neck dips to skim the tops of my breasts. "Would that be enough?" He opens his mouth against my neck and sucks. Hard. "What's it going to take to get you to listen to me?"
♥READ THE SERIES♥
Book 1 – Playing with Fire
Book 2 – Holding Her Close