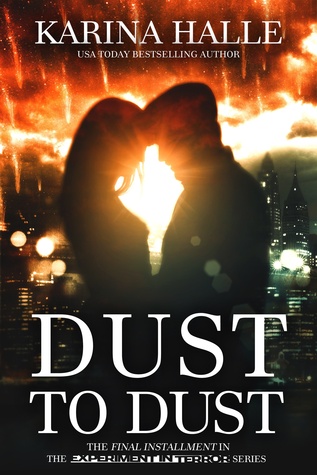 Dust to Dust

by Karina Halle
on August 11, 2014
Buy on Amazon
Goodreads

The dramatic conclusion to the Experiment in Terror Series.

Perry Palomino and Dex Foray.

On their own, they're uniquely brilliant. Together, they're an unstoppable team.

Until now.

Because after everything the duo has encountered, they haven't come across an evil quite like this. An evil that has been years in the making, an evil that will stop at nothing until they, and everyone they care for, are destroyed.

Dex and Perry's love has survived a multitude of sins.

But can it survive the end?
Happy Release Day to one of our favorite authors Karina Halle and to her new release Dust to Dust, the final book in the Experiment in Terror Series! Make sure to enter the EPIC giveaway below!! Good luck!!!
♥Read the Series♥
Book #1 — Dark­house – FREE
Book #2 — Red Fox
Book #2.5 – The Ben­son (An Exper­i­ment in Ter­ror Novella)
Book #3 — Dead Sky Morn­ing
Book #4 — Lying Sea­son
Book #5 — On Demon Wings
Book #5.5 — Old Blood (An Exper­i­ment in Ter­ror Novella)
Book #5.7 — The Dex Files (An Exper­i­ment in Ter­ror Novella)
Book #6 — Into the Hol­low
Book #6.5 — And With Mad­ness Comes the Light (An Exper­i­ment in Ter­ror Novella)
Book #7 — Come Alive
Book #8 — Ashes to Ashes