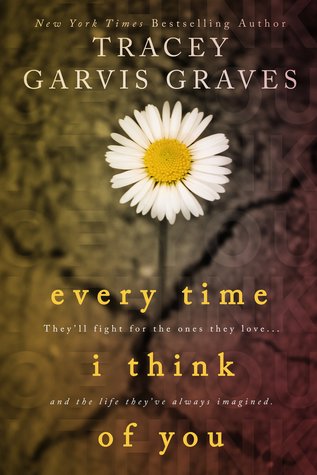 Every Time I Think of You

by Tracey Garvis-Graves
on September 16, 2014
Pages: 360
Buy on Amazon
Goodreads


Thirty-year-old Daisy DiStefano has two people she holds dear: the grandmother who raised her, and her three-year-old son, Elliott. But when Daisy's grandmother is killed in a seemingly random act of violence, Daisy must take steps to protect herself and her child.

Despite a thriving career in San Francisco, thirty-six-year-old Brooks McClain has returned home to spend what little time his mother has left before she succumbs to the deadly disease that is ravaging her. The seasoned investigative reporter has taken a position with the local newspaper and been on the job less than twenty-four hours when he's summoned to cover the death of Pauline Thorpe.

Brooks is all business, but the more time he spends with Daisy DiStefano, the more invested he becomes; there's something about a single mother, a defenseless child, and an unsolved crime that has stirred Brooks's protective instincts like nothing ever has before.

And when the unthinkable happens, Brooks will do whatever it takes to clear the name of the woman he's fallen for and the child he'll protect at any cost.

Romantic and suspenseful, Every Time I Think of You shows how far two people will go to fight for the ones they love, and the life they've always imagined.
I enjoy everything that Tracey Garvis-Graves writes and Every Time I Think of You was no different.
Let me start off by saying that this was different coming from Tracey in that it was mystery, suspense AND romance and I truly enjoyed it. I love when an author I love gives me something unexpected.
The second thing I want to say is that this is definitely more on the contemporary romance side dealing with characters in their 30's, people and situations that we can relate to – death, sickness, children, and divorce.
This is a beautiful story about the lengths one man will go to, to protect the woman he loves.
So what's it about?
Brooks McClain, a newspaper reporter, has moved home to help his dad take care of his sick mother who is suffering from ALS and whose health is deteriorating rapidly. Speaking from experience of having a friend of mine whose mother suffered from this disease, it was both emotional and heartbreaking for me to live these scenes with Brooks and his mom and dad. Tracey does what she does well and pulls at your emotions and heart strings and for me, there wasn't a dry eye while I suffered with Brooks, watching this deadly and depressing illness take away his mother. You see, Brooks is an only child and speaking from a mother's perspective, I can't imagine ever leaving my child when all I would want is to be with them always, protecting them, loving them and watching them grow.
Daisy DiStefano is a single mother to 3 year old Elliott who also works a full time job as a nurse. On the way home from work one day, she arrives upon a crime scene coming to realize that her beloved Grandmother has been murdered while her innocent child lay hidden underneath the bed.
Brooks and Daisy first interact as Brooks is assigned to investigate the murder for his newspaper. But as life moves forward and the crime still unsolved, both parties realize that there is something more than just finding justice and solving a mystery but about finding love in an unexpected situation while dealing with profound loss. Living life to the fullest without fear and enjoying every moment.
I loved the elements of suspense and mystery that Tracey executed so well that kept me guessing throughout. But even more so, I adored the emotional bonds and connections between family, friends and loved ones that were so interconnected into this story. All of it pulling me into the story and keeping me completely captivated and immersed until the very end.
Tracey Garvis-Graves is and will always be a one click author for me simply because her stories are magic. I recommend this to anyone looking for something different to read and who is looking for the next story to touch your heart. <3
I glanced at my watch. "I need to get going." I stood and Daisy followed me toward the door. "Don't hesitate to call the police for any reason. Pay close attention to your surroundings. Keep your door locked. Don't ever open it without the chain on." I paused, once again struck by how alone she seemed. Was anyone watching out for her? "Listen, I don't mean for this to sound as sexist as it's going to, but is there a guy around?"
Rarely did I ask such a personal question, especially when the answer was absolutely none of my business.

And I'll admit to being more than just professionally curious as I waited for her answer.

"There was, but not anymore," she said. "It's just Elliott and me. We'll be okay. When someone knocks, I look through the peephole. If I don't recognize the person, I leave the chain on when I open the door. I also bought a gun."

She said that last part with such nonchalance that it took me a second to process it.

"You what?" I probably said it with a little more force than I should have.

She looked taken aback. "Shane helped me pick it out."

I was speechless. "I'm sorry, but you don't—"

"Look like the type of person who would own a gun?"

It was hard to argue with that statement when it was exactly what I was going to say. "Yes."

"I didn't buy the gun because I wanted to. Frankly, I would rather not own one. They scare me," she said. "But I bought one anyway because the thought of looking something evil right in the eye and knowing that I'm more than likely going to come out on the losing end of it terrifies me. The fear that I'll be assaulted, or raped and left for dead, or worse yet, that someone will try to harm my child, is the reason I have this gun. That's the type I am."

I saw her then, really saw her. Five foot seven, maybe, but small-boned. She was wearing a fitted V-neck T-shirt that emphasized her slight build. I could see the prominent ridge of her collarbone and the deep hollow at the base of her throat that I suddenly couldn't stop looking at. She'd be no match for anyone. If she wanted a gun, I was hardly in a position to tell her she couldn't have one.

"I'm sorry," I said. "I was out of line. It's really none of my business what you do."
"It's okay. Pam reacted the same way you did. But I'm doing everything I can to be a responsible gun owner. I've signed up for the safety class so I can learn how to handle the gun. How to shoot it. I'll apply for the permit as soon as I have my certificate. I'll go to the shooting range, and I'll practice."

Taking her to the shooting range was something I could do to help her. It would also give me a chance to spend time with her, which was something that was becoming more appealing by the minute. I could feel the boundary between witness and reporter starting to blur, but I really didn't care. It had been a while since a woman had sparked my interest the way Daisy had. "You don't have to justify anything to me. It sounds like you're doing everything right," I said. "I'll let you know if I hear anything on the case."

"I would really appreciate that."

Elliott put down his coloring book and ambled across the room.

Daisy lifted him into her arms. "You look tired, buddy. Are you ready for your nap?"
"I'm not tired," Elliott said, yawning and rubbing his eyes.

"Oh, my mistake," Daisy said, smiling at him. "I think we'll try a nap anyway, just in case." She looked at me. "Thanks for stopping by."

"It was no problem. I'll see you soon."

As I stepped into the hallway she said, "Brooks?"

I turned around. "Yes?"

"Maybe I'm reading this wrong, but you seem to genuinely care about my safety, and I want you to know that I appreciate it. I need all the help I can get."

I met her gaze and held it for a moment. "You aren't reading it wrong at all. Take care, Daisy."

She smiled and it illuminated her face, making every feature even prettier. She closed the door, and I made my way down the hall.

It was true that I cared about Daisy's safety. Maybe Scott DiStefano had never abused or neglected Elliott, but Daisy's decision to arm herself made me wonder what he'd done to her.