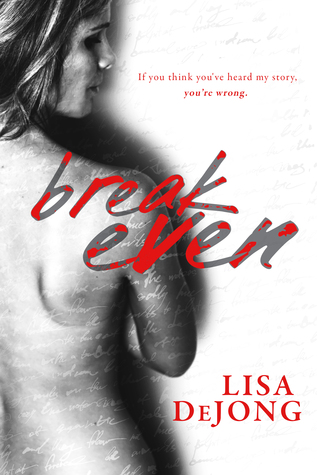 Break Even

by Lisa De Jong
on December 27, 2015
Buy on Amazon, Buy on B&N, Buy on iTunes, Buy on Kobo
Goodreads

My story isn't a love story … not the typical kind anyway.
As a lawyer, I'm used to discovery, but I never saw this one coming.

Every day, River gives me ten reasons to stay away, and then eleven reasons why I can't. Our relationship was to remain strictly business, or at least I tried.

Four years of marriage, and everything with Cole has changed. I never knew two people who lived together could be so distant. But I'm not ready to give up on him.

One man wants to break me.
The other is just trying to get even.

Both are lying to me.

***This is a standalone contemporary romance (though a little unconventional and twisted!)
Meet River & Marley in this emotionally twisted – unconventional stand alone by Lisa DeJong!

My eyes never leave my guest who's dressed in a crisp navy blue suit, white shirt with the top two buttons undone, and expensive brown leather belt and shoes—the kind Cole works so hard for. River carries the look with ease.
"I hope I didn't interrupt," he says, sauntering toward one of my guest chairs.
"You're early."
He shrugs, relaxing into his seat. "I was bored, and I've noticed you like your coffee, so I thought I could buy you a cup. It's the least I can do since you're going to have to put up with me all day."
"Who said you could barge into my office?"
He smirks. Stupid dimple. "Your secretary was missing so I helped myself." His eyes stare into mine—too long and far too intense. "I didn't mean to interrupt your phone call with Mr. Mason, by the way."
"Something tells me you're not feeling all that guilty."
"You're right, but I did learn something about you." His elbow rests on the arm of the chair, index finger brushing his chiseled jaw.
"What's that?" I ask, unable to look away.
"You profess love with indifference."
My mouth falls open before I realize it. I quickly recover, searching for my voice. "What do you know about love?"
"Enough," he says simply.