Happy Release Day to A.L Jackson as we celebrate her new book Come to Me Softly!!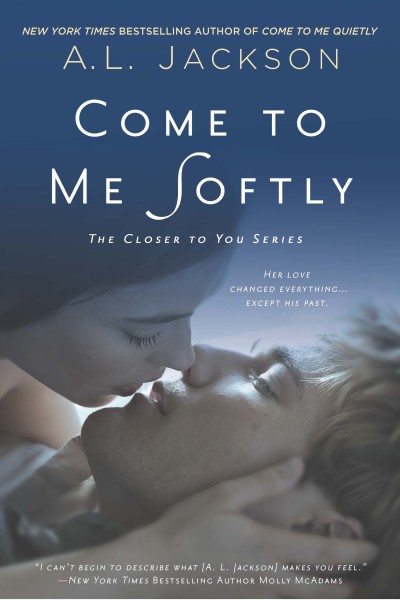 From the New York Times bestselling author of Come to Me Quietly comes
a scorching new adult romance in the Closer to You series.
A second chance at life…
A second chance at love…
Jared Holt never thought he deserved either—until he found both in the arms of Aly Moore. Aly has loved Jared for as long as she can remember, and she's more than ready for the future they're making together. But Jared can't help remembering his own family. And he'll never forgive himself for what happened to them. How can he allow himself the very happiness he once destroyed?
To live a life worthy of Aly, Jared knows he has to stop running and finally put his past to rest. But when he decides to face his demons head on, he encounters more than he bargained for: a dangerous mix of jealousy, lies, and dishonest intentions. When those intentions threaten Aly, Jared loses all control, giving into the rage that earned him his bad boy reputation years before. And he'll fight to protect her no matter what it costs…even if he destroys himself in the process.

 Christine's 5 STAR Review!!!
When beauty breathes life back into the broken.
This is a perfect sentence from Come to Me Softly that describes the emotionally charged and intense love story of Jared Holt and Aly Moore.
A.L. Jackson knows how to write romance and combined with her gift of story telling and beautiful characters, Ms. Jackson gives us another look into this 2nd chance love story of two characters destined to be together forever.
Come to Me Softly begins where Come to Me Quietly left off with Jared returning to the only woman he has ever loved and let into his heart.  Aly is the one person who has ever given him comfort, given him something to strive for – a home and now a family.
It isn't an easy journey for these two as Jared still needs to fight and face his demons. Jared undoubtingly loves Aly with his whole being and to watch them grow as a couple and individually was a magnificent yet emotional thing for me to behold.
I admire Aly's unwavering strength and love for Jared; never once having any doubt and loving from the bottom of her heart and soul was so beautiful and so real.  Having Jared realize his worthiness of this perfect love will take time as he finds forgiveness within himself for his past.  Aly's strength to fight for Jared and their family is deep rooted and all encompassing as she has to fight for the both of them as Jared doesn't yet have that strength within himself.  Her fight makes me adore her even more because of her belief in their love.
Come to Me Softly is about new beginnings, finding forgiveness, truly living life for a couple that have known each other since childhood, growing as adults and completing a journey together to find their happy.
A.L Jackson makes me feel….the all encompassing "feels" that pulls at my heart, makes butterflies in my belly and of course brings tears to my eyes.
This book..this couple… are complete perfection.  Come to Me Softly makes you fall in love with love and the overwhelming emotion you can only get from one of Ms. Jackson's breathtaking novels.
Loved it! And you will love it too! I am waiting with anticipated breath for Aly's brother's story – Christopher!

*Enjoy the trailer created by the wonderful Becca the Bibliophile*
♥BUY YOUR COPY OF COME TO ME SOFTLY♥
Amazon | Barnes & Noble | Kobo | iTunes
Be sure to join us for the Come to Me Softly Read Along Party! We're kicking off the celebration on June 24th with a ton of prizes, then the read along begins. Daily prizes all the way up to grand prize on July 2nd!
Grand Prize: Coach Bag stuff with A.L. Jackson Goodies!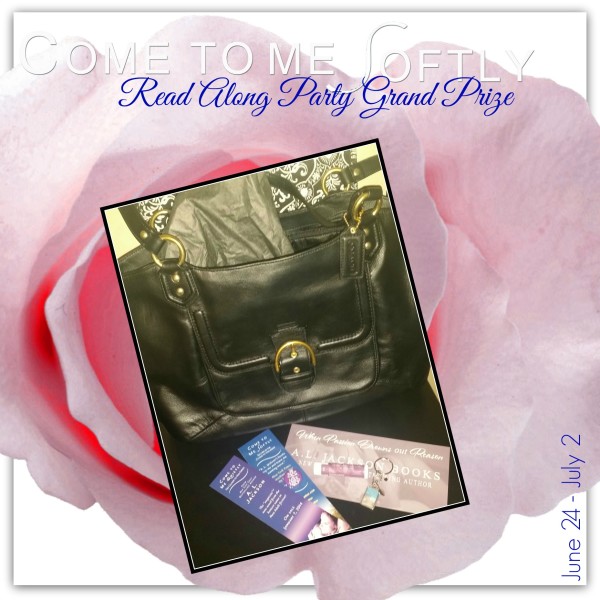 ♥JOIN THE COME TO ME SOFTLY READ ALONG PARTY!♥


 Come to Me Softly Release Celebration Giveaway!
Grand Prize: Coach Bag, Kindle Paperwhite, and A.L. Jackson Swag
Second Prize: Come to Me Quietly Custom Charm Necklace
Third Prize: A.L. Jackson Swag Pack
♥BUY BOOK 1 IN THE CLOSER TO YOU SERIES♥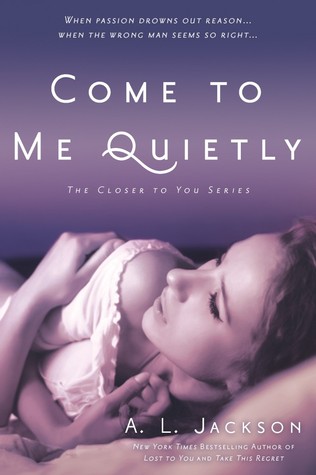 Amazon | Barnes & Noble | Kobo | iTunes
Aleena Moore is content with her life. She has goals and dreams and an easy smile. She also has a secret she holds locked inside.
Jared Holt believes he doesn't deserve to love or be loved. He destroys everything he touches. Haunted by the mistake that shattered his life, he's fled from the memory of that pain.
Jared doesn't know why he's compelled to return, but finds himself drawn back to the place where it all began. The exact place where it ended. When he runs into his childhood best friend, Aleena's older brother Christopher, he agrees to share Christopher and Aleena's apartment while he looks for a place of his own.
Aleena is no longer the little girl Jared remembers from his past and evokes feelings in him he never wanted to feel again. Terrified of destroying her, he fights to keep her away. But her touch is something he can't resist—the touch that sealed his fate.
Their pasts are intertwined and their futures uncertain. The only truths they know are the secrets they whisper in the night.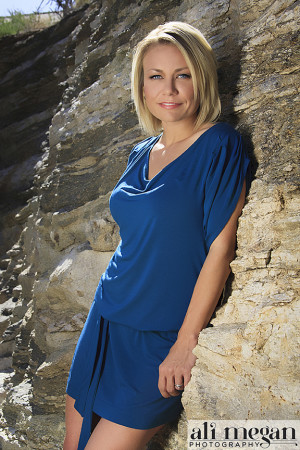 A.L. Jackson is the New York Times bestselling author of Take This Regret and Lost to You, as well as other contemporary romance titles, including Pulled, When We Collide, If Forever Comes, and Come to Me Quietly.
She first found a love for writing during her days as a young mother and college student. She filled the journals she carried with short stories and poems used as an emotional outlet for the difficulties and joys she found in day-to-day life.
Years later, she shared a short story she'd been working on with her two closest friends and, with their encouragement, this story became her first full length novel. A.L. now spends her days writing in Southern Arizona where she lives with her husband and three children.
Look for Come to Me Softly and When We Met: Behind Her Eyes coming soon.
Instagram @aljacksonauthor
Pinterest @aljacksonauthor