by L.H. Cosway

Happy Release Day to L.H. Conway and her new book HEARTS OF BLUE. Take a sneak peek into the book below and make sure to enter the giveaway. As a special treat, the author is having a poll on her FB page asking readers to pick a scene from the book that they would like to read from the hero's POV. Stop by her page to vote and the scene that gets the most votes by the end of the Release Week Event will be posted on the author's blog at a later date. Vote HERE!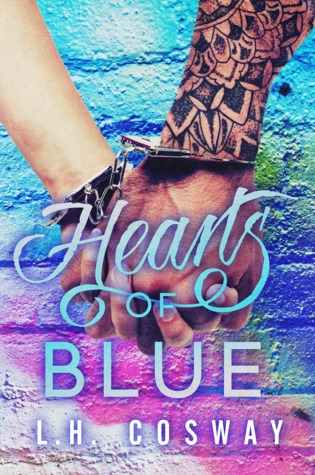 She upholds the law. He breaks it.
Two blue hearts, both alike in bravery
In not-so-fair London, where we lay our scene
From gun crime to petty theft
Where family is blood and survival makes hands unclean
In this place, we find two hearts who should be foes
And yet, amidst the turmoil their love still grows
Misadventure abounds and the divide will bring them strife
But with luck, death doesn't always mean an end to life.
Hearts of Blue is a standalone contemporary romance that tells the story of star-crossed lovers Karla Sheehan and Lee Cross, a police constable and the thief who steals her heart.


Lee didn't answer, and instead he took a step forward, forcing me to back up if I didn't want us to collide. The problem with this meant my back hit the wall a moment later.
"You're so pretty, Snap," he said, voice low, as he dropped his face to my hair and breathed in.
I wasn't wearing a hat, and my hair was tied up in a bun. My entire body trembled when he wrapped his arms around my waist, inhaled deeply and pulled me into a hug. This was a distraction, I knew it, and yet, I let him distract me. I wanted to be distracted, and I was just glad that the blinds in his office had been pulled.
Standing in his embrace for at least a minute with silence all around us, I was unable to move. I liked having Lee close, loved the feel of him and how he could make feel so…surrounded. Despite all the warning signs, my attraction to him only grew stronger. There was just something about him that called to me.
"Lee."
His mouth moved against my hair. "What is it, Karla?"
"Why are you hugging me?"
"You looked like you needed to be held." His response was low, and the affectionate undertone had me swallowing deeply. At long last I summoned the willpower to break the hug. His arms fell away from me easily, my stomach churning with confusion. What the hell was I doing?
I stared at the floor when I spoke. "I have to go."
Heading for the door, I paused when he said gently, "Hey, I needed it, too."

Oh how I loved this book…let me count the ways lol
LH Cosway never ceases to amaze me with her books…each and every one so unique and different. The writing, the characters, the story in itself complete and utter perfection. In a book world where so many stories and characters are similar and done over and over, Ms. Cosway gives readers something to look forward to in her ability to create captivating and distinctive books that stay with you for a long time to come.
I didn't think I would like Lee after meeting him in prior books – he was cocky and forward and just not my kind of guy. But Cosway proved me wrong and shows me again and again why she is a must click author for me.
Hearts of Blue is a beautifully written forbidden romance that pulled me out of my book funk. Lee is a well known thief who has done everything he can since he was a child to protect and care for his family having not your typical and ideal childhood.  Karla is a police officer, with a police officer for a father, who's family is not truly supportive of her career or very affectionate and loving. So yes, though being polar opposites as far as the law goes, both characters are similar in their quest for love, companionship and a true family.
Despite not wanting to like Lee and judging him in my mind because of his background, I do like him…a lot. He is a genuine guy when it comes to Karla and there is definitely more than meets the eye with this character. His words, the looks he gives her and his true heart of gold really shined through despite being on the other side of the law. And with Karla, I loved her strength and convictions. Together, these characters had such an intense, hot and even beyond that – a true heart loving connection that though they tried to fight, those emotions and feelings really shined through to the reader.
So while not giving anything away because this is another MUST READ for this author, I will say this….LH Cosway is always able to elicit feelings from me while I read her books, my emotions always run the gamut because I never know what to expect, and in the end I always close my kindle with a satisfied smile on my face because it is another masterpiece created by this MUST READ author. #epiclovestories #thethiefstolemyhearttoo


L.H. Cosway Hearts of Blue Release Week Giveaway

♥ READ THE BOOKS ♥
Six of Hearts
Amazon US | Amazon UK | B&N | Kobo | Smashwords | iTunes
Hearts of Fire
Amazon | Smashwords | B&N | Kobo | iTunes
King of Hearts
Amazon US | Amazon UK | B&N | iTunes | Smashwords
Hearts of Blue