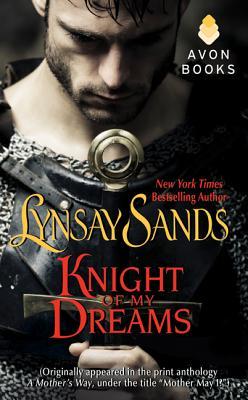 Happy Release Day to Lynsay Sands and her new novella KNIGHT OF MY DREAMS!
Read an excerpt below and enter for a chance to win a giveaway! Good luck!
---

Originally appeared in the print anthology A Mother's Way, under the title "Mother May I?"
From New York Times and USA Today bestselling author Lynsay Sands comes a classic short story of a knight in need of a bride …
Lady Alice knows she is not the type to entice a man. She's too voluptuous, too intelligent, too strong minded. Why, she even reads! But then Jonathan, Earl of Fairley, arrives at court. Tall, dark and handsome, the knight is any woman's dream. And he has just been ordered by the king to find a bride … and Alice is to help him!
Jonathan has been evading his mother's matchmaking schemes for years, so why does she insist that Lady Alice isn't for him? Alice is only to aid in his search for a bride, yet Jonathan can't help but be distracted by her glorious hair—the color of a sunset—and a figure that is like a lush berry about to burst to full ripeness … Has Jonathan fallen prey to love?

"Are you all right?"
Alice glanced up in surprise at the concern in Lord Jonathan's voice. He wasn't looking at her; his gaze was traveling down her body in the wake of his hands as he checked her over to be sure she wasn't injured. She flushed at the familiar way his fingers skimmed over her, and took a quick step back, nearly tumbling again.
"I am fi-fine," she got out a little breathlessly as he caught her arms to steady her. "Really," Alice added when he continued to look concerned. After a brief pause, he swallowed and nodded, then turned to grab at the reins of his mount.
Her gaze moved distractedly back to the small swatch of blue cloth on the ground by her feet. She was about to draw Jonathan's attention to it, when she was suddenly caught by the waist and lifted onto his horse.
Alice promptly began to protest. "Oh, really, my lord. There is no need for us to ride. I can walk back to the clearing. I—"
At last she gave up her protests, mostly because he was ignoring her. He mounted in front of her and drew her hands around his waist.
"Hold on," he instructed.
Alice nodded against his back, breathing in deeply to try to steady her nerves. It was rather novel to be in such close proximity to a man. She had never done so before. Unmarried women were simply not allowed such familiarity. Of course, this was an unusual circumstance, and…
Her thoughts died as she breathed in the scent of him. He smelled of the woods and the river and…male. It was a surprisingly pleasant mix, she decided, breathing it in again as her fingers interlocked at his middle. Feeling the muscles of his stomach bunch and ripple, she flattened her fingers over them to get the full sensation, then, realizing what she was doing, stopped breathing in embarrassment. Her fingers stilled.
Of course, Alice couldn't go long holding her breath. She managed to do so for the short ride back to the clearing, but there the breath left her in a slow hiss. The place was empty. Lady Fairley and her uncle had not waited for them; they had apparently ridden on ahead. Alice recalled the small swatch of cloth she had spotted near the horses and pondered silently, wondering why Lady Fairley had been by the horses. Surely she hadn't untied Alice's mount and let it go? Had she really been so annoyed with Alice as to wish to have her walk back to the castle?
"Well, we shall have to ride quickly to catch up," Lord Jonathan said.
Alice glanced at the back of his head, then pressed close and held on tightly as he spurred his mount into a trot. She didn't hold her breath this time. Instead she sat, her breasts pressed against his back, her hands clutched at his front, breathing in deeply of his scent. She was enjoying it so much, it took her most of the ride to realize that despite his words, Jonathan wasn't trying very hard to catch up to her uncle and his mother. He had the horse going at a trot, but a rather slow one, really. They had ridden here faster. She was so startled by the realization that she loosened her hold and started to pull away, but he stopped her by catching her hands with one of his own.
"You had best hold on," he said. "I would not wish to see you fall."
Alice wondered at the husky note to his voice, but decided to merely enjoy the ride. She relaxed against him.
This is my first Lynsay Sands book…I am a HUGE paranormal fan and have been dying to read her Argeneau series so jumped on this novella when the publisher contacted me about it.
This was a nice change of pace for me as I have been reading a lot of New Adult lately…I love anything romance and to go back to something I haven't read in a while – historical fiction and knights (oh my!) is a special treat!
This was a short but sweet, fun and hot story of Jonathan, a knight being forced by the king to find his wife in 2 weeks.  Ever the bachelor and not wanting to settle down, this is a story of a meddlesome mother who knows her son so well that she is determined to set him up with the perfect woman without him realizing her efforts.
Enter the strong, beautiful, smart and oh she is well read (the horror! *gasps*) Lady Alice.  I adored their interactions together, Alice's "job" to introduce him to all of the single ladies and finally Jonathan's reactions to the perfect person for him being right under his nose.
Their chemistry, their funny bantering and their growing attraction all combined with the romantic historical ambiance created an engaging read.  My one wish was that it was longer, more developed and that we could have seen more of them finally together – but overall it was a quick fun read and I hope for more in the future!

Lynsay Sands is the nationally bestselling author of the Argeneau/Rogue Hunter vampire series, as well as numerous historicals and anthologies. She's been writing stories since grade school and considers herself incredibly lucky to be able to make a career out of it. Her hope is that readers can get away from their everyday stress through her stories, and if there are occasional uncontrollable fits of laughter, that's just a big bonus.
---