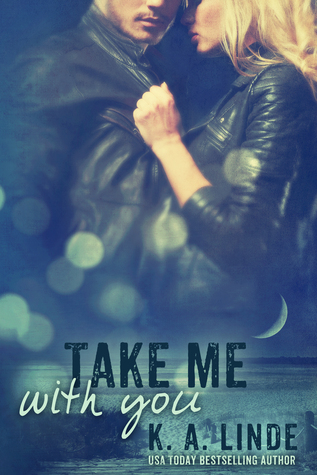 Take Me with You

by K.A. Linde
on January 27, 2015
Buy on Amazon
Goodreads

Grant
All of my demons are coming to head.
I thought Ari could push them back.
I thought I could conquer my vices with her at my side.

I thought wrong.

Aribel
Fear is my new constant.
I thought I could conceal it, contain it, control it.
I thought that now that I had Grant the worst was over.

I thought wrong.

But if we're going to survive, wherever you go…take me with you.
Happy Release Day to K.A. Linde and her new book Take Me with You – book 2 in the Take Me series. Make sure to enter the giveaway below for a signed set of the series! Good luck!

Grant practically bounded across the room until he was directly in front of me. Then, his hands were cupping my cheeks so tenderly that it was as if he thought I might break in half. Without a word, his mouth dropped down on mine, and the kiss was as light as a feather. It was a question, a soft and delicate question, one he had never asked before—permission.
When I didn't pull away from him, he received his answer. The kiss deepened, and he coaxed all the anger out of me. He drew it out as if sucking venom from an open wound. He kissed me so heatedly and lovingly that not even a drop remained. All that was left was a bottomless well of emotions of how much I loved and missed him.
When I came back into the moment, I heard the catcalls and yells from the people around us. It was then I remembered that we were in a crowded room, surrounded by people, and Grant had kissed the breath out of me. I flushed from head to toe at the attention, but he wouldn't let me pull away.
"I'm sorry," he whispered. "I shouldn't have blown up on you. I shouldn't have done anything. You're all that matters."
I stared up at him in confusion. "Who are you, and what have you done with Grant McDermott?"
He laughed that beautiful glorious laugh, and a smile lit up his whole face. It was that damn smile that had won me over in the first place.
"Run away with me," he murmured.
"What?"
"Run away with me. Let's get out of here."
"Where are we going?"
"Anywhere. Everywhere."

I enjoy K.A. Linde books…always! She always gives me what I love most..angst filled stories, amazing characters that make me fall in love and stories that take me on a roller coaster of a journey.

Rockstars are some of my fave male characters and Grant, a former manwhore now turned good boyfriend puts a smile on my face. Grant is trying to be more of the man that Ari deserves. Their connection both physically and emotionally is as strong as ever.
Take Me With You is the next phase in this couple's relationship – watching them grow as Grant is embarking on his musical career and Ari is the one that stabilizes him and keeps him focused on what's truly important in life – their relationship and each other. Ari is still as feisty as ever and puts Grant in his place and I love their relationship, their bantering and the push and pull that comes in a relationship.
This story was a light and fun version of what I normally come to expect from Ms. Linde. But I enjoyed it nonetheless. Ms. Linde has written such a wide array of stories that truly shows how well rounded she is as an author and I am always excited for what she has in store for us next.
Oh and one thing I forgot to mention was that I did enjoy the mystery surrounding Grant's dad in this book. I wasn't sure what to expect when we came face to face with his father but I was pleasantly surprised and it added to the warmth I already felt in my heart for this cast of characters.
P.S. HOT PHONE SEX! That is all!!!! 😉 Read it! Kyla writes AWESOME sex scenes!
♥READ THE SERIES♥
Book 1 – Take Me for Granted
Book 2 – Take Me with You