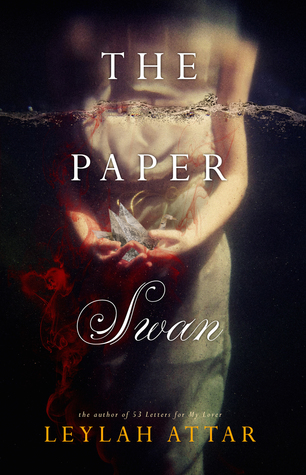 The Paper Swan

by Leylah Attar
on August 4, 2015
Goodreads


They say it takes 21 days to form a habit.

They lie.

For 21 days she held on.

But on Day 22, she would have given anything for the sweet slumber of death.

Because on Day 22, she realizes that her only way out means certain death for one of the two men she loves.

A haunting tale of passion, loss, and redemption, The Paper Swan is a darkly intense yet heartwarming love story, textured with grit, intrigue, and suspense. Please note: This is NOT a love triangle.

A full-length, standalone novel, intended for mature audiences due to violence, sex and language. Subject matter may be disturbing for some readers.
Happy Release Day to Leylah Attar and her new book THE PAPER SWAN! Enjoy a sneak peek into the book below and make sure to enter the giveaway! This is a MUST READ to add to your TBR!
♥ Buy the Book ♥



The Paper Swan is my absolute FAVORITE book of this year! When you combine romance with a unique and totally different story line, lyrical prose, stunningly beautiful descriptions and characters that completely captivate you, you have a MUST READ book.
I can't say enough about this book without revealing the story and I don't want to tell you anything because this is something you have to read and experience for yourself. The book played out like a movie in my mind and stole my breath away. This book is better read when you go in blindly and experience it as the author intended – with all the suspense and surprises and twists with every turn of the page. It was something I wanted to devour yet also wanted to take my time on because I didn't want it to end. Ask Leylah – even to this day, I want more from these characters! I didn't want to let them go.
The writing was just so beautiful and inspiring. Every scene, every word uttered, every piece of the puzzle that I wanted to get answers to played with my emotions. I felt the joy, the heartbreak, the fear, the attraction and the complete love that emitted from the pages. This book truly has it all – Leylah created this world that was at times graphic and intense yet heartfelt and all consuming but it was such a beautiful journey for these characters and I was happy to be along for the ride.
Speaking of the characters – I have never loved and connected with characters more. Just thinking about them now brings a smile to my face and fills my heart with so much emotion. From the blurb, you may think that this is a love triangle but it isn't….not in the slightest bit. Every character created so embedded into my heart and soul that I felt that I knew them personally. I was vested in their happiness and their journey.
So I know I am not saying a lot…I know I am not giving you any spoilers but trust me when I say – just read this book. Leylah was an immediate author to add onto my TBR after I read 53 Letters for My Lover and From His Lips. And The Paper Swan just makes me adore her even more.
The Paper Swan took root in my heart and it took days for me to recover from such a breathtaking experience.  That days/weeks later, seeing teaser pictures, watching the trailer and listening to the playlist make me fall in love all over again and want to read this book again and again.
I fell in complete love with this book. Leylah created such a passionate, romantic and magical story that it is in a word….UNFORGETTABLE.  Anyone looking for their next epic love story, their next brilliant read and a book that will cause complete book hangover should look no further than The Paper Swan.