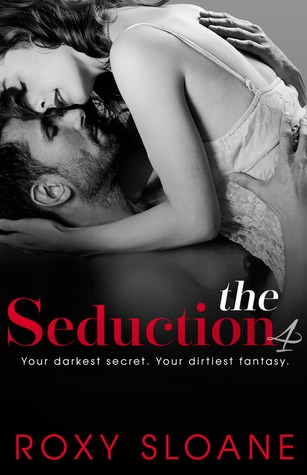 The Seduction 4

by Roxy Sloane
Series: ,
on July 14, 2014
Goodreads


The shocking, filthy serial comes to an explosive conclusion. Prepare for the most thrilling seduction of all…

There's not a woman in the world who won't spread her legs for me.

Admit it, you're already wet, imagining my hands gripping tight around your wrists, holding you down. Showing you what a real man's cock feels like buried all the way to the fucking hilt.

I was the Seducer, the best damn night of your life. But all that's behind me. Now I only want one thing.

Keely Fawes.

My secrets destroyed her. My quest for revenge tore us apart. But now I know she's in danger, there's nothing I won't do to keep her safe.

This girl is everything to me, and I won't stop until I claim her completely.

Her body.
Her mind.
Her heart.

** The fourth and final part of the hottest serial around**
Happy Release Day Roxy Sloane! Make sure to enter the giveaway below for a Victoria's Secret Gift Card!!!

So everyone knows that I love a complete story..though I enjoy serials and how they are quick reads in between my other scheduled books, I love a whole story so I am not left wanting after each installment. With that being said, I did read read serials 2-4 together back to back so that I could enjoy it all at one time.
I enjoyed this serial by debut author Roxy Sloane. She gave us mystery, suspense, intrigue, interesting characters and of course HOT SEX!
This journey for the main characters Vaughn and Keely doesn't start off with good and honest intentions but develops into something so real and true.  Both characters for the most part alone, both untrusting.  While Keely grows bolder with each book, understanding her sexual side and opening up to this man, Vaughn is scared to open up to her hoping to exact his revenge on her for things she has no control over.
I am purposely being vague because I think you need to experience this journey on your own, to learn the unexpected twists and secrets that shape who these characters will become.
A couple of things I want to make note of – Roxy Sloane knows how to write sex and she writes it really well 🙂 From Vaughn's demanding ways and his dirty mouth, the attraction between them is combustible. That combined with Keely coming to her own sexually throughout this series, makes them more as equals towards the end and I enjoyed watching their story unfold.
I am also proud of Vaughn and Keely's growth throughout.  Keely started off so unknowing in part 1 and grew to be confident, tough, rising to take on new responsibilities and really becoming Vaughn's equal in every way.  And Vaughn – our dirty talker manwhore learned how to trust, to open himself up and his heart to the first woman to give herself to him completely.  He showed her his vulnerability and this all combined was a beautiful journey to behold.
So with regards to the rating, I give this book 4 stars for the mystery and suspense and of course the hot sex that I truly enjoyed.  I thought that there were some parts that with reading back to back were a little repetitive for me and there was almost TOO much sex (*gasps!) when I would have preferred more information around the mystery aspect.  But all in all a good solid read that anyone looking for their next erotic suspense/romance will enjoy!
♥READ THE SERIES♥
Book 1 – The Seduction

Book 2 – The Seduction 2

Book 3 – The Seduction 3

Book 4 – The Seduction 4