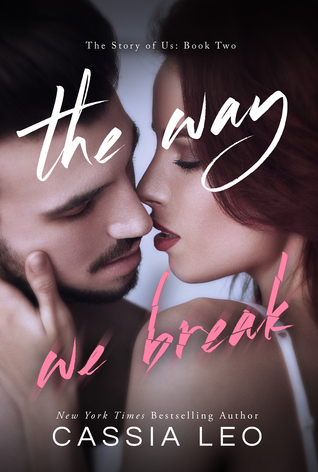 The Way We Break

by Cassia Leo
on May 29, 2015
Pages: 368
Buy on Amazon
Goodreads

Book Two in the USA Today bestselling Story of Us series.

Live the truth...

The truth about Hallie has torn Houston and Rory apart for a second time. Houston is finally unburdened of the secret his sister confided in him, but now he must deal with the aftermath.

He has vowed to set things right for Rory, and he's determined to get her back. But the destruction left in the wake of Hallie's letter is not the only obstacle he must face. Houston must find a way to win Rory back by showing her their story isn't over yet.

...or live the lie.

In her desperation to move past the anguish of Hallie's secret and Houston's lies, Rory seeks solace in Liam. When Liam is transferred to another tech company in California, Rory jumps at his invitation to leave Portland, and her broken heart, behind. In California, Rory finds a friend who opens new doors for her in the literary world. But does this new friend have ulterior motives?
He whispers softly, his breath stroking my lips. "Do you want me?"
"Yes," I respond, my voice as thin and wispy as the air between us. "Yes, I want you."
He presses his lips gently to the corner of my mouth. "How long have you wanted me?"
My eyelids flutter as he drags his supple lips across mine to the other side of my mouth and lays another kiss there.
"For a very… long time."
He reaches up, firmly clasping either side of my face. The skin of his hands is rough, pressed against my cheeks like leather on satin. My mouth falls open, readying myself for his lips, but he tilts my head to the side and lays a soft trail of kisses from the corner of my mouth to my jaw, then up to my earlobe. The resonance of his breathing reverberates in my skull, each lustful breath a deep rumbling wave crashing inside me as he teases the shell of my ear with the tip of his tongue.
"What do you want me to do to you?" he whispers, sending a crackle of electricity racing down my spine.
The throbbing between my thighs intensifies. I swallow hard as he kisses his way down my neck and his hands move down to unzip the coat I never removed.
"I… I want you… to kiss me."
A loud gong goes off in my mind as I realize how stupid that probably sounded to someone as experienced as Houston. He probably expected me to say I want him to fuck me. I might as well just carve the word VIRGIN into my forehead.
Houston tilts his head back, his eyebrows screwed up in an adorable expression of confusion. A slight smile tugs at the corner of his pillowy lips. His gaze travels over my face, as if he's just seeing me for the first time.
"Rory, are you a virgin?"
"Shit," I mutter, and he responds with a soft chuckle. "Go ahead, laugh. I know it's stupid."
"I'm not laughing at that. I'm laughing at your reaction." He holds on tighter when I try to push his hands off my face. "There's nothing wrong with being a virgin. That's a good thing. It means you value yourself and…"
"And what?"
He smiles softly and my stomach explodes in a chorus of butterfly wings. "And you also value the person you've been waiting for."
I close my eyes so he can't see the black fear gripping me. I'm not just afraid of having sex for the first time. I'm afraid of having sex with Houston. I'm terrified it won't be good… for him. Then he'll never speak to me again and every time he sees me on campus he'll remember that awkward moment when he had the worst sex of his life with his sister's best friend.
He presses his soft lips to my forehead and I open my eyes. "You've been waiting for me?"
He's so close I can see the layer of gritty stubble on his jaw. I want to rub my lips over it until I'm raw and scrubbed clean of every fantasy I've ever had involving Houston.
I draw in a deep breath and let it out in a soft whoosh as my gaze falls to his chest. "Yes."
He tilts my face up again so he can look me in the eye. "Don't look away from me." His blue eyes shine with silver ferocity. "Don't you see what's happening here?"
"What's happening?"
His gaze falls to my lips and, I can't help myself, I wet them so I can see his reaction. The glint in his eye flashes white hot. He wants me. Holy crap. Houston wants to fuck me.
"This is our chance, Rory." He brushes his lips over my cheekbone then lays a soft kiss on my temple. "You and I… we were both waiting for this."

♥READ THE BOOKS♥
Book 1 – The Way We Fall
Book 2 – The Way We Break

Cassia Leo is giving away a $100 gift card on her FB fan page.
The giveaway is LIVE TODAY. Stop by to enter!