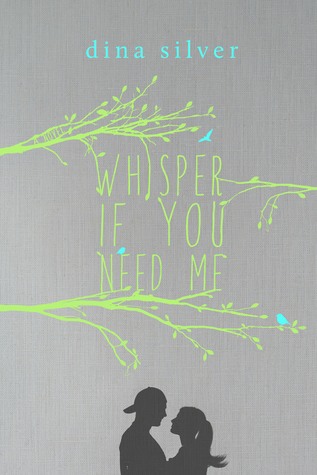 Whisper If You Need Me

by Dina Silver
on October 20, 2015
Buy on Amazon
Goodreads

From bestselling author, Dina Silver, comes her first Young Adult Contemporary Romance novel.

A strong-willed yet vulnerable young beauty, Julia Pearl is sixteen years old when she's sent away to summer camp for the first time. Julia's father and stepmother are convinced that time away from home will be good for Julia, hoping it will restore the confidence she lost when her mother disappeared five years earlier.

Released from the emotional constraints of her new family and the ugly reputation her mother left behind, Julia finds herself reluctantly tossed into the free-spirited and often drama-infused world of overnight camp—where she quickly falls for an intensely charismatic counselor named Jack Dempsey, a nineteen-year-old college student who will prove to save her life in more ways than one.

Rich with humor and poignancy, Whisper If You Need Me is a timeless story that will remind readers of the strength of friendship, the unwavering devotion of family, and ultimately, the power of young love.
Happy Release Day to Dina Silver and her new YA book – Whisper If You Need Me! Enjoy a sneak peek into this book below with our exclusive excerpt and make sure to enter the giveaway!

Three hours later, there was a tap on my shoulder, and I awoke with a start.
"Hey there," a guy said to me, motioning for me to take out my headphones. He was crouched next to my seat, wearing a baseball cap turned backward, as he stared at me with a pair of alarmingly green eyes.
Our faces were mere inches apart as I yanked the earbuds out.
"I thought maybe you were dead," he joked, backing off a little.
"I'm a heavy sleeper."
"I guess so." He paused. "Well, we're here at camp. Hopefully, that's where you intended to end up." He lifted a brow and smiled, revealing an orthodontist's job well done. "Anyway, the bus has arrived, and you're the only one left on it. Can I persuade you to get off?" He looked at me with his brows raised. He had a face that could sell a thousand pairs of jeans. I bet he thought he was hot shit and that every teenage camper wanted to drop her Juicy sweatpants to snuggle up next to him after rubbing roasted marshmallows all over herself for him to lick off. He probably hadn't read a book in ten years, and he most likely checked himself out in any reflective surface he came near. I knew his type—cocky and crass and got everything he wanted with a wink and a smile. If I leaned forward and he smelled like Axe, then I'd know I was right.
Instead, I nodded, sat up straight, and removed my hood.
"I'm Jack," he said, extending his hand. "Jack Dempsey. I'm the assistant waterfront director. I also run the Voyagers program, and I'm in charge of collecting sleepy campers from each of the buses. You're my last victim today."